I am feeling sooo much better now. I can safely say I am over being sick. It's nice to have a normal energy level again. Christmas gifts are still slowly trickling in for me. So soon I think I can do the part 2 haul photo. Well I'm almost done with cards. Here are a bunch that went out yesterday.




That's about half of them. I need to send out about that many more still. But everyone here on LJ will get theirs. I updated my address book after doing this because it's both funny and annoying to see so many former friends on there from over the years that have either turned traitor, I've had to dump or just disappeared without a trace. So new book for the new year and up to date. New friends too so it always balances out. Out with the old in with the new is the famous phrase.

I made a cute little print out of the Books of the Bible on a shelf. It's a check list for if you want to read the whole thing you can do so out of order. You can dowload and print it at home HERE. Save the image then open it in your picture viewer and it should have an option to print. Chris has gotten far and colored in the New Testament. Chris's page. This is how you view it. You can color the shelf too. He's already further than this. Here's Mine. I've only just started so only four books for me so far. I'm on Psalms now which is the biggest book so it will be a while before I color another one. I'll post these again when they are finished. I have read the Bible through twice back when I was in high school.

My Art Year In Review.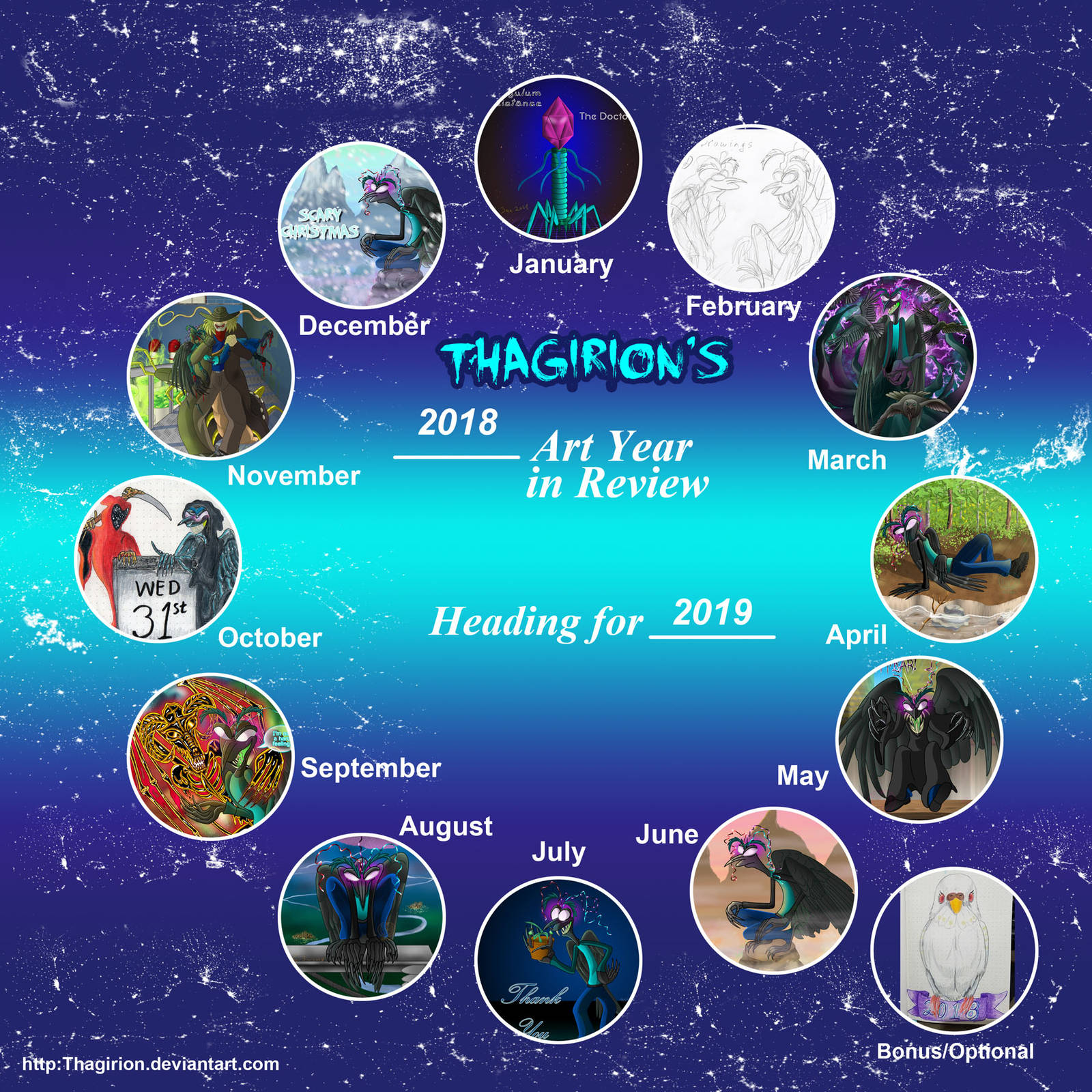 January we have the presentation of a new character The Doctor. I hope to draw him more soon.
February. No colored art but I made this sketch based on a lovely dream I had where both Chris and I were my character Fear. Well, this is the month I had my second surgery so not much art was made. Gosh I can't believe that was this year. Seems way longer than that. Had gall stones so I had my gall bladder removed and I was in bed for several weeks.
March Conspiracy of Fear . The remake of my masterpiece. I fixed this drawing up. The biggest changes were the green mouth plus added more colored highlights. I'm still working on this piece for something special.
April Alone in Fear . At last this is finished. A drawing I made last year as a gift for my aunt. Inspired by the lovely forest and rivers on her property.
May I AM FEAR Several remakes. The major change to this and most of them is adding in his green mouth.
June Fear In The Sky This piece turned out so nice I have many plans for it still. Fear greets the sunrise from the mountains.
July Fear Amused My thank you card I toss in as a bonus for people the I do commissions for, that I have done business with or that I just want to say thanks to.
August Terror In Waiting A mood piece that turned out nicer than expected. He has become my water mark on some pieces.
September No Hard Feelings Easily one of my all time fave pieces now for the vibrant colors and how frightening these two are.
October Fear and Death Halloween 2018 My fave drawing from my Bullet Journal. The main piece of the last week of Oct. Fear and his brother death.
November Got You Buddy This is also a fave of this year. I love this part of the Triangulum game story. George rescues Fear.
December This year's Christmas card. The winter version of Fear in the Sky for mailing out. I should get those today so I can start sending them out to everyone.
Bonus. The cover of my Bullet Journal. Appropriate that it features Bullet.

Ok so time for the New Year's Questionnaire. I love filling this out every year. I will post the blank version again. The old one is here and on DA but we might need a more recent one that's easier to find than going through the tags. Also I have added new questions as many holidays where left out.

1. What did you do this past year that you have never done before? Saw the Fall leaves. As Floridians that was a new and wonderful experience for us.

2. Did you keep your new years resolutions, and will you make more for next year? Yes and No. I kept some but not others. More on that at the end. Yes I will make new ones. I'm a goal setter. I'm constantly setting goals not just for new years. My J nature makes that easy.

3. Did anyone close to you give birth? No thank goodness. I don't need to lose more friends. They'd be gone for 18 years.

4. Did anyone close to you die? Just some of my birds. Sadly Optic my sweet blue budgie girl passed away. I do miss her.

5. What new states or countries did you visit. If not new did you travel for fun? Nothing new but we went to Georgia and North Carolina again in the Fall. We had a blast going to my aunt's house. Seeing the leaves, and seeing ACTipton80. That was the only big trip this year really.

6. What would you like to have in the new year that you lacked in this past year? I don't know. More money. Can never have enough of that. But I haven't lacked much. I've been quite good. Lots to be thankful for.

7. What dates from this year remain etched in your mind and why? The Trip at the end of October. It's the highlight of the year for me.

8. What was your biggest achievement of the year? Cleaning out the garage and getting the jeep inside. Major goal met. Woo. I'm still very proud of myself over that one. Oh and attaining one of my mother's assets.

9. What was your biggest failure? Probably not being able to get rid of my mother's stuff still.

10. Did you suffer illness or injury? Yes. In February I had to go to the ER again for pain. I had gall stones and had my gall bladder removed. Two surgeries at the start of each new year. I don't want this to be a trend. I also got a cold in December. It had been over a year since I had a cold. It knocked me down for two weeks.

11. What was the best thing you bought? Hum, what I bought and what others bought me is a big blur this year. I'm not really sure. Perhaps my Fear mask. It was expensive but so worth the cost. I'm still working on it and it has turned out great. Still a work in progress.

12. Whose behavior merited celebration? Well all my awesome friends in the Raptor Pack. You guys are great. Actiption, Joker, Samantha, Kabuldur, basically if you got a card from me this year you rock. My real life friends and family too.

13. Whose behavior made you appalled? No one. At least no one in my inner circle. Helps when you get rid of the bad eggs. This year has been great socially.

14. Where did most of your money go? Amazon. Not just for me but for gifts I got others too.

15. What did you get really excited about? My trip. Every year when there is a trip it's what I look forward to more than anything.

16. What do you wish you'd done more of? Traveling. Organizing the house. Drawing though I managed to fill out the whole year with art though just barely.

17. What do you wish you'd done less of? Wasting time. I did a lot this year but could have done even better.

18. How did you spend Valentine's? Hum, I don't remember. February we either celebrate the 4th which is our anniversary or Valentine's. Usually depends on what is closer to a day off for us. Unfortunately nothing big. I think we just got each other gifts. Oh wait we didn't do anything. That's the month I had surgery and was down. No wonder I don't remember much. Well we have to make up for that this February then....I hope.

19. How did you Spend Easter? And I think I still wasn't well for Easter either as I don't think we did anything big unfortunately.

20. How did you spend the 4th of July? Ha, by July I was fairly recovered and we had a great 4th of July. We went to Fred Howard Park and watched the fireworks. https://thagirion.livejournal.com/980364.html

21. How did you spend Halloween? Halloween was awesome. It was our trip up north. We got to see the Fall leaves. I visited ACTipton. I brought Bullet with me though she was sick. I dressed up as Scary Fear and made a very nice music video of him. My costume was cool. We bought pumpkins in Georgia at Burt's Pumpkin Patch. The highlight of the year with the 4th being a close second.

22. How did you spend Thanksgiving? We had a quiet Thanksgiving at home. I was much better and decorated the house all nice. At least the small space I have in the kitchen. I found my inflatable turkey and we watched the turkey pardon. https://thagirion.livejournal.com/997568.html

23. How did you spend Christmas? Christmas was great. We went to visit Chris's parents and family. We got lots of gifts. We had a very nice time. Then the next day we had a quiet Christmas. Opened our own gifts and those of friends. Then that evening we visited Mike at his party which was a last minute invitation.

24. What was your favorite TV program? Travelers. I think I discovered that last year but season 3 finally came out this year and we enjoyed it very much. It ended well and we hope it's over actually because we don't want them to screw it up. Leave well enough alone. Funny enough I've started watching the cartoon Spirit. Based on the Dreamworks movie. I love that movie. The TV show doesn't have good art but I think I like it. Can't say yet but will watch more eps.

25. Did you make any enemies this year? Nope but old enemies have been replaced and then some.

26. Did you read any new books. If so which did you like best? Well Joker gave me the Jurassic Park Employee Handbook. I don't think I'll finish it in two days...well I guess I could but I'm reading that.

27. What was your greatest musical discovery? The new Victorius Album Dinosaur Warefare. Also finally getting a hold of the SpongeBob soundtrack. The background music not the dumb incomplete CD's they officially have out. The instrumental stuff really helps make the show.

28. What did you want and get? Oh gosh lots of stuff. Let's see. 150 prisma colored pencils, Mosasaur figure, grow lights, backpacks, Bullet Journal, and a bunch of other cool stuff. Not just for Christmas but over the whole year.

29. What did you want and not get? The Ian Malcolm book. It got pulled from Amazon for copyright reasons. The jerks. A headset stand that got discontinued. A Bible I can't quite afford just yet. And a replacement for my truncata F plant.

30. Did you see any new movies this year? And if so which did you like best? I saw Venom in the theaters with Chris. That was good. But I don't really watch movies much anymore in theaters.

31. What did you do on your birthday? I got a custom Fear cake. Almost forgot about that. That was awesome!! https://www.youtube.com/watch?v=NQ53UiqXYDA

32. What is one thing that would have made your year immeasurably more satisfying? Looking back this has been an awesome year. I guess traveling more and meeting my other friends. I think about that a lot. I got spoiled by the 2017 road trip to Canada to see CVersailles.

33. Did you meet anyone new you became good friends with? Not anyone new in real life but I met Peregrine in September I think it was. We only had a few hours but it was our second meeting and we had a great time. Her and I have become closer friends and we really enjoyed each others' company. It was such a fun day driving around and doing fun things at my house. I have lots of new online friends though. Me a buddy on youtube that I trade plants with.

34. What video game obsessions did you have this year if any? Red Dead Redemption 2. I had not expected that to happen. Chris pre-ordered it and was all excited. I really didn't care since an ex friend a few years ago had ruined the first game for me. But I watched Chris play when he finally got his. Unfortunately he didn't like the game but I was hooked and wanted to see more from the little he played. And then Peregrine got it and kept talking about it on texts. So I started my own game and have been playing ever since. We make the joke that it's as though Chris got it for me. Plus the fact the way I have Arthur dressed, and how he sounds and his personality is just like George. Yeah I'm loving this game and how much better it looks on the new consoles.

35. Was your online time good, bad , same compared to last year? Good and better.

36. What hobbies did you improve, start or work more on this year? Basically how was your creativity this

year? I got into Bullet Journaling. I got out of it during my vacation but hope to do better with it this new year. It's a lot of fun making your own planner, setting goals and putting in your own art. Now with my new pencils this should help a lot. And I blame this on Peregrine but I participated in inktober for the first time and actually finished it. I drew something each day, even on my trip, on index cards.

37. Which holiday did you enjoy most this year? Halloween and Chris's birthday. Close second was 4th of July.

38. If there's something not by covered by the questions you would like to add about this past year you may

do so here. Happy New Year Hum, I think I have covered everything. I can always edit if I forget.

Last Year's Resolutions

* Get jeep in the garage. YES!! Finished before October I think.
* Get rid of mother's junk and our excess junk. No. Came so close. I got sick two weeks in December and this got really screwed up. I think we could have done it. We cleared out more room in the garage and then that happened.

Resolutions for 2019

* Finish getting rid of mother's stuff and possibly ours by April 1. I think that's a good time frame and don't need a whole year to finish. Could give myself more time but enough's enough already.
* Travel more. Try to do a road trip on my own again.
* Face my driving phobia. This one is kind of related to the top one if I take another road trip. I hope I can. It's harder now and all in my head.
* Meet more Raptors in person.
* Draw more. Make more comics. Finish Renegade and Dawn of Fear.
* Finish tagging LJ for pete's sake.
* Grow veggies either indoors or out. Grow tomatoes and chives.
* Manage my money better. Save more for the big goals like...
* New Tires and Wheels
* New door art or JP
* Fear Wings

Ok that's enough as those are major goals. The last three I don't have to do all of them but so long as I do one of those it would be good. All very expensive so I can probably only do one.
.