I didn't have much energy today until much later. I keep forgetting to mention I've been fighting a fibro episode that started with my finger pain a few weeks ago. I've been having trouble sleeping because my neck under my head in the back gets really stiff. I've been sleeping without a pillow and it's been helping. I've had to have the bed to myself for the last few days which sucks. I miss Chris. And it causes other pains like in my fingers, back and feet too. I've lost some sleep but last night I slept fairly well. I dreamt so I consider that a good sleep. Dreamless sleep is usually a bad night for me. I don't look forward to bed every night. I hope this will be over soon, but as far as pain factor I'm so thankful it's nothing like it was last year. I have purposely not played any video games to not complicate the pain in my hands.
So I didn't have much energy today. Chris was home most of the day which was nice until he got a late call. But I spent most of my day in his room while he was on the computer or gaming. I drew a lot today. I got two pics done off of my concepts list. And I drew a pic for a friend. I'll get to that in a little. But first.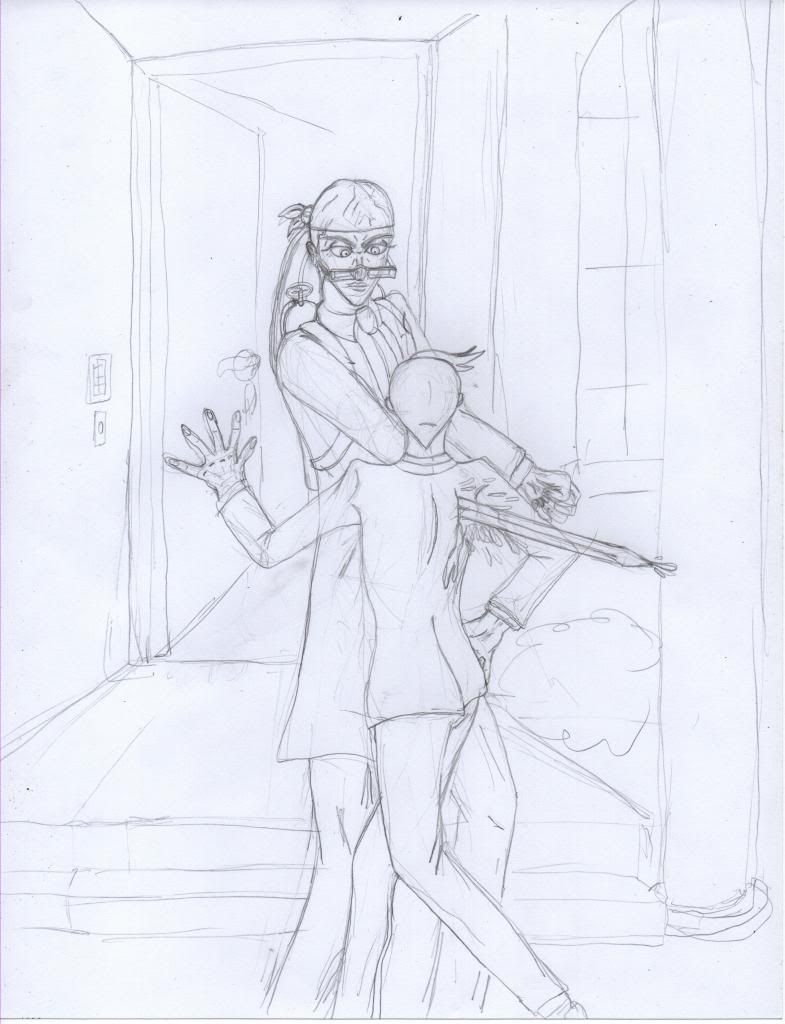 This is part of a story I'm working on. Remember Quetzalcoatl saved Owen from drowning? This is how he's repaid for that. Owen hates him when he finds out he's a demon. He doesn't want to hear that Ophidius is not on Thagirion's side. He doesn't care. He's a demon so Owen wants nothing to do with him. It doesn't matter he saved his life because Owen thinks it's part of a trick. He's been attacked by so many demons he's just very defensive and untrusting. Since he really didn't see Quetzalcoatl save him, he doesn't believe him.
Ophidius is annoying, but he didn't ask for this. He followed Owen around and was told to stop. He didn't. Owen told him not to follow him into his house. Ophidius didn't listen and Owen turns on him very quickly and stabs him. "Oh, you were serious." Ophidius says after he's stabbed. His feeling are more hurt than anything it seems because he saved him and wants to be his friend but Owen's so mean. He hates him almost as much as he hated Cope, but not with the same passion. He would totally loose control around Cope. But with Ophidius it's very cold and uncaring. I'm REALLY happy with how these have turned out. I don't know which I like better, but I LOVE Ophidius's expression in this second one. It was hard to get that emotion actually. The first time I screwed up and drew him looking nervous which is good enough to use as something else later. Anyway, I love how he looks like he's about to cry. Poor Ophidius. For once he doesn't deserve what he's getting.
Made this drawing for
samanthafalco
on DA. It was a speed drawing I made up in about six minutes. Birds are easy for me. This is mostly a bird. It's her griffon specifically a Perepard which is a mix of peregrine falcon and snow leopard. She named her Des after me and she has a little cub named Cryss. Not after my Chris but a friend of hers.
Current Mood:

Predatory
.