Today was a good day. But I didn't get any writing done. Gah, I'm annoyed with myself about that. I even know which story I want to write too. I want to start the "I Quit" story which is about Ophidius quitting Flare Ent. and going into business for himself. Well it's not just about that as other funny things will happen. I wish I could say more but well, what happens before this is major major spoilers.
I got several more eps of Stunt Dawgs done today. I finished the first tape and think I'm about half way through the second one. Like I was telling Silvolf, I'm loving this. I have so much energy. That show energizes me and I feel like I've gone back in time. I started a new drawing today. It's the Flare Enterprise Team.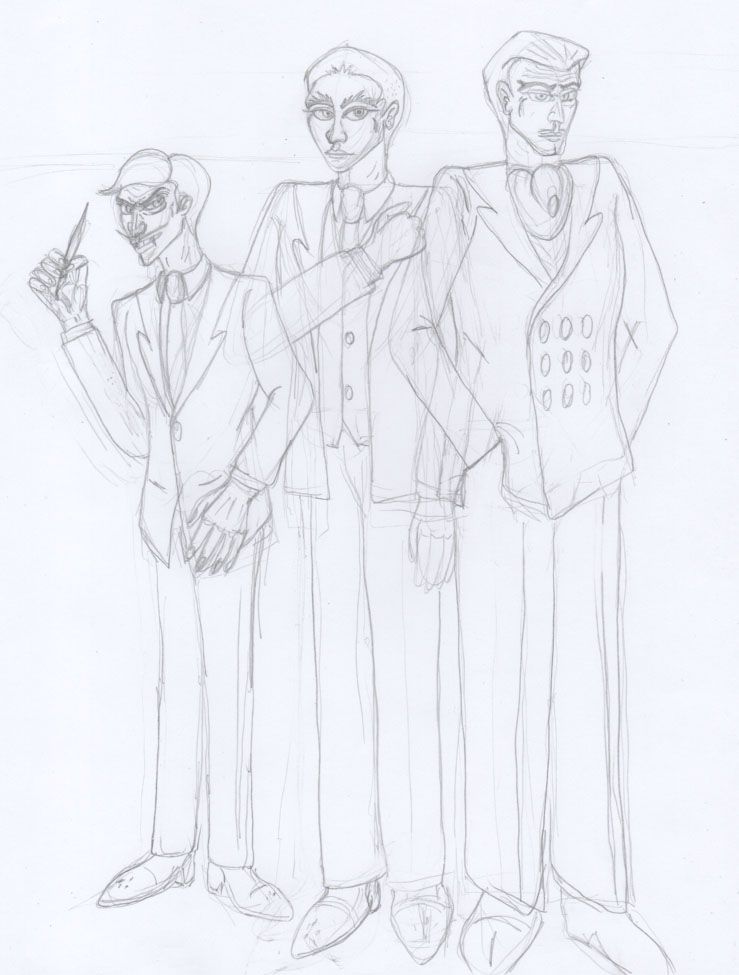 Click for full size.
From Right to Left. Davon Ember Flare CEO and founder of the company. The big boss. Solan Rah, Vice President. And Ophidius S. Slith corporate lawyer. This is almost a well functioning team except that Ophidius has ambitions to over throw Davon. But they all look so good here. One thing I was amazed by after making this is that all of them when I first drew them started out so cartoony. They look that way when colored of course, but this pencil stage they look very realistic. I think Ophidius and Davon look the best here. I couldn't quite get Solan's boyish look. Sometimes I pull it off and other times I can't. But yes that's his normal expression almost all the time. He's just pretty emotionless. And pens are hard to draw. So these are the top dogs. I will be making one like this for Thanatos industries too. They aren't exactly a well oiled machine either with Cope and Owen trying to kill each other. Ah, infighting. Who needs enemies from outside.
Current Mood:
Creative
.