Art troubles! I hate it when I don't know what I'm doing. And worse when I did something really cool once and didn't write it down and now I can't remember what was done. Artist friends please give me advice. I some of you are out of town and can't respond. That's ok. And well some people aren't active here on LJ anymore. But if you're on and you see this I REALLY could use some help. So I'm working on the Quetzalcoatl pic called Summer's Rain. I am having a hell of a time with the water on this. It's supposed to be a violent storm so the the waves are big, nasty and angry. I tried a technique I saw in a tutorial about making typical cartoon shaped curvy triangles. Then you add light on top for foam or whatever. Well mine turned out terrible.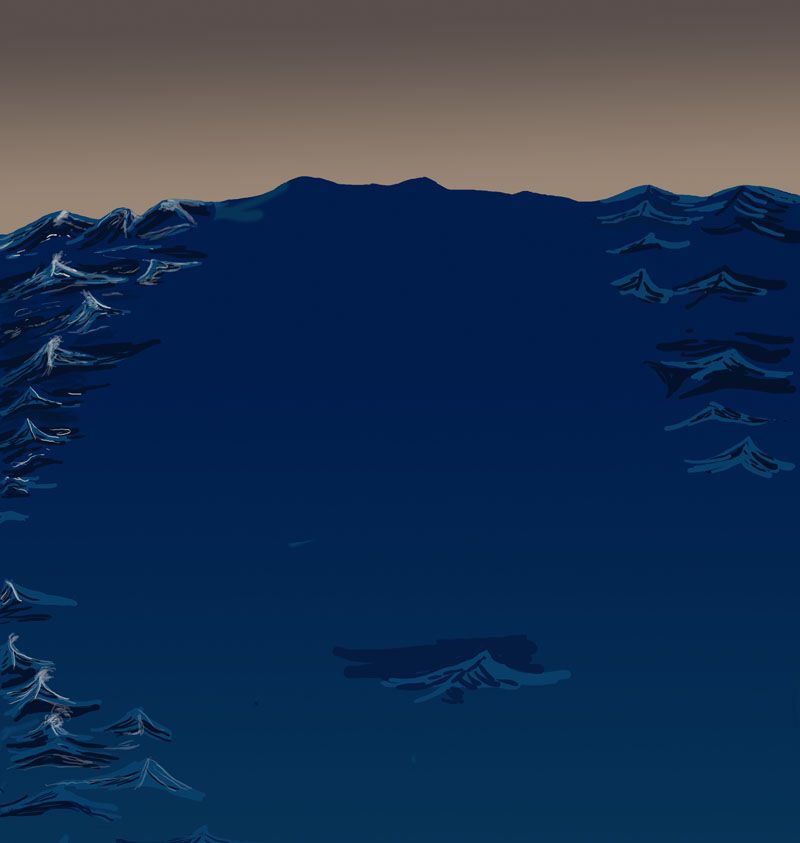 The ones in the back look better than the ones in the front. I got really sick of this and didn't use this. I put the pic away for a whole day because I was so upset over it that day. I've tried several techniques and this one hoping it would come out better. Finally today I decided after looking at a few other pics on Deviant art, to make the waves be completely connected, fill them in with a darker color than the darkest part of my gradient. I also reversed the gradient and have the lightest color in the back. Which doesn't make sense to me but I'm trying different things. I broke up the shape of the waves with the light color and gave them foam detail. This looks much better I think but still not what I want.
Very cartoony I know. I was hoping for some more realism. This also looks like one of those Asian pics. But I'm not done. I plan to add white to it. The waves are on their own layer away from the gradient. I erase the bottoms with a fuzzy brush so you can see the gradient underneath. The further back I go, the less I know what to do. I know things get smaller the further away they are. But I don't want to keep making tinier and tinier lines. There has to be another way to finish the last row. Also I'm hoping that adding white to the tops and may-be some kind of other color will give them more depth and make them less cartoon. But solid white? Probably not. White on an opacity? Or just a bright grey? Gah, I envy artists that just know what to do and don't think about these things. I think this is better than the first try but not the Beautiful look I'm going for.
So can anyone tell me what to do? Even if you paint in real life on a canvas perhaps some of that applies here. I was looking at the pic I made of the waterfall last year that turned out so cool.
See it HERE
. I don't know how I did that. Also the water is flat not giant waves and light blue color not dark blue. I found it interesting that the base color for this was ugly grey and it's an optical illusion that makes it look blue. I wonder if instead of using real blues on this piece I should be doing something similar. I just don't know. I can't remember what I did. It's all on one layer. I don't know if my brush had a special setting like burn or overlay, opacity or something. I haven't used my frustrated Owen icon in a long time, but it's perfect for how I feel about this. I can't wait to start on Quetz himself. He should be way easier. I think even the clouds in the sky will be easier. I hope. This will be my first time making rain too so I hope that won't be too hard. I'll keep messing with this and hope something comes from it.
Current Mood:

Frustrated
.