I'm happy with how well received my pic of Quetzalcoatl has been. It was invited to a Mexican group. I accepted and it is featured on their gallery. I am very happy about that. I will definitely be drawing more of him. I hadn't thought about exposing my art to a Spanish speaking audience. That may be a good move to make.
I watered nearly all the plants today. I got everything in the living room and kitchen. All that's left is the bathroom and my computer room. My nepenthes are all doing very well. I'm thrilled that the one I did surgery on a while back recovered and looks to be making a new leaf. I'll be happy once that new leaf actually pops out. Then I'll know it made it. As for those two orchids I bagged. Dead. I'm not surprised. I'm good but I can't bring stuff back from the dead. So almost a waste of two bucks, but I did get a free pot out of it so it's not a total waste.
I added more detail to the pic of Ophidius with his knives. I like this way better.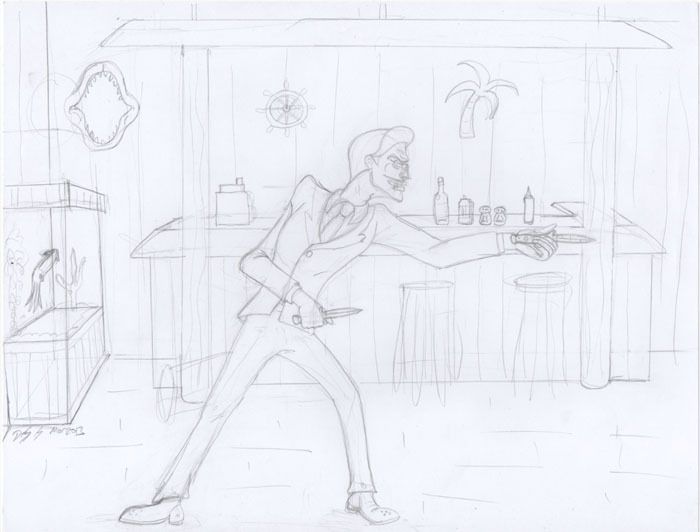 I think this will be a nice one once colored up. I hate drawing bar stools though and you can kind of see their outlines. I don't know if this needs anything else in the background.
I finally made that video today. I know several of you have been wanting to hear Ophidius's voice. I was going to just edit everything together, but then I decided to put some funny subtitles on this. Chris helped me out because I suck at coming up with lines for stuff like this. If they go too fast just scroll back the little ball and pause it by hitting the pause button or the screen. Double clicking the screen will take you to the youtube page.
I need to add this to his bios, but yes, calling him a Sidewinder is a major insult to him. Very little gets under his skin, but that's one thing he hates. Heheh.
.
Current Mood:
pleased