Chris found out there was a gun show near our town. He asked for half the day off so we went to check it out. It was a new experience for us. There was so much awesome stuff there. I didn't take pics, I was just enjoying the experience. Chris got some awesome stuff for his shotgun. I only got two cases of 50 22 long rifle ammo. The prices were jacked up so I only got two. One guy was insane selling packs of 100 for $30!! THIRTY BUCKS! A pack of 100 usually costs 10. No way! I went because I was hoping for a deal. Sorry, though it's hard to find I'll take my chances at the sports store where they sell it at normal price of $10 for 100. Sheesh it was a 3x mark up. Chris got a scabbard so he can carry his gun on his back and an ammo pouch to go with it. I'm sure he'll post pics soon on his LJ. Then we had breakfast at Subway.
Breakfast anywhere here sucks right now. The Northerners are still down and most normal breakfast places are packed with 20 min waiting. Luckily there wasn't really anyone at Subway and we opted for that which worked out great.
Then we came home and it turned into a whole day off because Chris didn't get any calls. I'm so glad. I've missed him and needed him here. He helped me clean the pavers outside and the chicken coop. And I got some art done.
I'm thrilled that I have finally finished inking Quetzalcoatl. My gosh that took forever. I can finally start to color him. Tomorrow I shall. But now I have a new problem. I don't know what color to make his viper head. I was originally going to make it a
pink eyelash viper
. But I don't think that will look right in digital. So I'm thinking of diamond back rattlesnake. But ugh, those look like they have a difficult pattern. They are pretty but probably hard to color. The Eastern Diamond Back I think is the most beautiful. They are very dark. But nothing seems easy about this guy. I pretty much know the colors of everything else.
And I've made this really awesome drawing I can't wait to start coloring.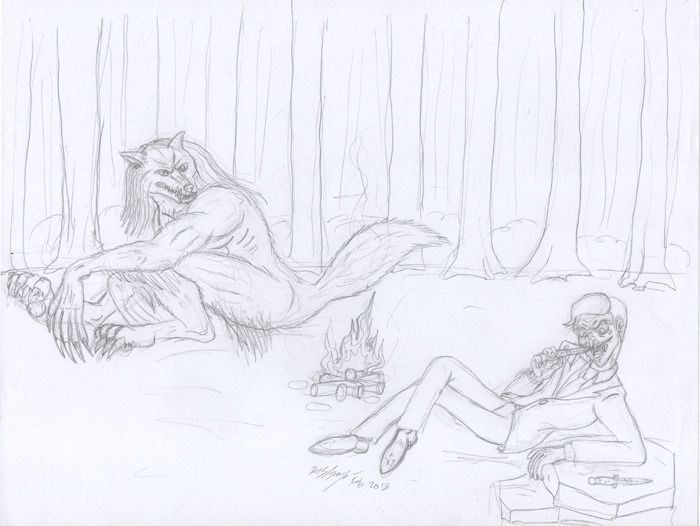 Malidicus and Ophidius are camping in the woods. Again like every night Ophidius bites down on his knives and puts venom on them. Malidicus is a bit annoyed by this. Ophidius doesn't care. He's having fun.
I think this will be really nice once colored up. Buy UGH, trees again. I hate coloring trees.
.
Current Mood:

creative
Current Music: Quiet Riot - Cum on Feel the Noize