I have been talking a lot about and draw Ophidius a lot. But I haven't said too much about his true form as Quetzalcoatl. So he's a lovely giant three headed feathered snake. He's also third in command and not happy about this. He hates Thagirion and hates Sorath almost as much. If Thagirion had never gotten personally involved in this solar system the Earth would have been Quetzalcoatl's. Sorath would still have been born of the sun, but sun gods rarely leave their stars even if they end up with a living blue planet which is very rare. When there is a living planet in a solar system it has its own entities spawned from the molten core. These become planet demons and can become the gods of that world. Thagirion jump started life on Earth, so he was there at the core during the birth of the primary demons. The first born is the most powerful and in our planet's case the first born was Quetzalcoatl. So he openly challenges Thagirion and tries to tempt Sorath to turn against him. He's told Thagirion to his face that he thinks he's incompetent and should not be leading. It's very difficult for Thagirion to get a speech out if Quetzalcoatl is in the crowd.
Yesterday I did a study of Quetzalcoatl's main head. His look is almost completely refined now.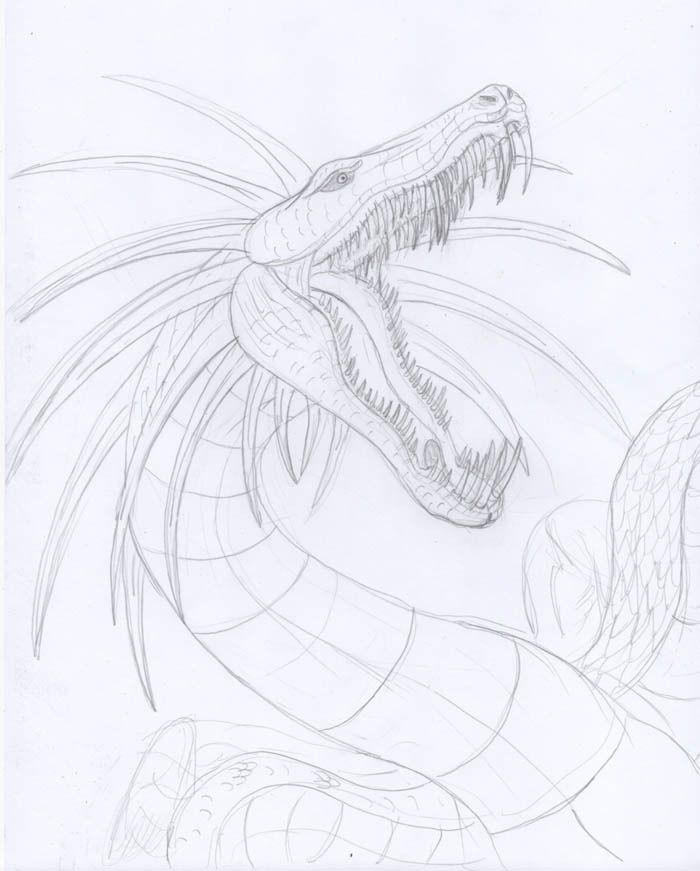 I got lazy and drew his teeth normally this time. In my first pic of him his teeth have an almost S type back curve. This is based on a real
Python skull
. So, I will probably draw his teeth more recurved like in my first pic of him. I like how this turned out. I know I got the back muscles of his skull right. They are fleshy like a python. The only thing I didn't have room for and the point of drawing him with his mouth opened was to show the second row of teeth in his upper skull. I may still be able to get them in but it will be hard. If you look at
This Skull
you'll see the second row of teeth I'm talking about. You can see parts of his other heads. The main head being a python is nonvenemous. He doesn't need it when the other two are very lethal in that regard. The middle head is the only one that has eyelids too. So it is the most expressive.
He also has control over all his head feathers and they are used in expressions. Since he's angry and trying to look threatening, all his feathers are out and flared. He wants to look as imposing as possible. When he's not angry, he retracts his side feathers. His crest feathers stay up a little, but he can flatten them completely against his back too. He can move them independently too. The side feathers can be move forwards and backwards and up and down just the way a bird has control when it fluffs. He does preen his wings with his teeth. His middle head does most of the preening. But sometimes his side heads will as well. In those cases they will coat the feathers with venom, the same way that birds use the uropygial gland to oil and water proof their feathers. This has the added bonus of giving him protection, and a wing slap not only hurts, but if it doesn't break your back you'll probably be envenomated. Inspiration for this is from poisonous birds like the Pitohui, Ifrita and Rufous.
Because one of his powers is regeneration he is responsible for the myth of the hydra. The ancient Greeks got a look at him when he was wounded. Though he doesn't regenerate as quickly as they show in the movies.
When he speaks he doesn't sound like a stereotypical snake. He's not all hissy. He's got a gruff painful voice, yet it is understandable. With a bit of psychotic thrown in. He is a bit insane after all. The perfect example is Savatage's
The Price You Pay
. This is the perfect voice for Quetz.
Do I put a lot of thought into my characters or what? Hehe.
.
Current Mood: Love
Current Music: Savatage - The Price You Pay