So I made this icon of Ophidius for myself. It's too bad you can't really see him once they are shrunk this small, but there's no way around that since I wanted his wings in it without cropping them. I may or I may not keep it. I do need to make a better one with him.
So I've been working on the pic of him hurt. My gosh I hadn't realized it would become such a huge endeavor to make the background so fancy. I want my art to be better and more professional and I guess that means some things will be harder and take more time. I haven't even done anything with Ophidius himself. I can't wait to start on that. After doing the trees on one side I decided to just do grass and a few trees on the other side so you can still see the sky. I thought grass would be easier than trees. But no not quite. You have to pick lots of colors for it and make it go in different directions and make it bigger as it comes into the foreground. Then I have to decide if I want the ground to show in some parts or not. Then there's more than one type of grass and ground plants. I love plants in real life but I HATE THEM in art. I can't believe how many days I have put into this piece. Yarg!
I will start writing some short stories to go with my art soon too. I'm toying with an idea that I don't know why I'm so resistant to. I ran it by Chris and he loves it. Ophidius can change form of course. He has his human form you've seen and he's really a giant winged snake that's half snake half quetzal. But there's the question. Should he be able to turn into a quetzal? I don't know about that. I don't know why part of me doesn't want that, but I've already come up with a really short story called The Legend of the Emerald Phoenix based on the fact that he can do this. Chris wants me to write it. I probably will. I even want to draw a key scene from it, but should he be able to do this in my main story? I'm probably just being silly and should let him have this power. What do you guys think? I've been reading up on him too and I think I will also give him light as a power, though nowhere near as powerful as Sorath's light. Sorath is the true sun and Quetzalcoatl is a pretender that claims to be a sun god too.
As you can see by my music choice I've been listening to the song Quetzalcoatl by Therion. I actually did not like this song the first time I heard it. I was disappointed. The first two times actually. I didn't like that whole entire album when it came out. I loved the cover and even back then was happy there was a song about Quetzlcoatl on it. But I didn't like the album and I kind of gave up on Therion despite them being my primary inspiration for just about everything I do now. So I remembered the song and looked it up on youtube. And again I was disappointed. I remembered why I didn't like it. I just didn't sound like metal anymore. There was no lead singer. It's all choral and despite it being both English and Spanish I still couldn't understand most of what they were saying without reading the lyrics. That put me off again...except for one part. It had Andean Charangos playing for the breakdown. That part was really good. So I played it again just for that part. And well I liked it a little more. And now that I think of it as NOT metal I like the song a lot and have been playing it over and over and over when I work on art. I need to get the mp3 off Chris's computer because I've just been replaying the youtube upload. The Spanish part is my favorite of the lyrics.
Remember that baby pigeon I had to hand feed? He's big and weaned now. He's learned to fly and still makes baby squeaks.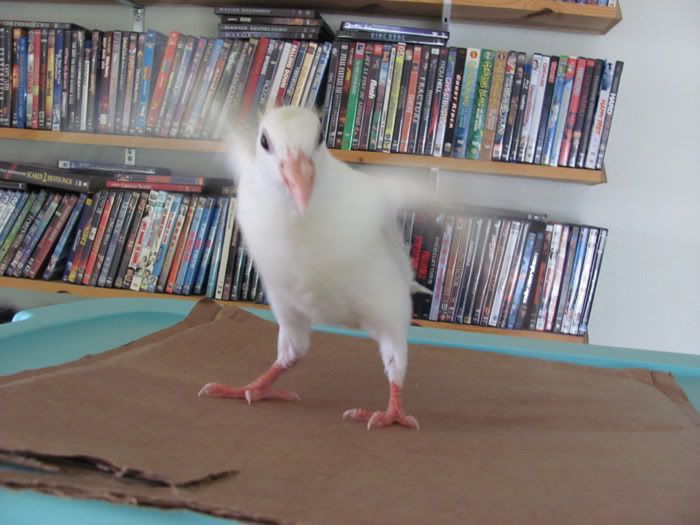 I had him in with Tesla, Optic and Peep, but he was eating all the food and the budgies were starving. Hehe, so I put him out on the patio. I have been meaning to put him in with the others to make him a flyer, but he's so cute as a pet.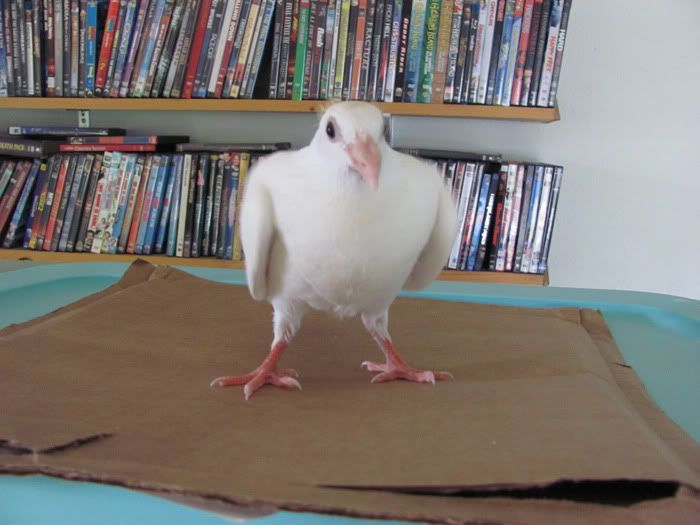 Birds can sink their heads between their shoulders.
I don't care what anyone thinks, I love those baby down feathers on the head haha. He has them on the back too in two rows. She he's wirey. I don't know what he's been getting into on the patio though because he's not white anymore. He's all dirty. I'll have to wash him and the patio and clean everything up. Kids!
Remember how I said the only reason I like white orchids is because they remind me of Sorath's jaws?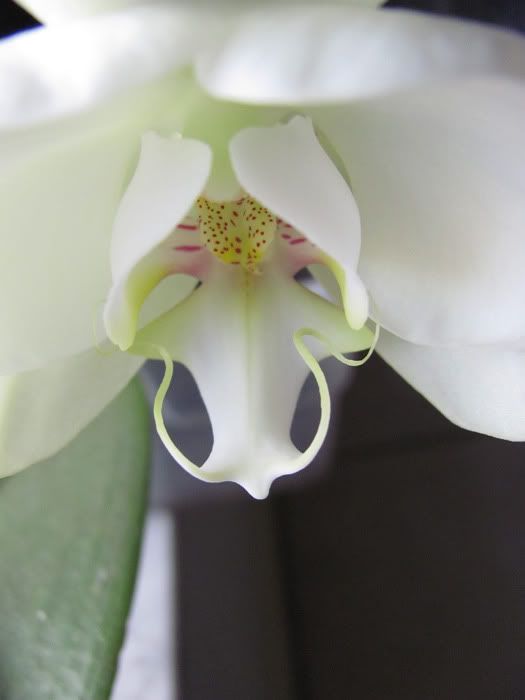 Pretty awesome. Compare these pics with my last post with the Sorath drawing.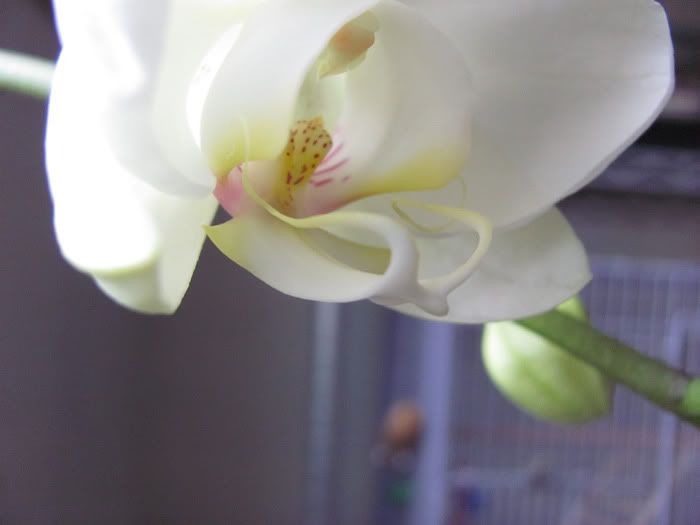 This is the view that really reminds me of him.
And just for fun, a unique view from underneath.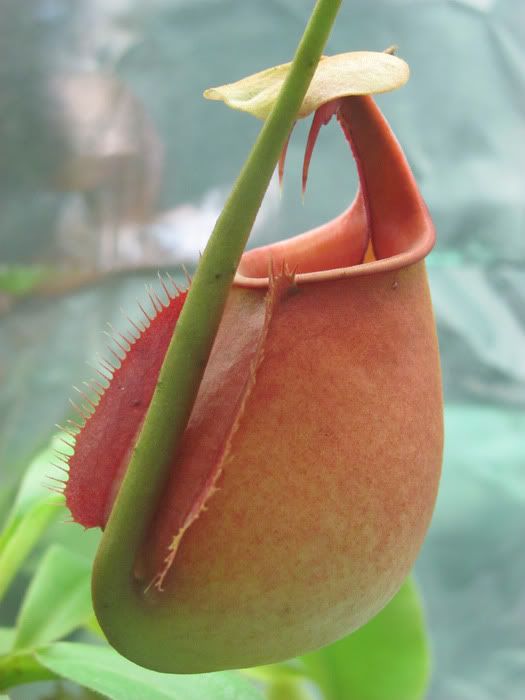 Nepenthes bicalcarata. Snake fangs. I have always loved these things. Now they just remind me of Ophidius hehe.
Pitcher venom fangs. Dangerous to insects because it's so yummy.
View from behind.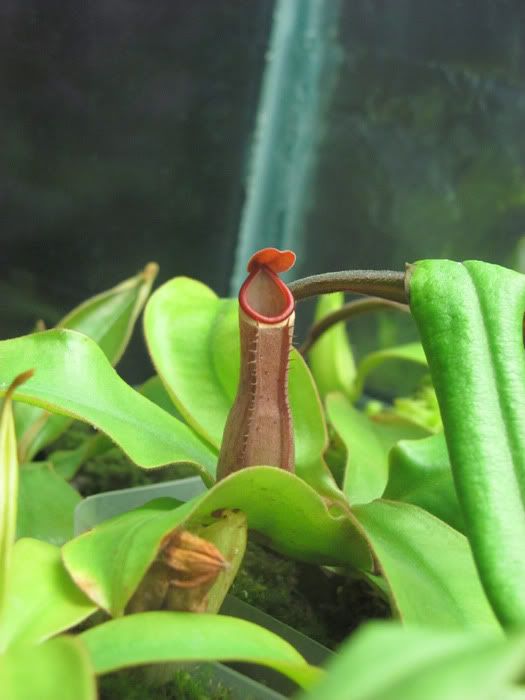 Nepenthes albomarginata red.
Ok, before I get to the next two pics. The chickens haven't been laying their eggs in the coop. I don't know where they have been hiding them but I knew eventually I'd find a huge stash of "Easter eggs". That happened today. The day was beautiful and finally a good temperature. So I decided to work in the yard and pull up the dead Spanish needles. I uncovered the old picnic table that I need to destroy and under a buried plastic bin I found a huge nest of blue, pink and brown eggs.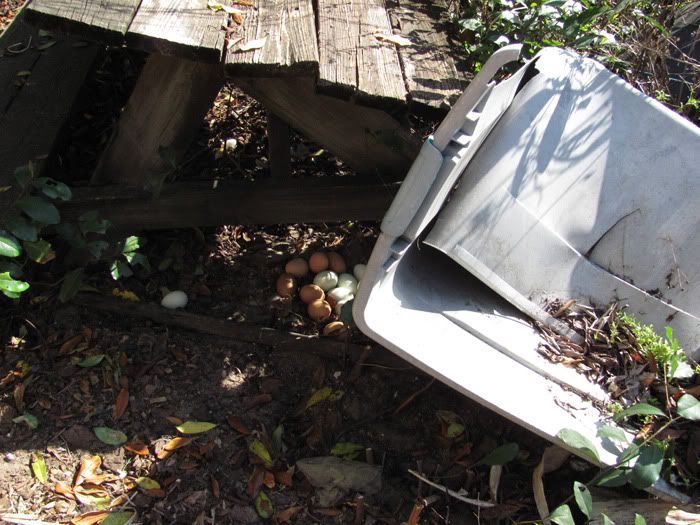 Jack pot!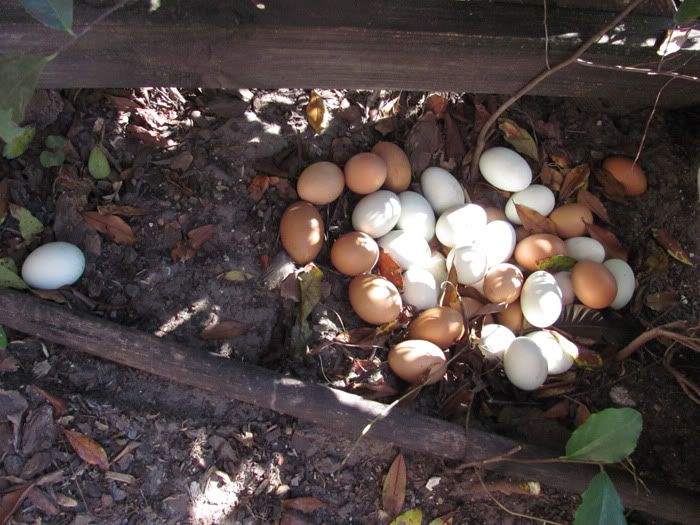 The blue eggs are my favorites. They are laid by Raptor and Mocha. Sadly I need to throw away all these eggs because I don't know which ones are old and which ones are new. What a waste. I wish my Easter Eggers didn't hide their eggs...Yes I know I probably shouldn't be asking that and I DO see the irony of Easter Egger chickens hiding eggs. I have only been collecting Henrietta's eggs and the few Black Copper Marans that are good enough to lay in the coop. And now Henrietta has gone broody and has been living in the house again for almost a week. So no eggs from her. I wonder if they'll still lay there now that I exposed the nest or if they'll use the coop like they should?
Gah, I still want a Charango. I'm on that kick again now.
.
Current Mood:

hungry
Current Music: Therion - Quetzalcoatl