Thanks to
cheezey
I got a mod today for my game that is safe. It allows me to see the hidden skills like spell casting. I totally hate the notion of hidden skills. Why do that? Everyone wants to know the progress and how close they are to maxing it out. But now I can see that, snake charming and many many more hidden skills. But not only that I found that this mod can also change the sexual preference of your Sims which is something I have been thinking about for a long time that would be wonderful to have. No gay characters in my game. I fixed my guys up and all of them are normal now...except Solan. I set him to what I'm calling Asexual. Meaning he's not interested in girls or guys. He has no drive, doesn't need it. Love is not for him. He doesn't feel it that way. But well he's an alien from the sun. I wonder if I can upload my sims this way? If so then I will have to start another game just to put characters into a house set their gender preference then upload them. Haha, if anyone tries to play them gay it won't work. That will be great. Hehe, I'm crazy enough to take down all my uploads and re-upload them the right way if that's the case. They'd have to be uploaded from a mirror or dresser because you can't change these things in create a sim. But what's funny is that in my game Ursula has once again fallen in love with Owen. They met at a party. Noooooo!!! That means I'll be getting love letters from her again. Gah! Sigh. Well let's get on with the story.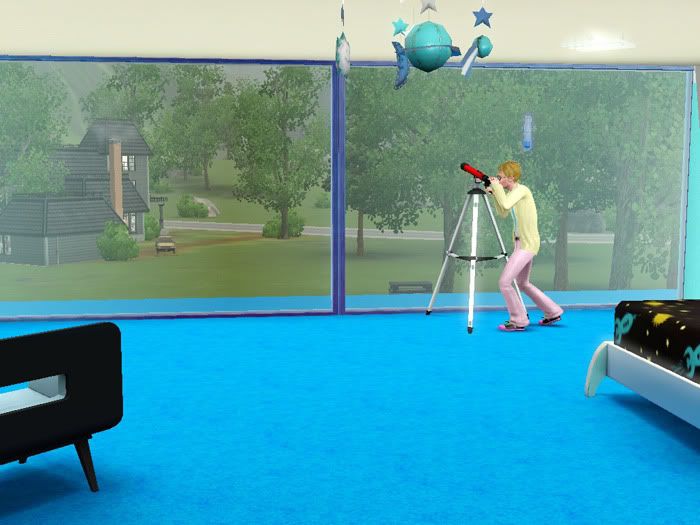 Cope plays with his telescope, though he's not exactly star gazing. He sees some disturbing things. See that house over there? That's the neighbor.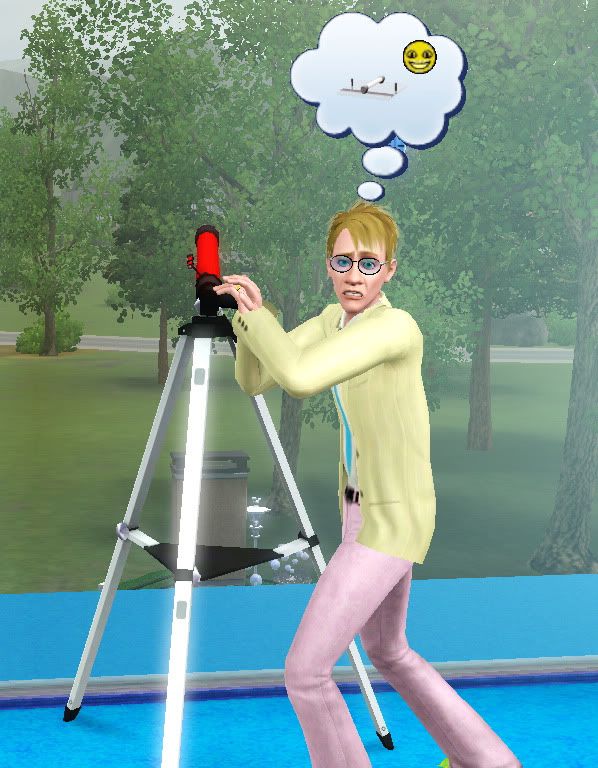 "OH MY GOSH. I saw a l-lamp. And I l-liked it." Cope kept doing this and different things kept popping into his mind that disturbed him but at the same time he liked. A window was one.
An awesome flaming car pulls out of the house's driveway.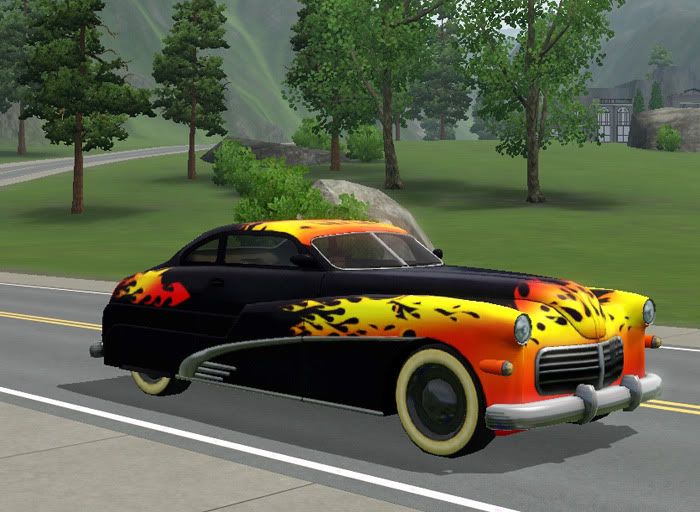 This thing is powerful and super loud. We hear it rip down the road from the far side of the house and our house and property distance is huge. Who's car is that?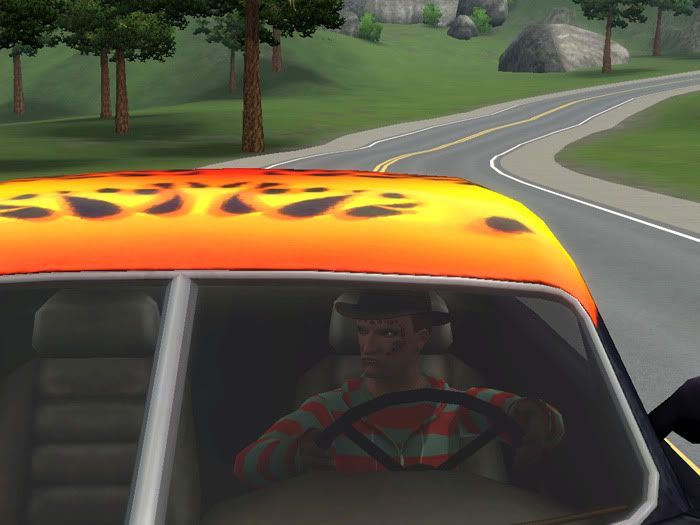 It's Freddy Krugger, and he's not happy about Cope watching his house. He stares for a while before pulling out. Great the neighbors are two crazed murders, Freddy and Jason.
Freddy got his powers from being burned alive, so he still likes fire. He's got wicked designs on his car.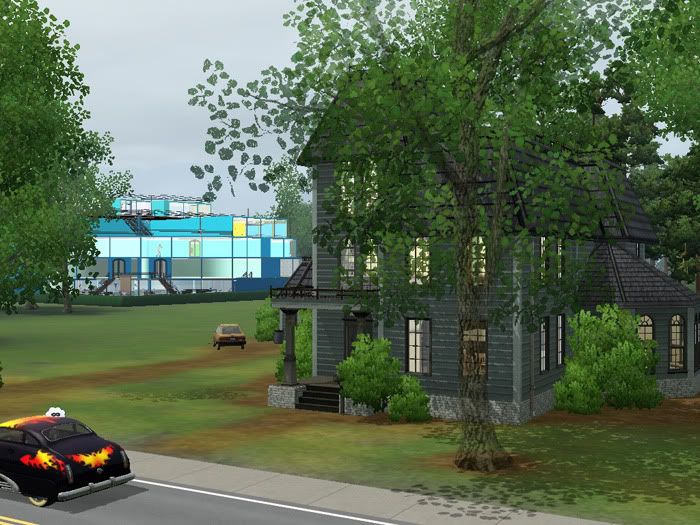 He pulls off and Cope is visible from the window. Careful now. That fancy house doesn't leave much room to hide.
"UGH! I wish I hadn't s-seen that."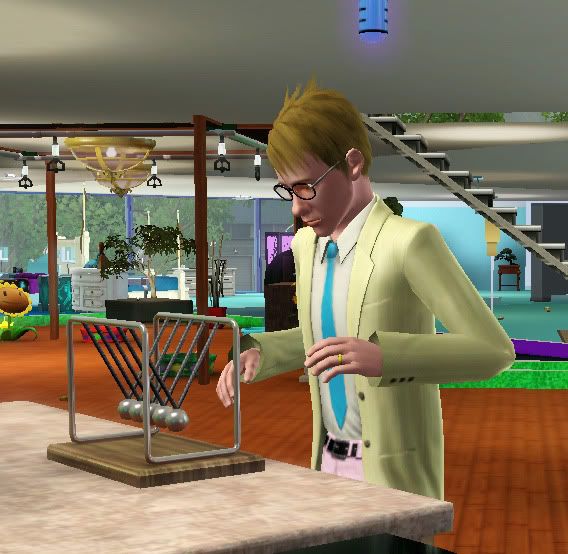 So he goes off to his table to work on an invention. He creates this new smasher for the first time. So cute.
Meanwhile Davon and Ophidius are at it again. They are arguing all the time with each other and Ophidius insulted Davon good. As leader Davon isn't going to take this.
Ophidius was sleeping but Davon woke him and forced him out of bed. Time to settle this.
"What gives? I'm sleepy. What are you doing, Davon? A good luck charm right? Yeah, I've seen you do this to Solan."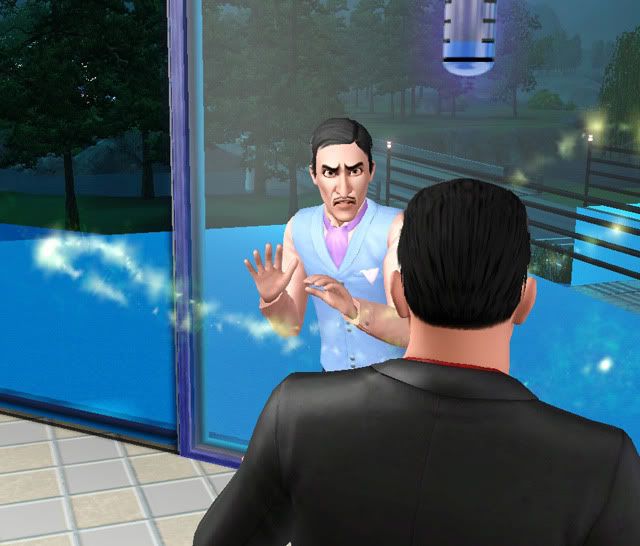 "Right? Isn't it? Davon?"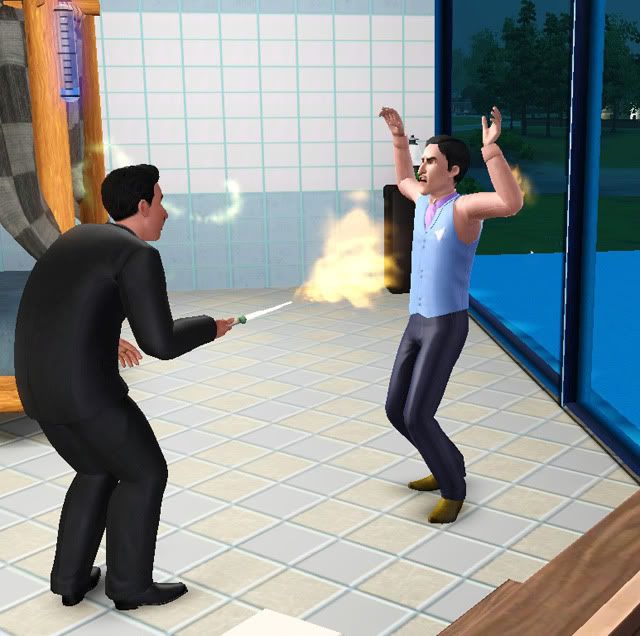 "No you insolent Curr. You're fired!"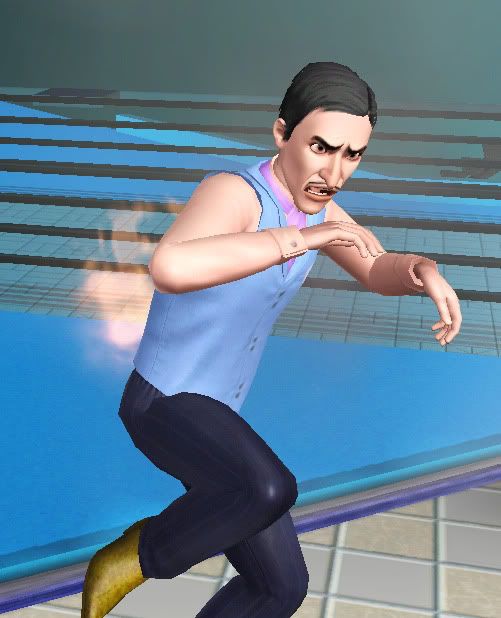 "AAH!! No not fire. Not again!" Ophidius yells. It's not the first time he's been flamed by Thagirion.
The screaming went on for a long time. Davon watched amused. It was so funny how much he screamed and jumped around.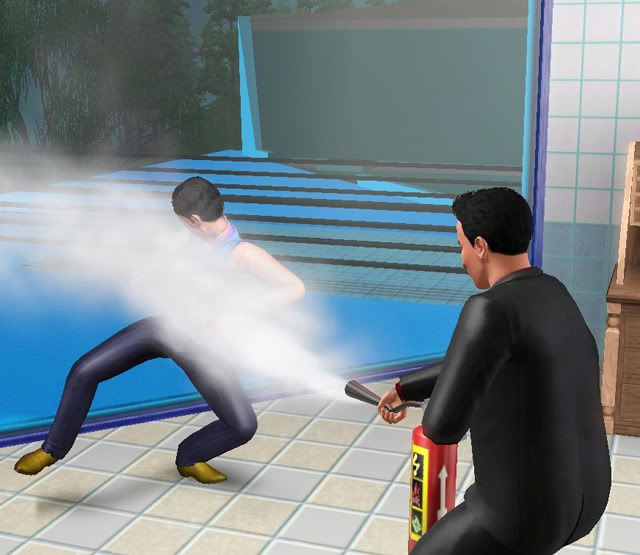 "Damn it, I need him alive though." So Davon pulls out the extinguisher. That in itself was hilarious to me. He sets him on fire then puts him out. It's like a double insult. Or perhaps he didn't want the nice house damaged.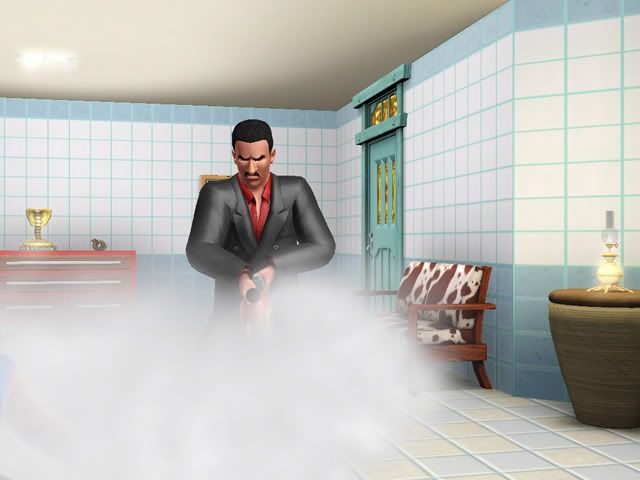 I think Davon's having too much fun with that thing. He has ice blast but this just seemed better.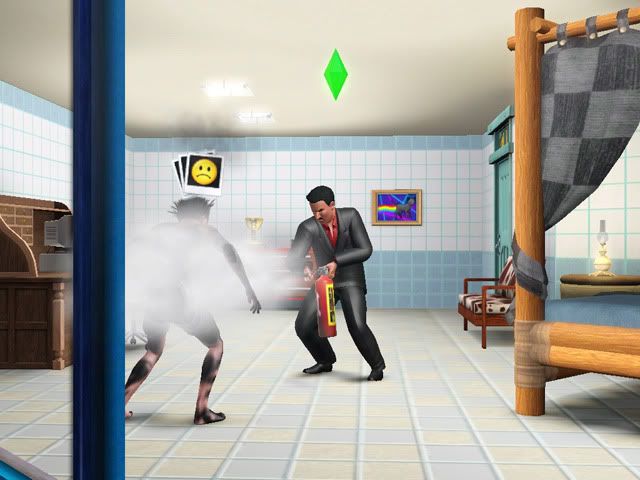 Now you owe me because I saved you.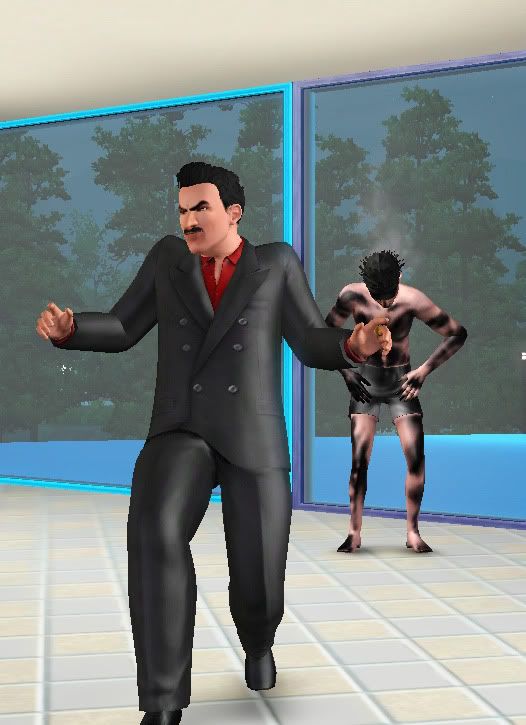 And just like that Davon literally sneaks off to do more evil deeds.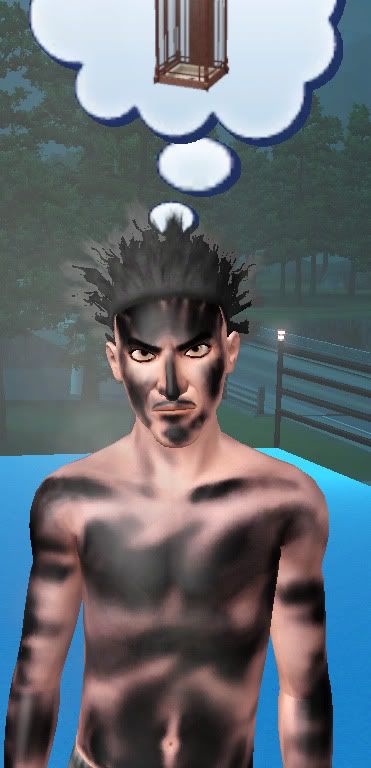 Ophidius is not amused. He'll get him back. But first a shower...or not. He ended up going to work like that.
Davon was going to go and scare Owen but the walk was so far that the wish canceled itself. Instead he played with his magic some more while Owen stands thinking of tropical fish. They both look good regardless.
Ok remember how I placed spawners in three rooms only? Well you saw that wild animals were spawning and seeds and rocks were spawning where they weren't supposed to. So I went into buy mod and turned on buydebug and here's what I found.
This is looking out the window of the music room. Where did all these spawners come from? I didn't even place them there. And they are in the air?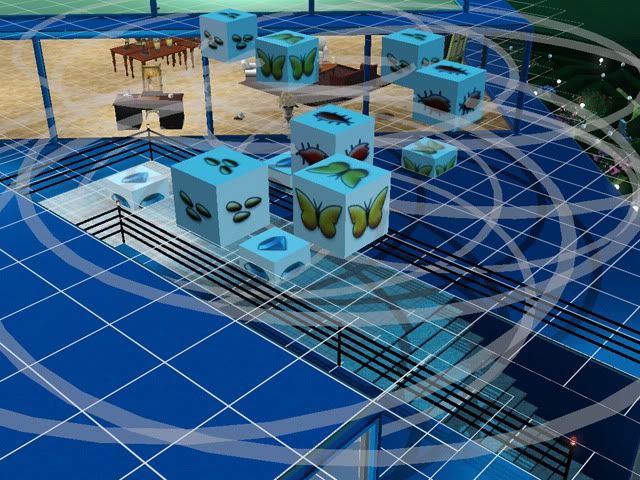 From across the house. Tons of these things floating in the air. It was laughing but it was annoying too. I deleted them all and they don't seem to be coming back. I hope that's over with now.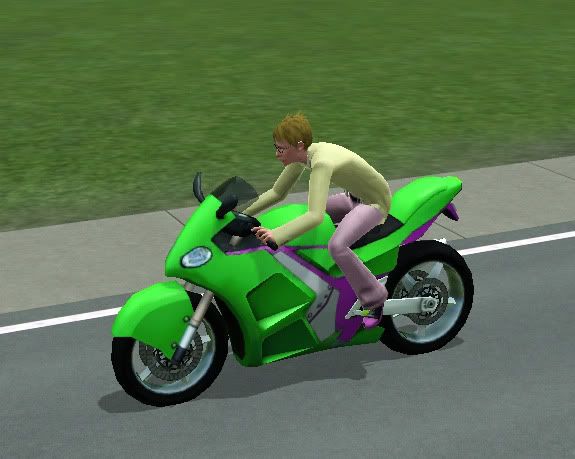 Back to the story. Cope on his motor cycle. It looks so nice and close to how I imagine it.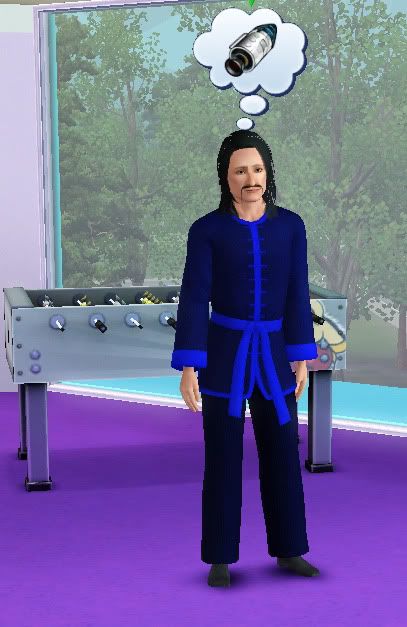 Thanatos made it to blue belt. For some reason he's thinking of space pods.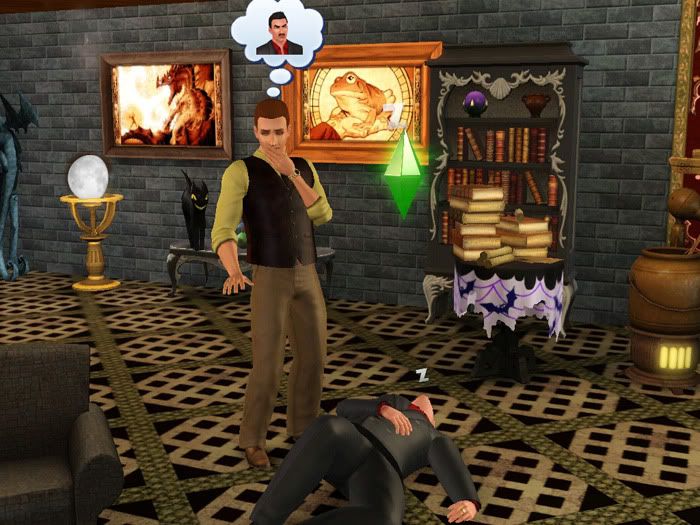 Solan and Davon were having a dry conversation. Solan literally bored him to death and his master passed out. "Oh no. " He says realizing what he's done. "He won't be happy when he wakes up. I better get out of here." And he runs out of the room.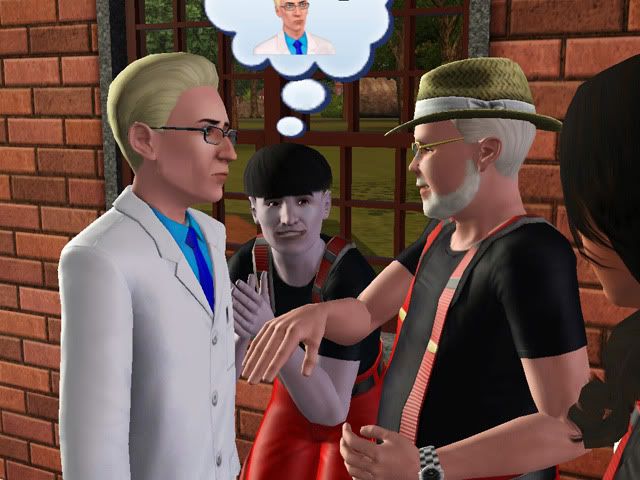 Owen socializes with John Hammond who's working at the fire department. The old man must be strong. Moe saw Owen and got very happy because Owen is a celebrity. "It's Owen Marsh, I can't believe it!" He says like a fan girl.
Cope plays chess on the computer. He gains logic faster on the computer because he's a computer whiz. Perhaps he wants a rematch with Owen.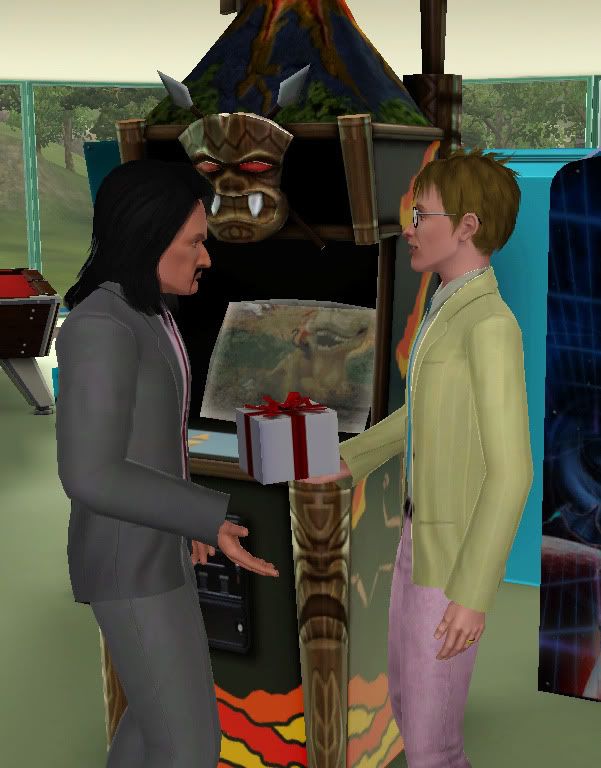 With Generations comes the ability to give gifts to other Sims. It's both good and bad. Cope made a smasher and was so happy he gave it to Thanatos.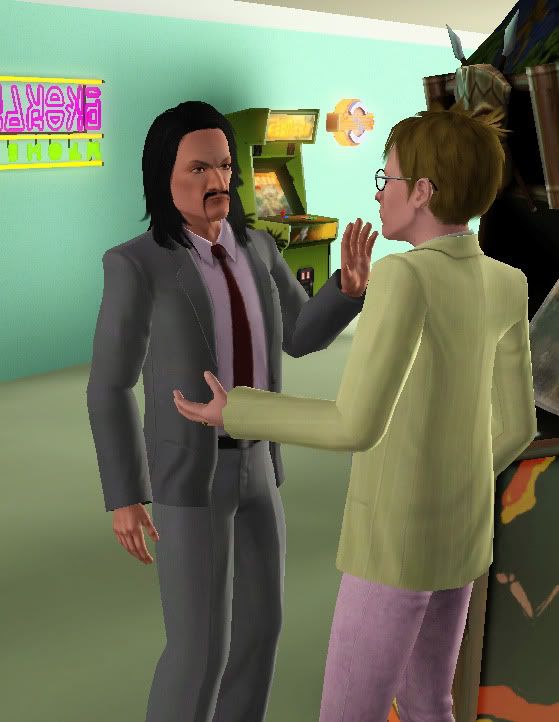 But Thanatos turned his nose up at it and goes, "I don't accept gifts from people I don't know well." WTF? They're house mates and at good friend status. More on this later. Poor Cope.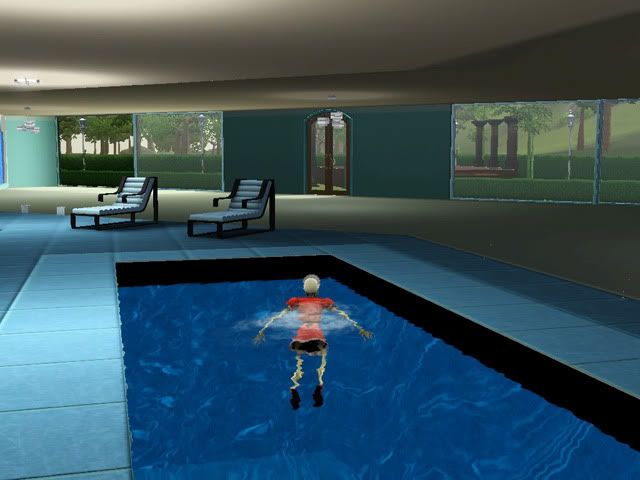 Bonehilda decided to go for a dip in the pool. How is she floating? What's funny is she left a pile of clothes and Ophidus pranked her and hid it but she's still wearing it. You know, this is the only Sim I actually want to see naked. I want to see a skeleton. Eh, but I guess they thought that was too scary for kids. Ptthhhuuurrbbb!!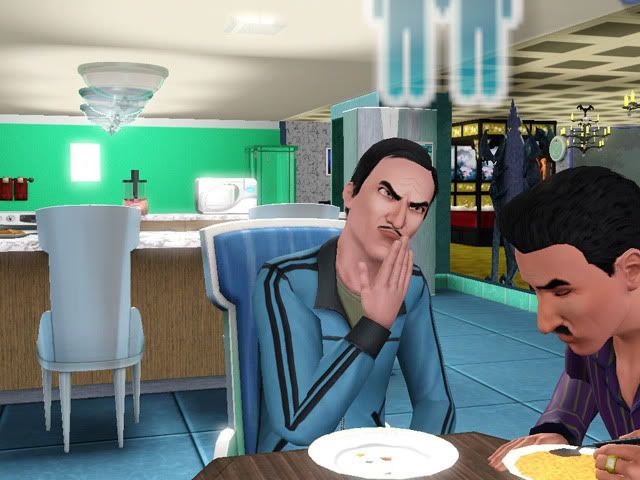 Ophidius back to "normal". He manages to have a civilized meal with Davon. But he still made funny faces.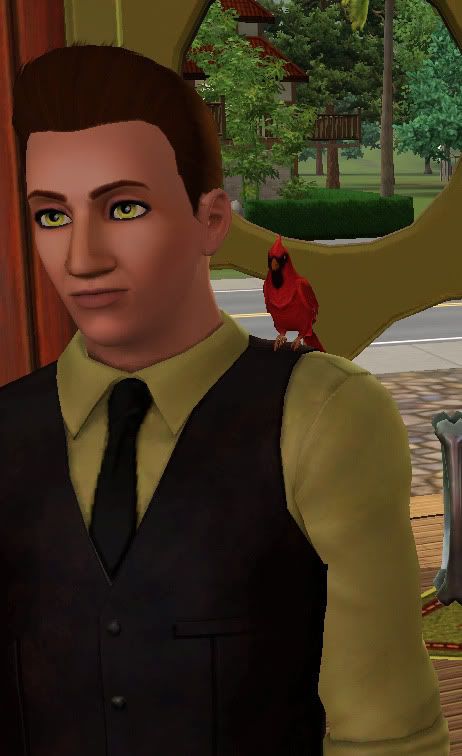 Solan found a cardinal in the house. He caught it and named him Sin. Hehe get it? Here he is walking into the pet store with Sin. Check out this hilarious menu when you interact with Sin.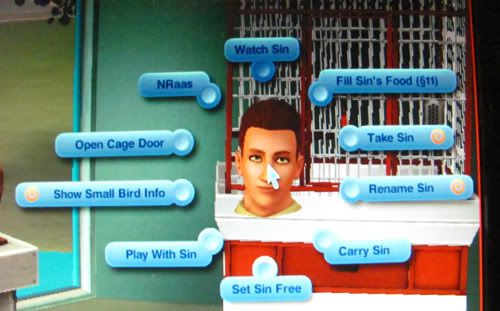 I nearly choked on my soda when I saw this. I love "Watch Sin", "Take Sin", "Carry Sin", "Play with Sin". Hee hee. This type of thing is just so amusing to us N types.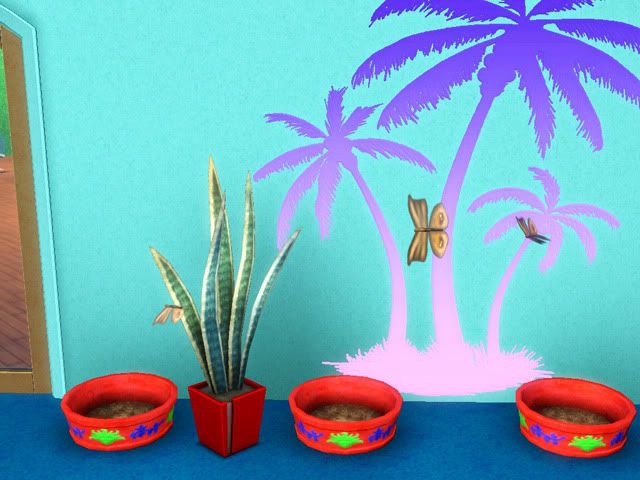 Moths finally spawned in the room! The bugs I do want are finally showing up. But I sent someone in to catch them, I forget who, and he missed. AAARRGG!! Who knows when the moths will come back. No they aren't there every night. They are rare. And I don't know what spawner makes those blue butterflies. I like those best but they don't say.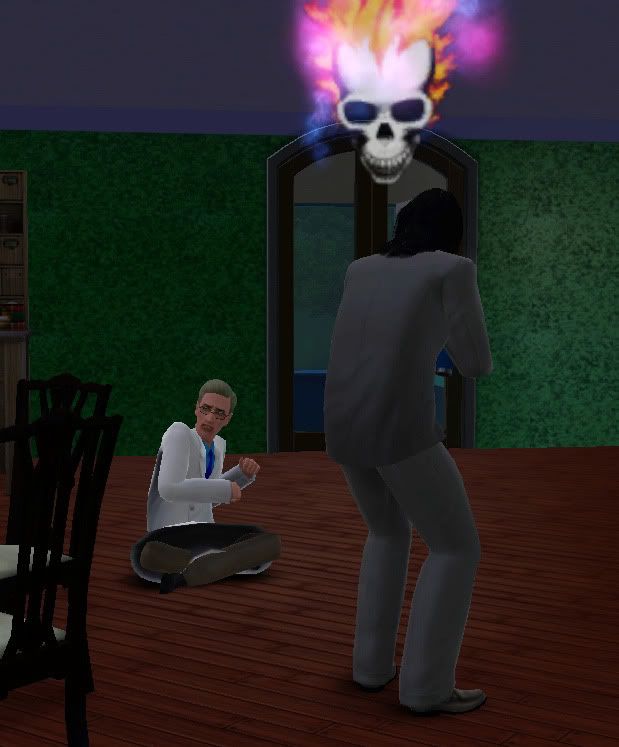 Thantos is a dramatic type of guy so he decided to tell Owen a ghost story. Owen got pretty scared when Thanatos told him about a cruse that gave a guy fire hair for the rest of his life and the rest of his death even. "I'd hate for that to happen to me." Owen thinks hehe. If only he knew. But they all decided that the master story teller would be Davon. So they all pile into the music room. Everyone's invited...except Ophidius.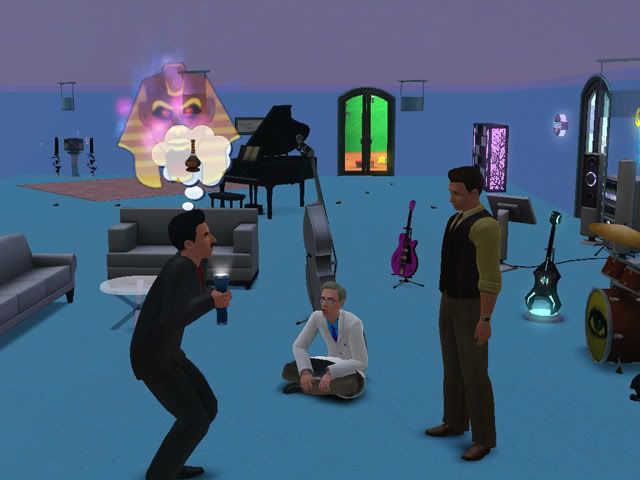 Davon starts off by telling an Egyptian story that would please Solan.
But Ophidius barged in anyway, so Davon started talking about evil snakes and how they always get theirs in the end. When the story was done everyone cheered and they all got celebrity points.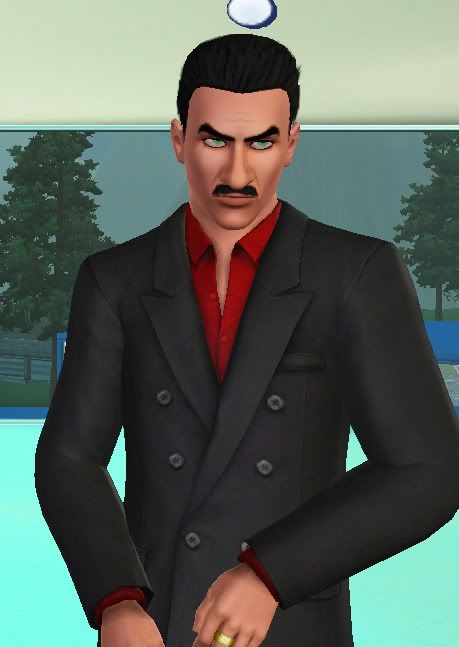 Davon smiled as the lights came back on. He is the master of a scary story. And a handsome devil to boot.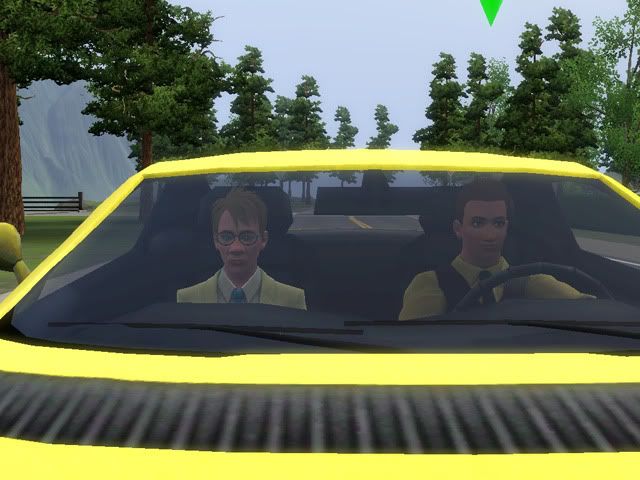 Solan and Cope go for a ride the next day. Solan's care is so nice.
That night Owen went out to meet some new people. He went to the community pool and met Des who is also a celebrity. Owen had two stars and she had one so I figured he'd do ok but I knew it would not be easy. He started talking to her and the first thing out of her mouth already put him in the red. Ouch crash and burn. I guess he came on too strong. Tone the extroversion down around her dude. Here's what she said.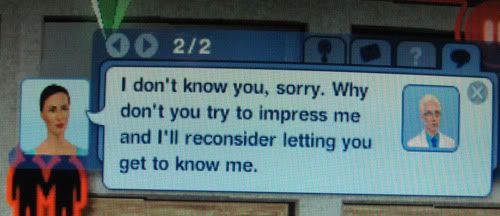 So mean! But so realistic. I nearly fell out of my chair because word for word this is almost exactly what I thought and said when I first met Chris. I never like anyone when I first meet them.

But Owen finally managed to impress her a tiny bit. This also sounds like something I would say or at least think.
I like that you can ask people where they went to school. I love that the game randomly made us have gone to the same school. Community high school, that's funny. What's funny is that the conversation Chris bombed with me on the first day we met was about having gone to the same high school also.
Des was starving though and I randomly decided to try to give her a gift. I chose a piece of lettuce because I thought she could eat it. I was shocked by her reaction.
OH, so the stupid gift thing has to be based on their traits! I still think that's stupid though because if you give the wrong gift you go into the negative. I also hate how even if you are friends with someone giving the wrong gift they tell you they don't know you.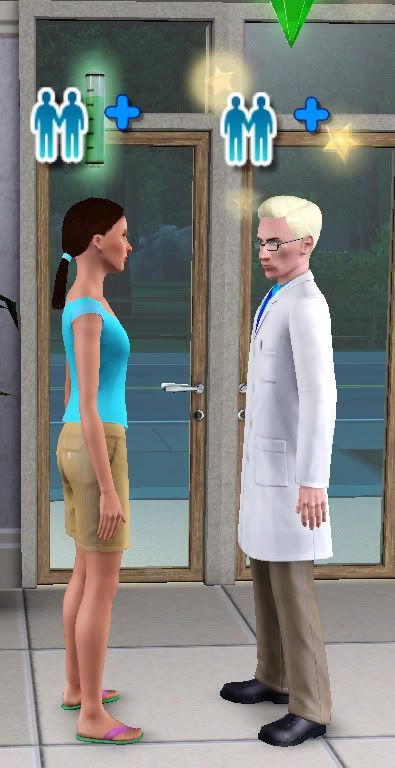 Finally blue points with Des. Hehe. But not even close to becoming friends
.
Current Mood:
cold