So Friday was payday for me so I used up the last of my gift card and got Sims 3 Late Night. I think this will go so well hand in hand with Showtime. You can form a band and now the game has become so much more exciting because I want to form my Lead and Brimstone band of the four bad boys. OOH, I just checked the tracking on my Fast Lane Stuff Pack. It should arrive today. I love this getting a new Sims game every day for the last three days thing.
Love Day came in my game for Spring. That's the big spring holiday. Kind of funny because it's a winter holiday and Easter is for Spring. They should have had an Easter based holiday instead. So I switched back to Owen and Destina since I wanted them to do something special for Love Day. Well there wasn't really anything special to do that I saw so I just took them to the festival again.
Here they are driving together. This is Owen's car. Just like in my story he's got a red sports car with a tan top. In my universe he drives an 80's style corvette. This was the closest thing.
The two try the love machine again and get an awesome score this time. The third best just like Owen got last time. I think it's because Destina's quit cheating and dumped her other boyfriends after the wedding. Here's what the machine said.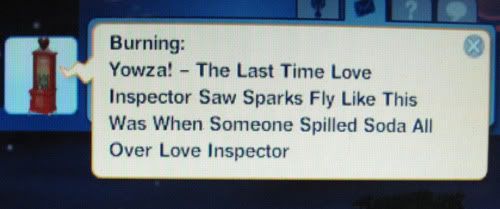 Burning. Yep again it was accurate for Owen. Last time when he did it alone he got, "Oh fire".
Now here's something else that I found on both of them that I was surprised about. Both of these have this as a permanent moodlet.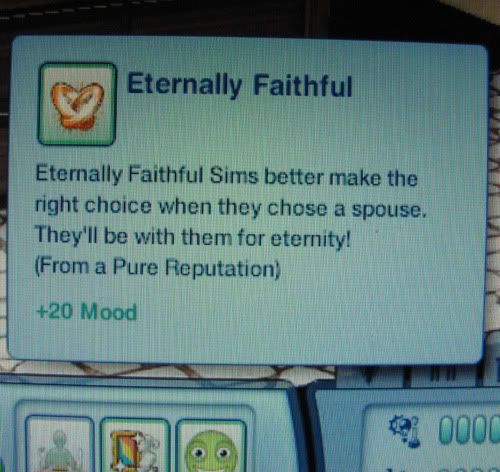 They didn't have this when I left them and started to play as Ursula. When I came back they both had that. It took me a while to realize they are two rings together. They were so fat they didn't look like rings. I wondered why Chris and Des didn't have this since they are so in love and have never cheated either. I don't consider Destina and Owen to be this devoted and in love with each other because they are both out going and don't need each other all the time. All I can think of is that it happens if you get married in the game whereas Chris and Des were placed into the game already married. But it still makes no sense because Destina was playing around. It's cool though confusing. The only faithful one's been Owen. But now I want to keep it this way.
And I did it! Owen went dancing so much at the spring festival he won Dance King for Barnacle Bay. He deserves it and just like in my story I'm glad they recognized how good he was at it. Though Freddy did give him some competition.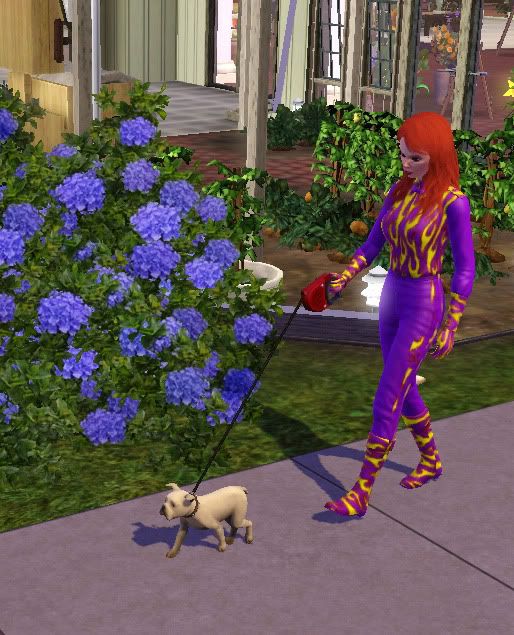 Sizzle walking Human. Now don't confuse her with Chris's Sizzle. He named his after this one. This is the real Sizzle from The Stunt Dawgs cartoon. BTW, you guys that watch Chris also check out his posts. He's made some cool ones of his Sims. Comment.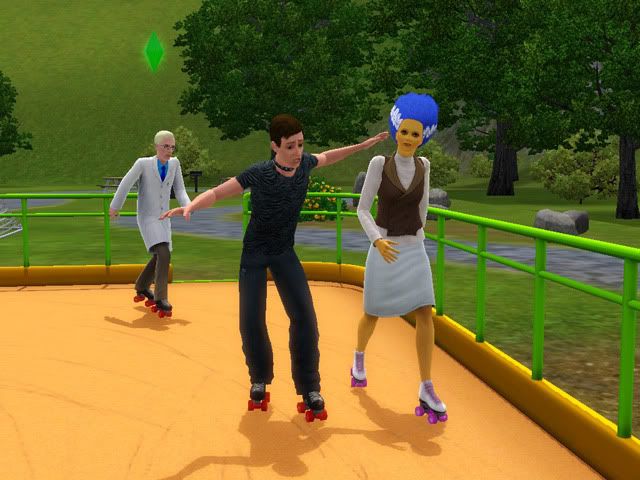 The Professor from Gilligan's Island, Marge Simpson and Owen skating at the Summer Festival. Professor is not very good. I feel for him. I can't skate.
Owen found all these fireworks and set them off. They go really high!
You have to go into map mode to see them. That rocks! That orange square is the skating ring. So I know where Owen was standing. It's cool to see it rise then explode. It sounds great too. Sounds like a shotgun. BTW, I'm amazed at the great sound quality of this game. I have to turn my speakers down to play. I can't keep them at normal volume.
This is funny and wrong. Nedry is more elegant on skates than The Professor. Here he is twirling. It's funnier to really see it.
Owen and Cope got in another fight since they met at the festival. Owen followed him into the bathroom and they had another fight by the toilets. Owen won. One the way out he stopped Cope again.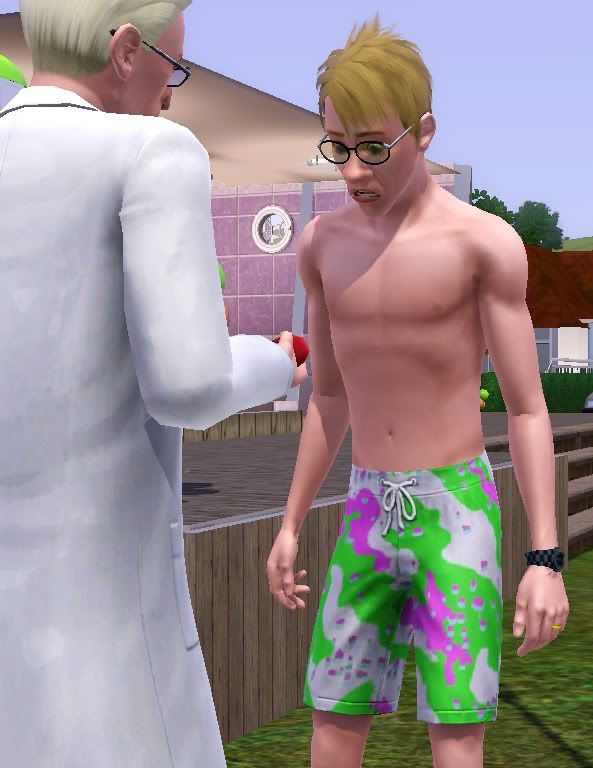 "Hey, Cope. Wait a minute. I know I just kicked the crap out of you but perhaps you can help me out. I'm giving out this new treatment from my company. Have a look." Owen says. Cope gasps when he sees the giant pill.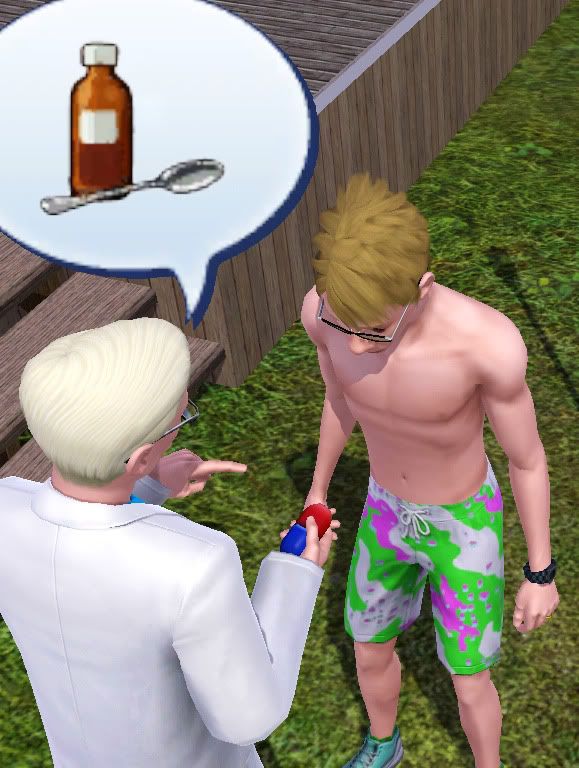 Since you're hurt you should try some. It will make you feel much better. Cope says No.
"W-what's the m-matter with you?! H-how d-dumb do you th-think I am?" Cope says angrily.
"Slightly smarter than a single cell organism." Owen respond then pauses. "No perhaps not that smart. Some of those protists are pretty crafty." Cope groans and walks away.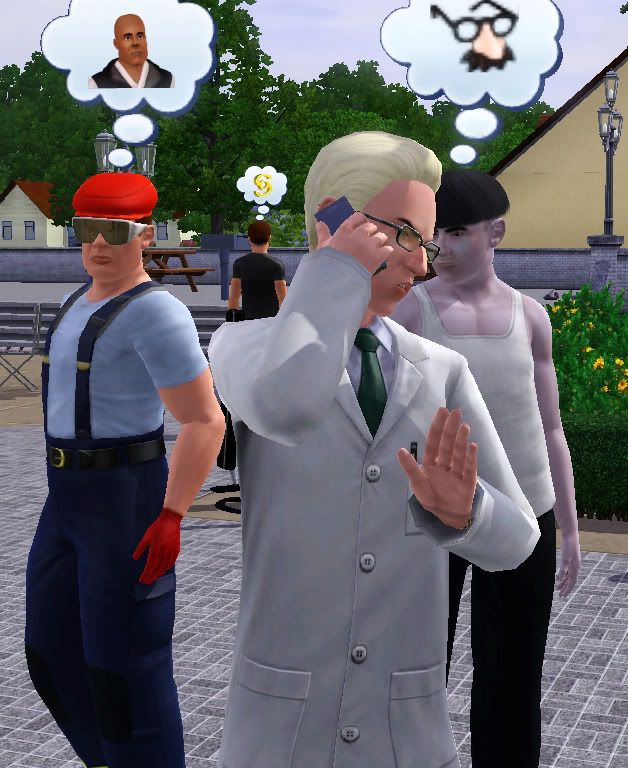 After helping a sick person in the park, Owen gets a phone call from Ursula and she asked him on date. Oh yeah that first encounter they had. Owen is angry and tells her No again. She doesn't get it and he'll have to make sure she does.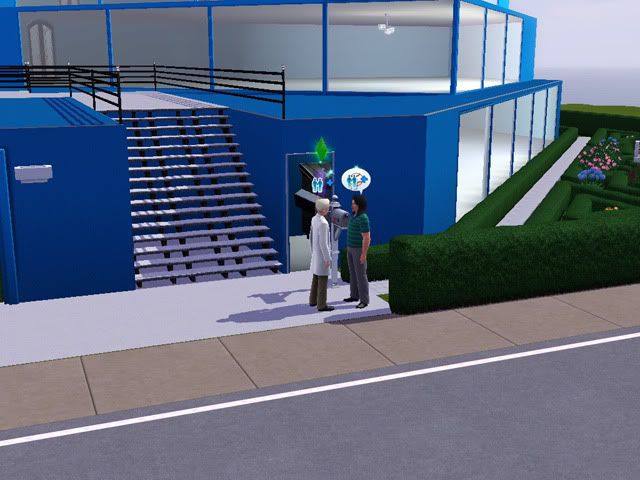 One of the missions Owen got was to fix a stereo and upgrade it for Thanatos. He does and brings it back to his house. He then compliments Thanatos on a lovely house.
Uh, yeah it's a freaking modern mansion. It could be Thanatos Indus tires the way it's so huge. Look how they're dwarfed by it.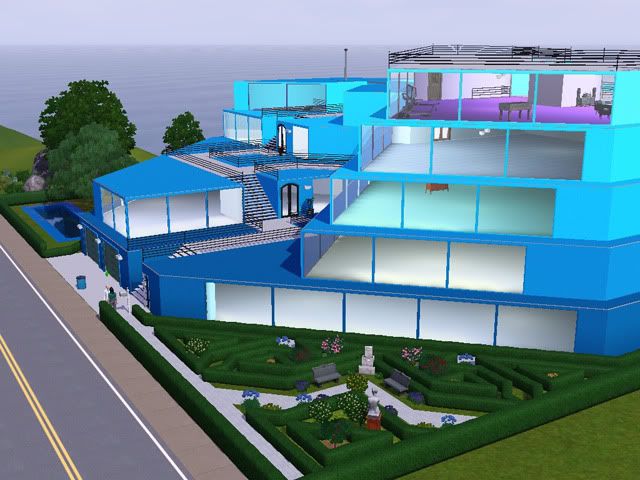 But it's a gorgeous house. It's a landmark in itself that you often see in the background just like the pirate ship. I don't even know how many rooms there are. There are tons of them. But the worst thing was this house came with no furniture and I suck at placing furniture and designing rooms. I made the essentials on each floor. Indoor pool, athletic room, TV room, office, bedroom, bathroom and kitchen. The person that made this house is a great architect because it's like a maze inside too. To get to some rooms you have to go around and round and sometimes go outside and come back in. It's brilliant. I like clicking on Thanatos and then telling him to go somewhere in the house and seeing what route he takes. Also the way this house is designed there are windows everywhere and no privacy. I had to put walls up for the few bathrooms I made or anyone could see you using the John. More on plans for this house later.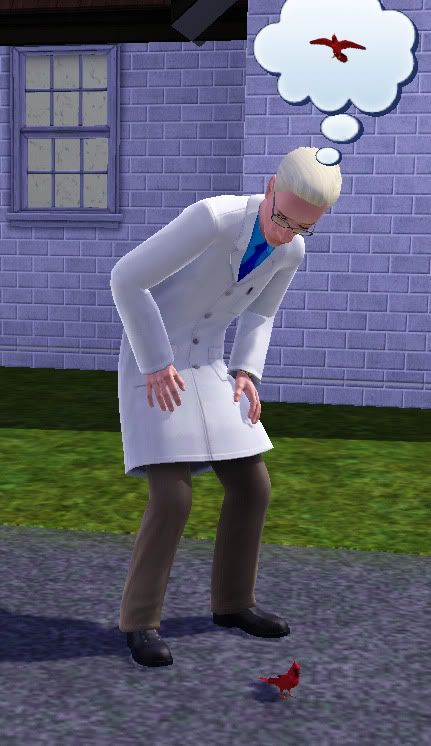 At last I found another bird! A Cardinal. I couldn't pick it up though. All Owen could do was watching it so I had him watch it a lot and he liked it a lot. I know you can keep them as pets but didn't know how. I finally figured it out. You have to have a cat catch it for you. Then you take it out of his inventory. Well Owen doesn't have a cat. But I was so happy.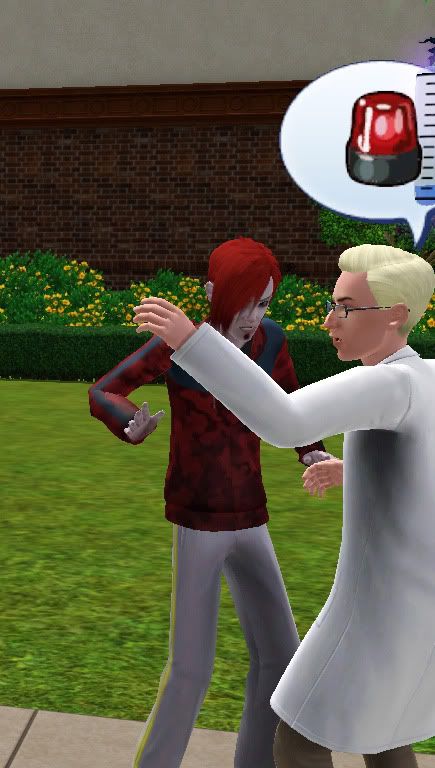 Here's another one for you
silvolf
I saw Kurtz walking so I had Owen go over and say hello. I had the option to talk about the burglar that got in our house. Owen was waving his arms explaining how exciting it was and it was really funny how Kurtz kept gasping and jumping back because he's over emotional. He was impressed by the story.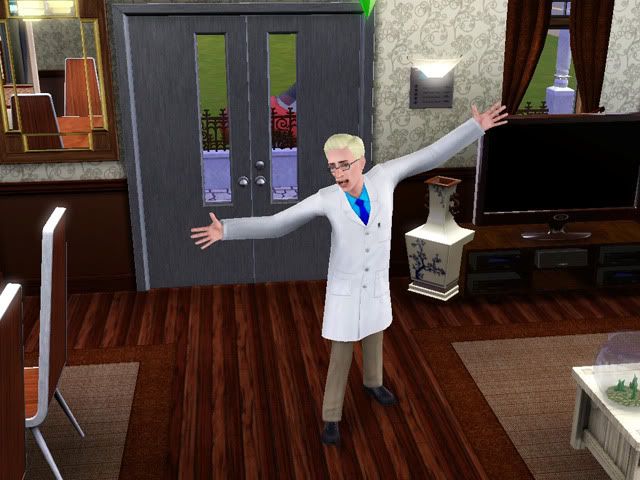 Owen gets home and shows up. "Ta da!" It's an option now since he now has the trait Natural Performer.
Something smelled in the fridge so Destina went to check it out.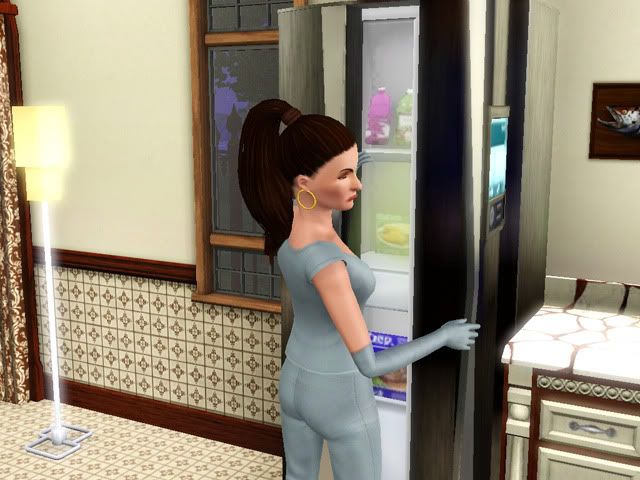 Eew! She yells as green toxic gas hits her in the face. Two month old hotdogs, yuck! And she was eating them up until the end.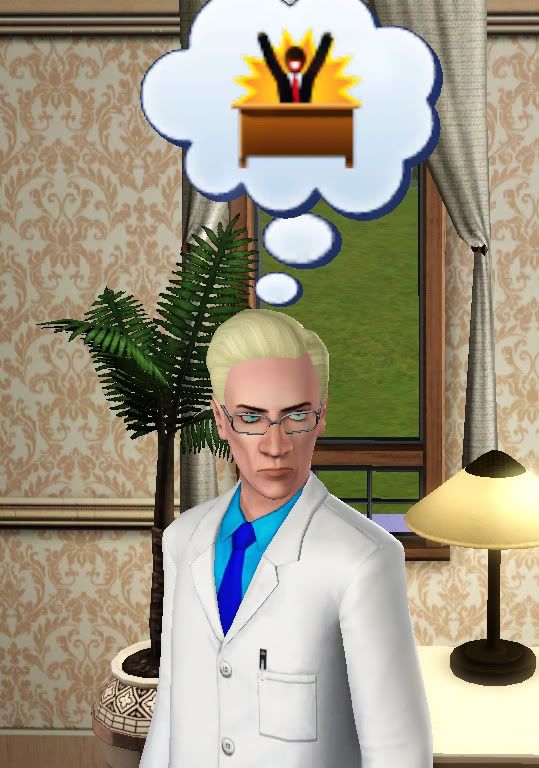 Owen took a liquid job booster potion. He's sick of not being at the top of his medical field. Two levels to go and he wants to get there fast.
Here's what the moodlet said. He wants to finish his life wish so he can concentrate on being a singer.
Destina is working as a criminal. I did not choose that for her but that's where the computer placed her when she was an NPC. I thought it was funny but she's not very good at it because she keeps getting arrested. Here's what the cops said last time she went in.

Basically they thought her Harry Potter book was dangrous haha. I love how they always confiscate something from your inventory and use it as an excuse for you to not escape. They are always fun to read. One time it was a lettuce. How does that work?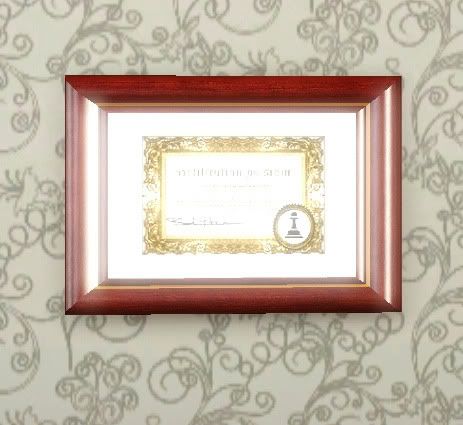 Owen reached level 10 of the logic skill and got his nice plaque to show off.
And the letter that came with it.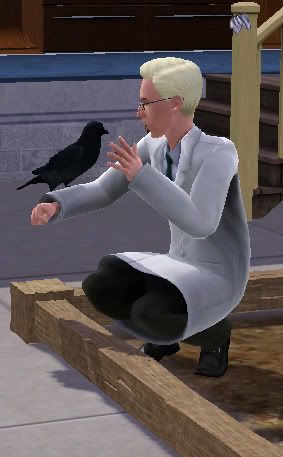 Owen found a crow! I'm so glad birds are FINALLY showing up in my game. Too bad I'm not playing as Des anymore.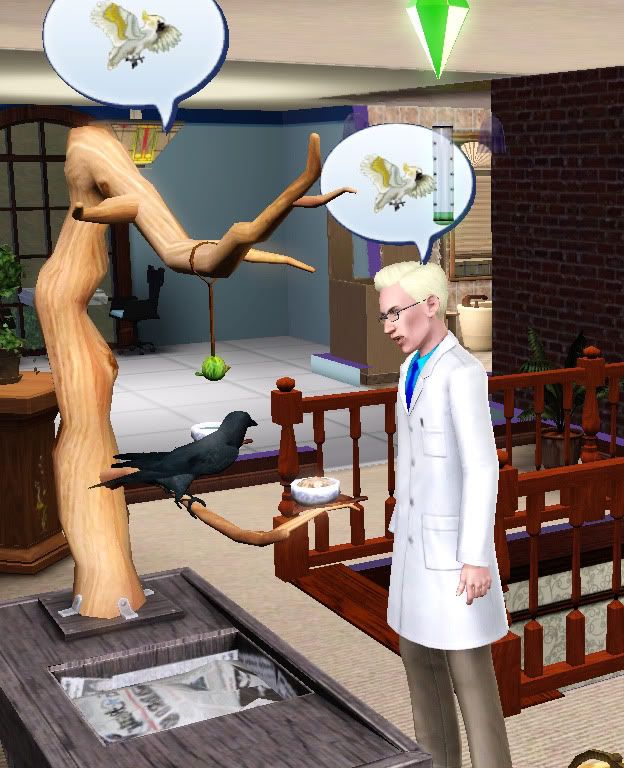 Owen was teaching him to sing. They were singing about cockatoos.
While they were playing Owen got bit. Ouch! I hope this stops once you reach friend status. I know it will be really hard.
Since I'm a bird nerd this really bugs me and it's a first that it's reversed. I always complain when people draw parrot feet wrong because they are used to other birds. The majority of birds have three toes forward one back. Parrots, woodpeckers and toucans have two forward two back. Well I guess for Sims they only had parrots as references because I have NEVER seen the mistake reversed. All the birds in he game have parrot feet. ARG!! I don't know what's worse. Sigh, oh well. The rest is pretty right and he's cute sleeping.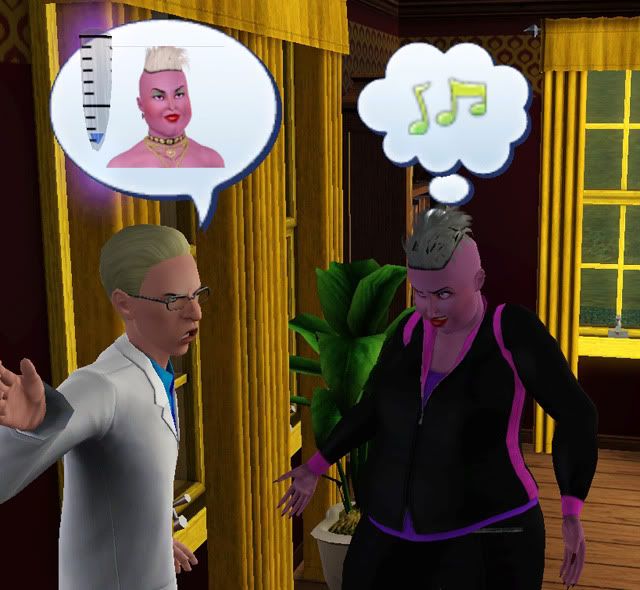 Owen ran into Ursula at the elixer store. He took the time to be mean to her and she was afraid of him. That's a first. They dropped down to acquaintances from friends. So hop hopefully this will stop the love letters and phone calls.
I switched back to Ursula because I wanted to find some moonstones. I haven't been able to get any. I hadn't realized her plants inside had gotten fruits. Indoor pumpkins rule! I love these special planters that allow you to grow plants inside. I did make some liquid job boosts because the plan is to get Owen and Davon to level 10 of their jobs then turn them into magic casters so they can both have fire. But I can't make witches brew without moon stone. I came to the realization that maybe moonstone only comes out on the fullmoon.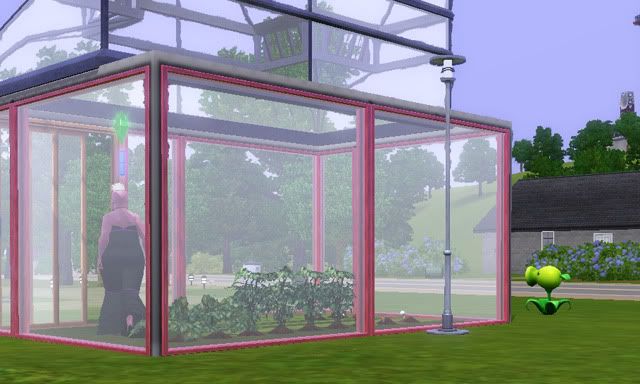 So I built this greenhouse around her garden. I found that's how you can get plants in the ground indoors. They have to be planted first then you put walls around them. She was able to harvest. I know bad job on the roof but it was just an experiment and something to keep the zombies out. Clicking on the mailbox with the cheat and turning off Zombies is pointless. It only stops them temporarily and doesn't save. If you don't want them eating any plants in any part of the game the only way is to only have one moon phase on. The bad part is I think no moonstones. That really REALLY sucks.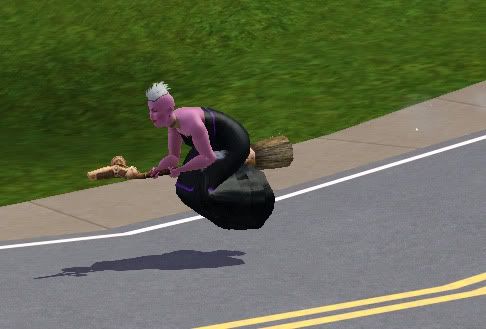 I got Ursula a broom! Haha, you buy them under cars but you have to have a broom holder first. They get parked inside the house. That's neat.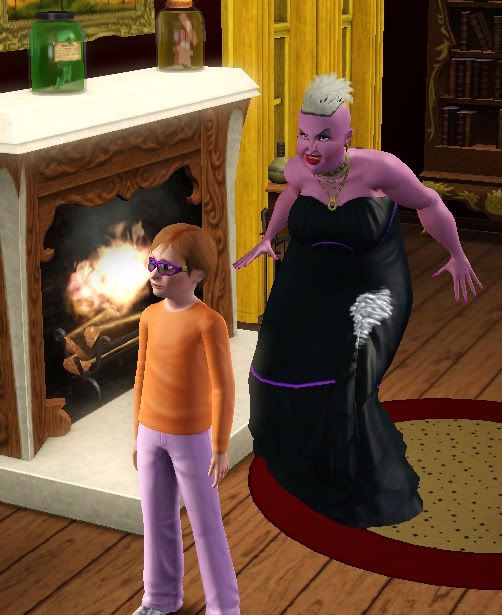 She's sneaking up on Maximillian Cope. Oh she loves little boys. Yeah right.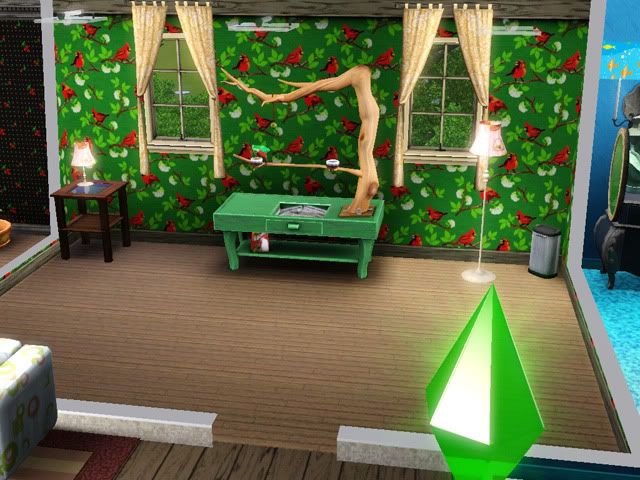 I redecorated her bird room. I figured cardinal wallpaper was appropriate.
Switching gears again. I installed Late Night which comes with a bunch of new instruments and more animations for the guitar. This is wonderful. Now there are drums, keyboard, pianos and a big floor bass. I was disappointed by two things with the floor bass. I was expecting classical style but instead it's jazz style so there's no bow. You play it with your hands. The other thing is I wish it had been an electric bass guitar not a floor bass. I hope they'll release another expansion with more instruments still. A bass guitar, a violin, some brass and wood winds perhaps. This way you can opt to go the classical route with an orchestra instead of a band. Or if you get the violin play it classical style as a violin or fiddle style for country music.
Ok you guys remember my drawing of my hypothetical band Lead and Brimstone?
Here it is again just in case. Owen's leas singer. Davon on guitars. Thanatos on Keyboards and Solan on drums. This is an alternate reality because you know these four would not get along in my universe enough to make a band and make decent metal. With this new Late Night game I can recreate this and I'm so thrilled about it.
Solan with his drums. There wasn't a set with a sun symbol but this eye was close enough to the Eye of Ra to look like something he'd use. I tried to get the colors close. I don't know if I can make the outfits look like mine in my art since they are so unique and complex.
Davon rules. He's rocking out with Solan. So I have two of the band members so far. And they did already form a band and I named it Lead and Brimstone. Only two more members to go.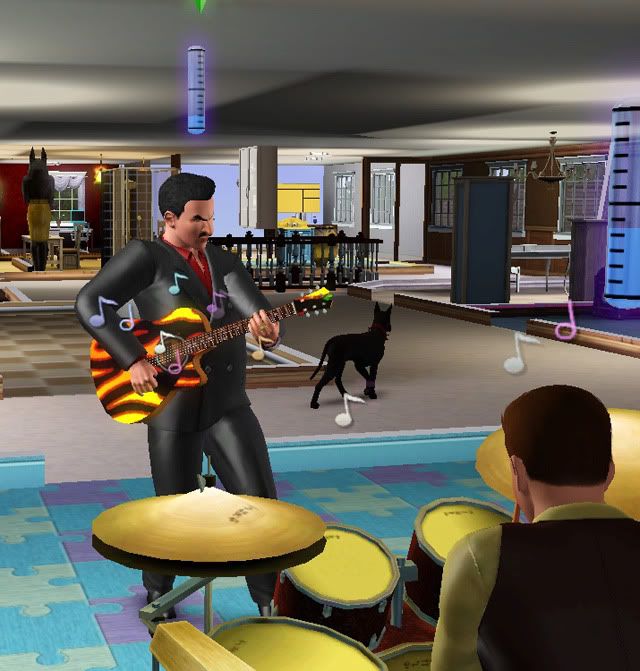 I was so happy to see this last night. But then I had to go to bed. I'm REALLY looking forward to playing my game now. And finally my pics are caught up to where I am in the game.
So yes this is wonderful. A few problems though. I hope I can get them together since they live in different households. I want to get Owen to the top of his singing career first. Which I haven't even started. Still cheating with liquid job boosters for his doctor job. I hope he can keep whatever level 10 doctor skills he gets. I remember they didn't let you keep stuff after a certain patch and that was so wrong. You used to be able to. I hope they put that back or all those hours being a doctor will be wasted. Also Davon and Owen are enemies. The band may not work out. Solan would have to invite him to join. I'm considering starting a new game all together on a new map. I'm thinking of doing something totally different. I think I'll play all my guys in one house hold. That would be the now five bad boys, (Davon, Solan, Owen, Thanatos and Ophidius) and Cope. So six characters. Put them all in Thanatos's huge house. More than enough room for them. Definitely have to get a Bonehilda maid because clean up will just be ridiculous. So she'll be the only weird thing. But I can pretend she's one of Davon's demon summons. I need to furnish that giant house first so there will be some set up involved in this game. No girls allowed or kids. That means Owen and Cope won't be married. And since it's alternate I won't force any relationships. I'll kind of let them do their own thing and see who becomes friends and enemies in this house. Unless I have to intervene. It will be interesting if they do end up in the relationships I had always planned but I should try to keep them all friendly just so the band can work out. Cope and Ophidius won't be in the band though, but since they are mind and I'm getting tired of switching houses it will be nice to have all the main characters in one place.
So yeah lots of plans and set up and likely a very fun game. I'll still fill the new town with lots of my people. I wonder which of all the towns I have now is the biggest and best so I can place all the community builds I have now as well. This will be fun! I love strategizing.
.