ARG, I hate that LJ is changing everything like the look of our profiles and post pages. But luckily you can switch it back which I did right away. I didn't even look at the new version long. I know I hate it already so I switched everything back as fast as possible. I hope they won't force that on us, but that makes taking those screen caps a few months back worth it because now I'll have proof of what it was like before the change.
cheezey
,
actipton80
and
silvolf
I sent out your gifts and/or cards today. Actipton, yours will come as two separate things. The gift and the card. The gift probably won't have my name on it because I ordered it online. But it's something I also own that I know you'll like and find amusing. I hope it makes it on time but they said between the 20th and the new year which could be any time. I hope it's not that long. Only a few people left to go on my list. Hurray. I'm out of stamps now.
I've been playing Sims the last few days but it's not going so great. It's just boring and I can't wait to switch to another family that will be more fun. Because I'm a J, I can't let it go though and need to accomplish certain goals before switching over. One of them being I want Des to reach level 5 gardening so she can plant her pumpkins. But winter is about to start in my game so that may not even happen. I wanted to play as Owen during the fall for all the Halloween stuff. And I totally missed Halloween, called Spooky Day in the game because for some reason Des didn't get enough sleep and wouldn't do what I told her to. Then she was glitching and falling through the floor and couldn't get to where I was commanding her to go. I also wanted her to be close friends with Owen and Cope but it's been hard getting the meter with them to fill up. It's been even worse with my birds. I don't know how to become best friends with my birds. I can't get past acquaintance with them and it sometimes drops into the red. Gosh you guys think it's hard to get to know me and make friends with me in real life? Ha, these birds are worse than I am and very unforgiving. I know Silvolf was having trouble with this next thing and now I am too. I don't know how to go on a date? Chris and Des had a wish to go on a date. I had one ask the other and they were going. I chose to go to the pirate restaurant and picked, "Go with Date." But nothing happened and the wish is still in their inventory. WTF?
So the main goal is reach Gardening level 5 for pumpkins. I wish plants grew though the winter. I don't know who I'll switch to after that. I'd like to play as Owen and try to develop the friendship with Des more on that side since he's been rather hard to get on his good side for an extrovert. But, playing as one Sim only is also not as fun. The Scabs would probably be a blast but I haven't wanted to really use them. I should probably stick with my plan of playing as Solan and Davon. Oh I also want Solan to be good friends with Des. I've started working that relationship a bit. But starting from zero with Des is also hard because I have made her true to myself in real life. It's difficult to become her friend. Chris know because he tried with some of his Sims. Des doesn't like other girls.
I may not play and just keep creating more characters because I really want to get rid of all the NPC's. I don't like seeing characters I don't recognize and I don't feel like getting to know them either...hehe there's that difficult to make friends with me thing.
So anyway, pic time.
Des met Cope at the Fall Festival. They had a nice conversation about science and work since they work together. Then Des nailed him with a water balloon. In the game throwing a water balloon is a friendly act. I didn't know that. I would have thought they'd get mad but it becomes a game and I guess helps the friendship. I'm not sure yet. Ophidius looks on. I don't know why he joined the science career in my game instead of the business one but he has moved up the ranks fast and passed Cope who joined there first. Ophidius is ambitious and Cope is not.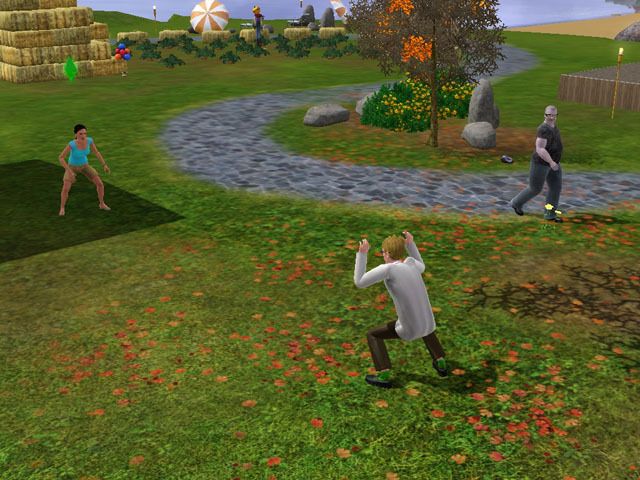 Cope teases Des. Curly walks by.
He's so happy to be dodging them.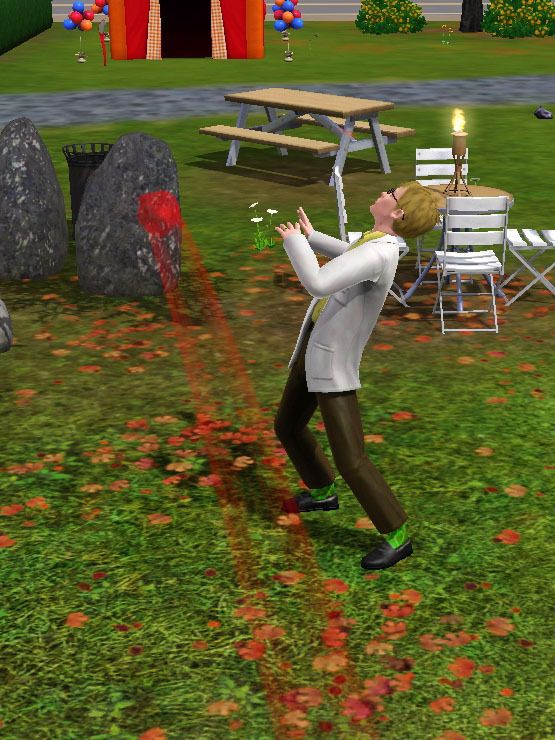 Beautiful Matrix moment. He must have gotten good at avoiding projectiles from High school.
Now he's ready to retaliate.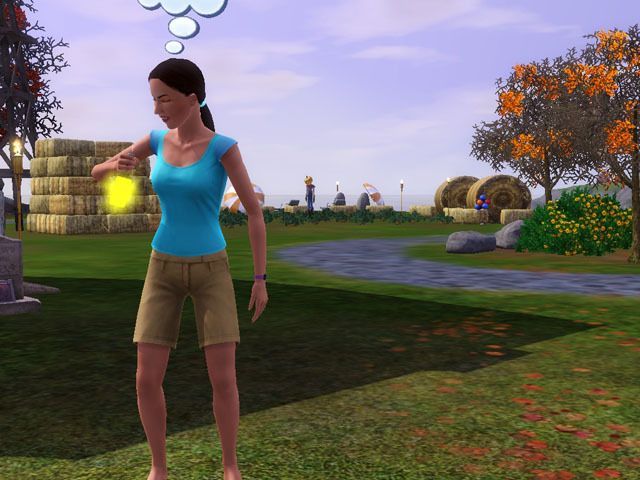 Des takes an invigorating elixir to st stay awake longer. Thanks
cheezey
.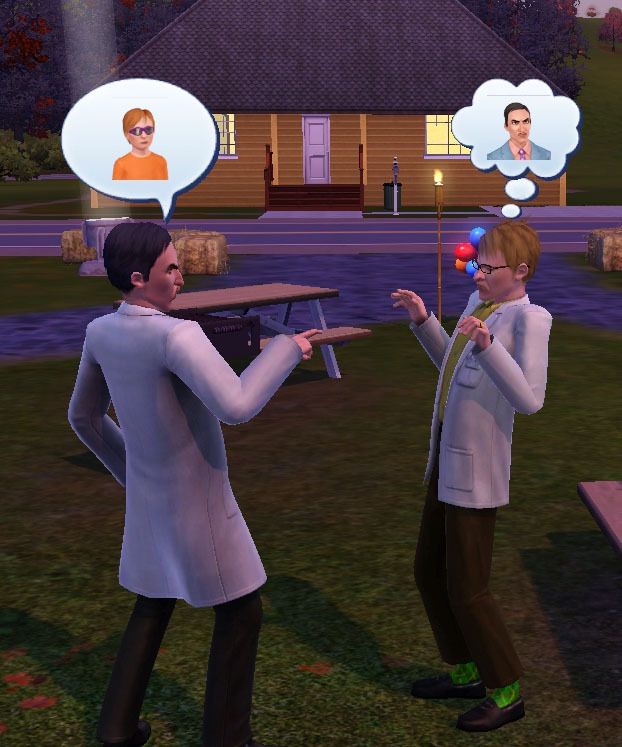 Ophidius insults Cope's son Max.

This is a wild parakeet that landed in the front yard. I have never seen birds or butterflies in this game anymore except when my cat is hunting. My cat is a level 6 hunter and she sucks. I don't know how she can be level six and lose almost every time. This parakeet beat her up. She always ends up catching garbage instead of her prey. And now Des has a wish to catch a bird. I'd LOVE to have her catch a bird but again I don't see any. How is she supposed to catch one? This parakeet is the only bird I've ever seen in the wild.
Des is working hard to try to make friends. She now nails Owen with a water balloon. She couldn't resist especially since he was wearing shorts in late Fall and we could see our breaths. Must be that fire inside of him. I don't know how he wouldn't feel that. I'm surprised you can have a water balloon fight in the Fall.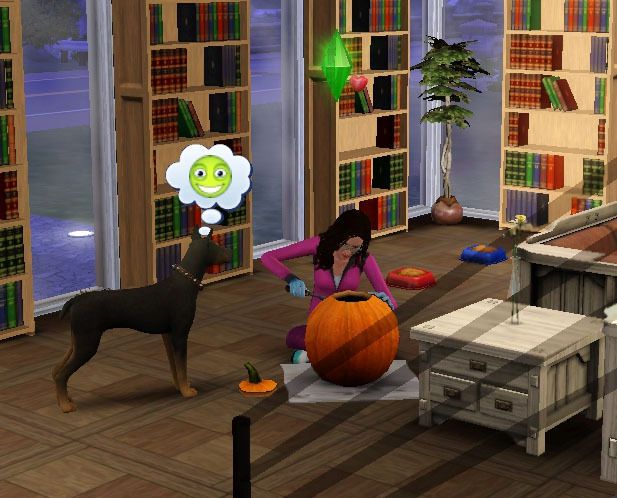 Someone smashed Des's first pumpkin so she's making a second one. Sasha is really amused by the pumpkin carving.
Finished cat pumpkin!
Chris plays in the bird room.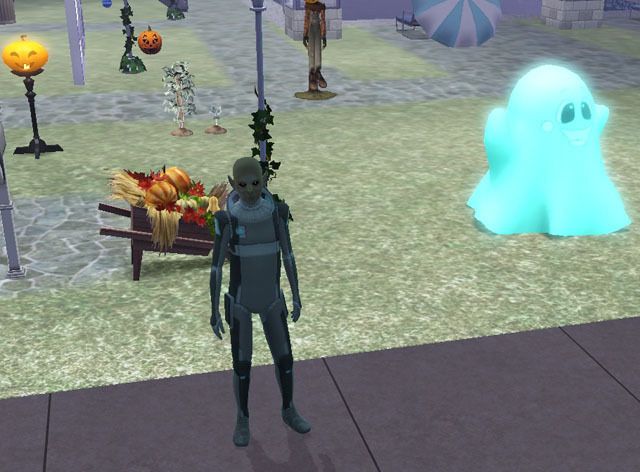 Another alien came. This time a male. He's ugly.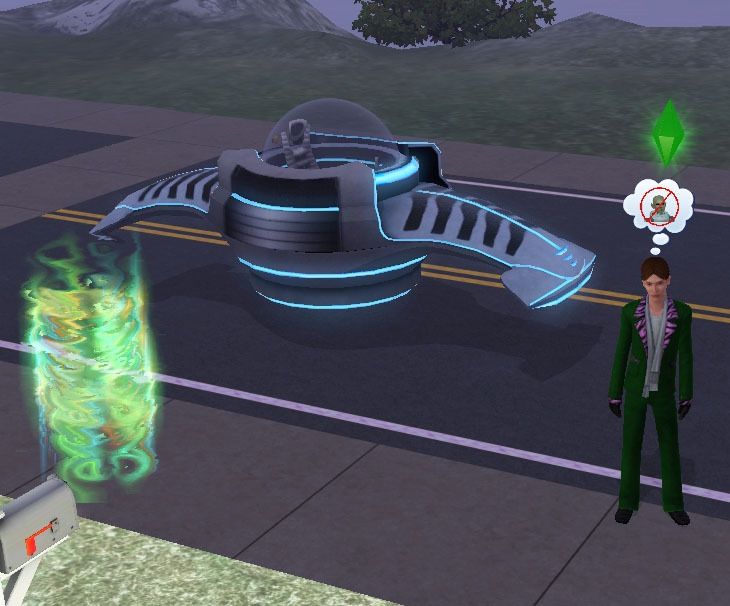 He abducted Chris. I missed everything because I was scanning the map for birds and seeds.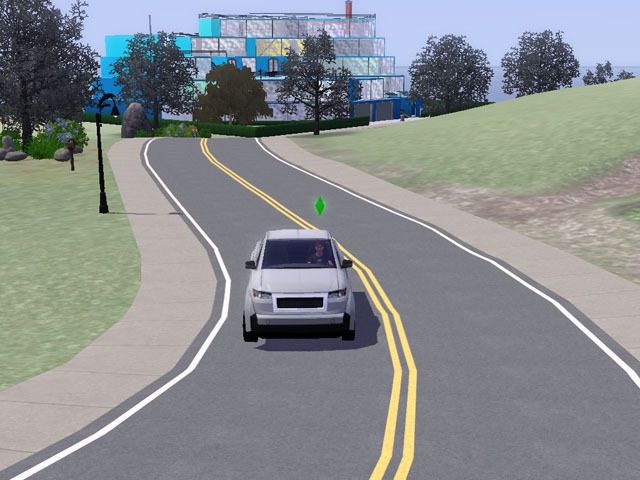 Chris driving his truck. That blue building is Thanatos's house. Funny thing about that. I downloaded that house and it totally rocks. But it came with one major flaw. No furniture. So I only added the necessities. I made a bedroom, an office, a living room, a kitchen and a bathroom. There are lots of other rooms all still empty. I just don't have time to decorate it. I could but that would be a job in itself.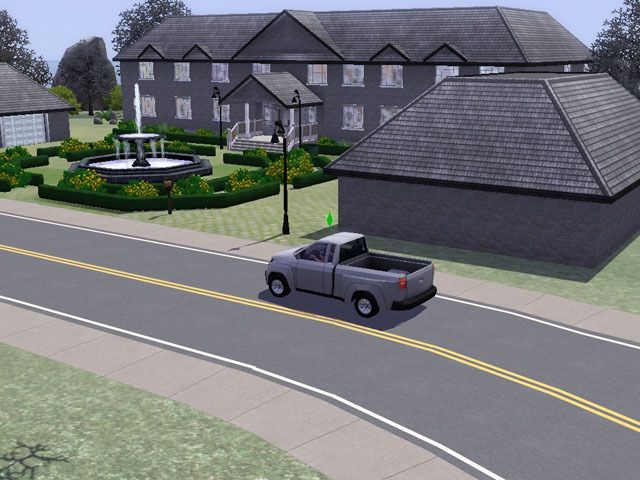 Davon and Solan's house.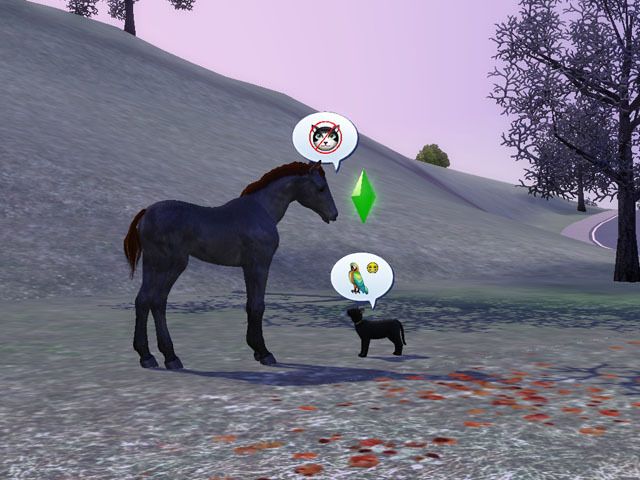 Savanah met a young wild horse. They chatted for a little but the horse didn't like Savanah at first. He says No Cats!
So that's been the most exciting things from two days. So really other than the alien thing nothing exciting.
.
Current Mood:

blah