I haven't played much lately but the little bit I played with Des and Chris is going well. In fact the last play through was really funny and unusual as you'll see. It started off normal though.
Here's Joel on his perch. I thought the bird food bag was really funny with the amazon and the big white cockatoo on it. The game has great detail if you zoom in on stuff. Some books have pictures in them. Joel's looking at the bag like he wants it.
I didn't know the birds flew. Joel flies around the room while we're gone. This is great. I need to get perches for everyone then. I wish you could put small birds on perches. That sucks. I need to get Des a parakeet and name it Phage. I wish you could recolor small pets like you can cats and dogs.
Chris with his new guitar. It kind of looks like my guitar String Theory.
Savanah found a snake outside our house.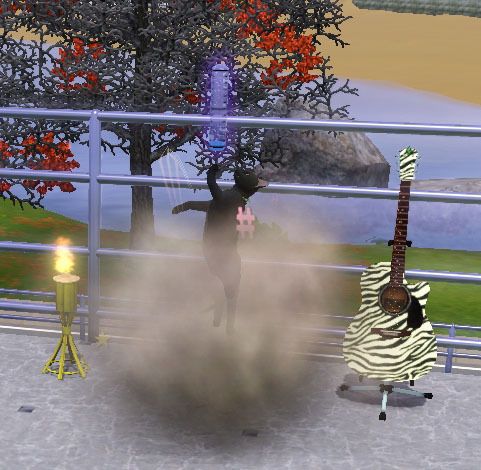 And she got in a fight with it. But it got away. Despite being level 5 hunting she's never caught anything other than a beetle. It's funny when cats fail they end up catching a leaf. Hehe.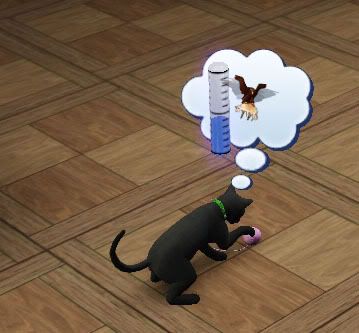 This toy helps bring up the hunting skill. I took this pic because I thought it was funny what she was thinking. She's afraid of a giant bird that picks up cats. What made me laugh about this is that the bird is a turkey vulture. Vultures aren't predators like raptors so here fears are unfounded. I wish they had made it an eagle instead. EA didn't do enough research into the birds of the game.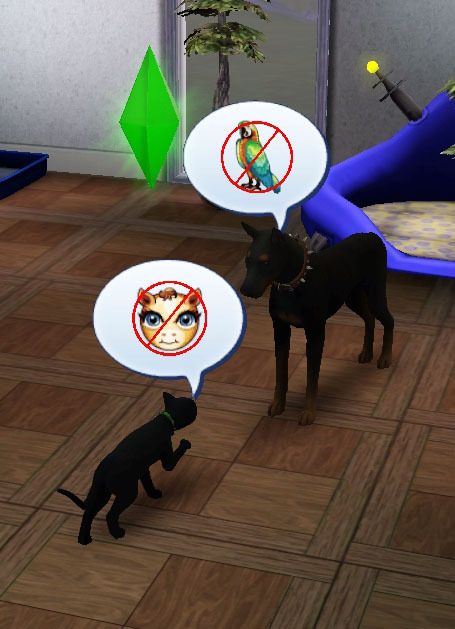 Savanah and Sasha are having a conversation. It's nice if you have at least two pets they can socialize and keep the social meter in the green with each other. I think Savanah's talking about no cows or no horses. Sasha's talking about no macaws. Uh. After that I decided to put a lock on the door to the bird room so no pets can go in there. I caught Savanah a few times wanting to watch Joel and I stopped her since I didn't trust her that watching is all she'd do.
While Chris was out he met Fungus. Looks like Fungus is in work clothes. He's telling Chris his plan to take over the world.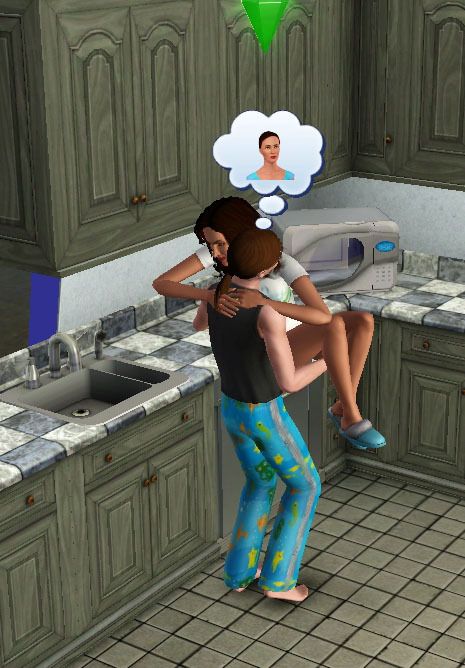 Des and Chris were hugging and kissing and then out of nowhere Des jumped in his arms.
This is cute. She did it on her own too. I didn't giver the command. I didn't know they did that. What I loved about this is that Chris has carried me like that before and it's fun.
Des teaches Joel to talk. I found out that So So probably means Hello. Chris cleans Lorena's cage.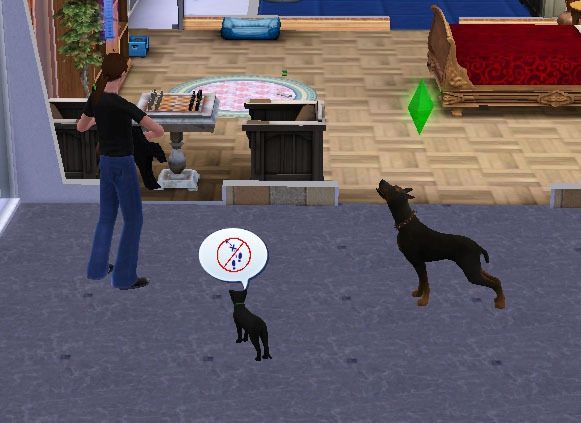 Sasha and Savanah howl along with Chris's playing.
Ok now this is when the game got interesting. The day was over and everyone went to bed that night. Then there was a Sci Fi sound and music and when I looked in the front yard I saw this.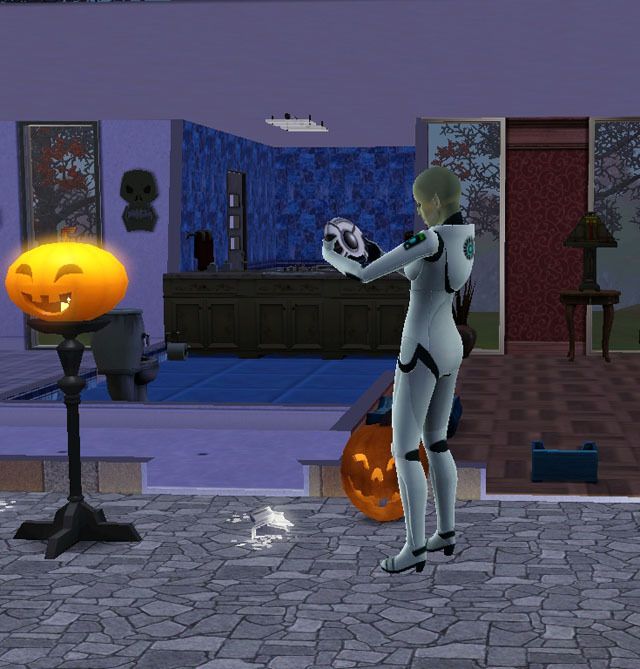 An alien woman was walking around taking pics of our Halloween decorations (It's fall in the game). She was checking everything out with her scanner and I think she killed the plants in my garden. She was looking at them and they were dead. I didn't like that so I set Sasha to guard the house.
When Sasha started barking the alien covered her ears over and over. Her ears really hurt. Then she ran off screaming in terror. Haha, I was laughing. This was excellent. I was so proud of Sasha. Ha, look how scary she looks in guard mode.
Here's the space ship. It's beautiful. I love the blue colors and it lit everything up blue.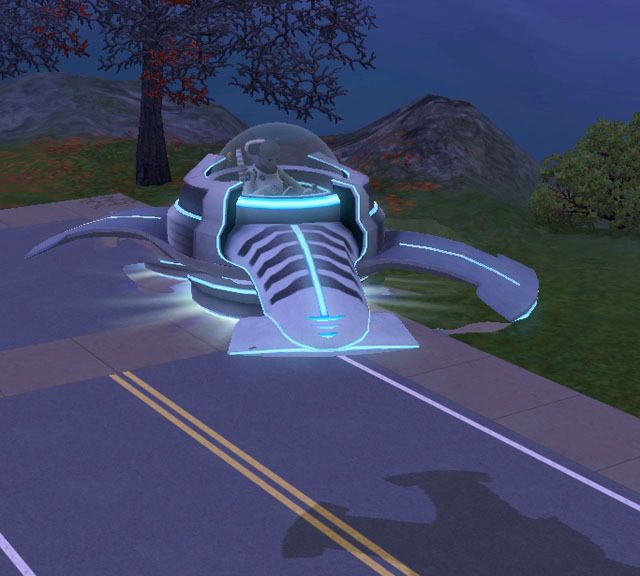 Then she took off and disappeared. That was great, but the night wasn't over for Sasha.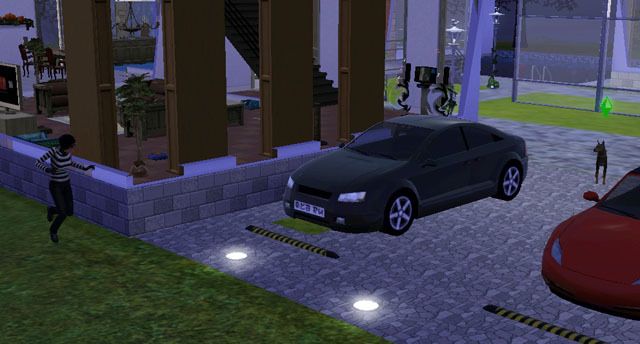 Then a female burglar showed up to rob us. But Sasha was already on her way to check things out.
AAHH!! Sasha!! I love how the burglar freaked out when Sasha found her.
Sasha chased her through the yard. I don't know if dogs can fight with humans. It would be great if they could. I know they can fight with other dogs but I have a feeling they won't. Unfortunately the burglar ran right into the house and still stole something. The cops were useless.
I don't know why our yard was the happening place to be for weirdos but it sure was funny. Because of this I'm going to have Chris and Des visit China so they can learn Karate. This way if a burglar comes back not only will Sasha chase them but we can beat them up ourselves.
.
Current Mood:

amused