No shock, I didn't get anything in the mail today.
I hate the short days this time of year. I love Fall but gosh I hate the day length. It got dark at 5:45pm and makes it feel like it's 9pm instead. It was cold today and it didn't help that it was cloudy so I really didn't feel like doing much of anything. Despite that I did get some stuff done. I cleared out some of the bushes that had over grown by the kitchen window and now I should be able to see the chickens better when they're on that side.
I updated my Christmas wishlist and added a few more stores to have options from. I was looking around today and gosh I really want to get some cool nepenthes. I wish I had a nepenthes buddy on LJ I could talk to about this stuff. I'm trying to prioritize if I should get an N. Sanguinea black or a hybrid N. lowii x campanulata. Sanguinea is one of the easiest nepenthes to take care of and common but the black form is rare. Lowii hybrids are kind of rare too and I love the gaping funnle shape of them. So ugh, it's a hard hoice. The hybrid is a little more expensive by like $10, but I'm not worried about that. I'm trying to figure out which I should get so that I don't have a hard time tracking down the wrong one later. Perhaps Sangunea because I've never seen that one on the market before. Tomorrow's pay day so I hope it's still there by tomorrow.
I have birdy pics to share.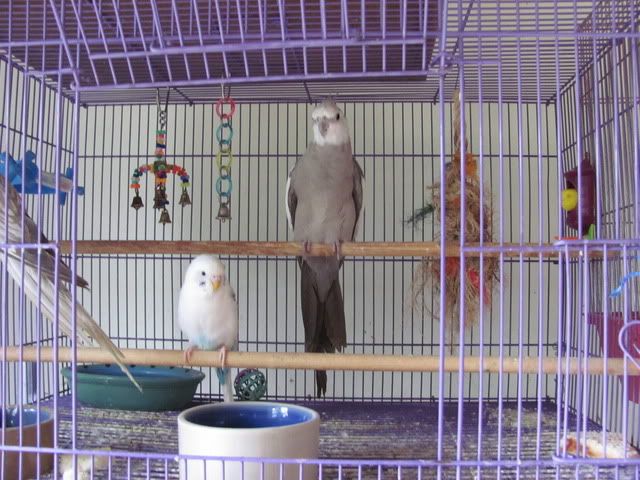 Meet Cinnamon Bun. He's a 10 year old cinnamon white faced male cockatiel split to pied and pearl. Peep the budgie is in the fore ground and you can see part of his mate Abigail in the corner. So he's a double mutaion.
Meet Abigail. She's a white faced cinnamon pearl split to pied cockatiel. She's a triple mutation. Because of that this is a special pair that can have rare quad mutation babies of white faced cinnamon pearly pieds. I used to keep good records but lost them. I used to know the parents of both of these since I bred them and could predict all the mutations and genders of the babies. Cockatiel genetics are way easier than budgie genetics and quad mutaions are about as complex as it gets. I don't know why but budgie genetics makes my head swim. I don't know why because I can certainly solve more complex problems. We all have some hangup.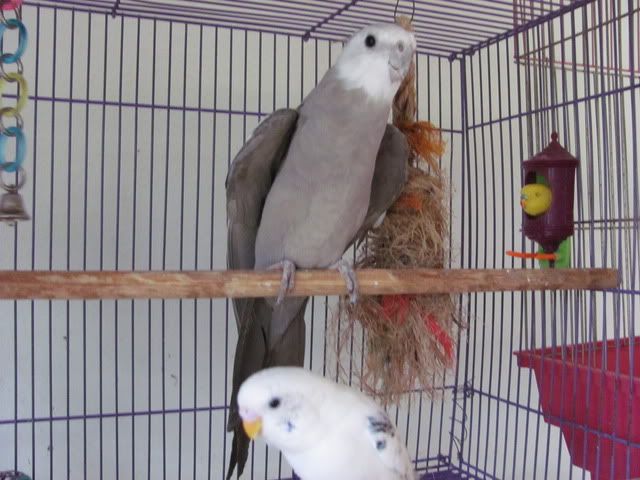 Cinnamon Bun and Peep again. I love that most cockatiels have brown eyes that almost look black. That's my favorite because black eyes make them look so cute. I think birds with colored eyes, especially light colors an black pupils look meaner, which is cool if that's what I'm going for. I don't want black eyes on an eagle. It just looses the effect.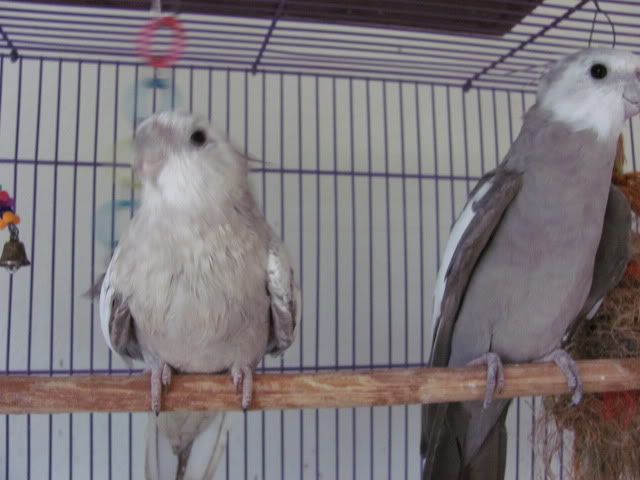 Abigail is not as friendly as Cinnamon Bun and she wasn't happy I had grabbed her and put her on the perch for the pic. Everything's blurry becaus she attacked the toy and everything was moving. But she doesn't bite hard. She's just hissy pissy like most cockatiels. She'd just had a spray bath too which is why she's funny looking.
And this is one of the Eastern Bluebirds I saw on my walk yesterday. I didn't go on one today because the weather was so crummy.
And I played a little bit of Assassins Creed 3 today. I didn't even get to the main story stuff like I had planned because I got side tracked with side missions. Next time I log on I'm going for that main quest. I need to make some progress. So even in my game I didn't do much. Blah.
.
Current Mood:

lazy