I'm loving this Primal Rage revist kick I'm on right now. I took pics of Slashfang the sabertoothed tiger today. He's the second rarest figure. The rarest is Necrosan a dracolich. I don't have him and it pains me that I don't. I also ripped the whole
All The Rage
album and have been listening to that as well as some of my techno from the 90's. If I had a time machine I'd be there now. I need to take pics of my regular figures out of the box then I'll post them here. I also need to find my unfinished comic I was making. It was really good quality for the time and it was an idea I had at the same time as the Dino King idea.
I haven't felt too well today, so I have been working on art like mad. I remade Cope and Owen in Dragon's Dogma. They look much better. I forgot to take pics though, but that's coming. I actually decided to try them out in the demo battle and they looked really good but URG, yeah more reasons for me to hate the game. The controls are just so weird. I'm used to attacking with the trigger buttons not the regular buttons. I don't want games that retro from when there were no shoulder buttons or they were so new they weren't used. So yeah needless to say I won't be playing that game, just playing with the character creation. The character is too difficult to control.
But I finished the pencil drawing for the
Jet Shoe Kick
drawing. This one will be much easier to ink. Check this out.
Click for full size.
I'm very happy with how that turned out. That's Owen's lab, but I decided to not draw anything in the background because I don't want it to take away from the action. Perhaps I'll just put a few broken flasks and computer parts on the ground. I had thought about a shelf with chemistry supplies on that back wall but I don't want it to be too busy and take away from the fight. What do you guys think?
And now for some budgie art.
earthmother45
, I drew these for you. I have been wanting to make a pattern for some stained glass budgies and I remember you telling me budgies were hard because they have too many details. I simplified them and made one my favorite color. I didn't draw a background on this either because it was a quick work up in Illustrator and Photoshop. I probably could draw some leaves or just sky, but I didn't think it was necessary. Click both for full size and feel free to right click and save.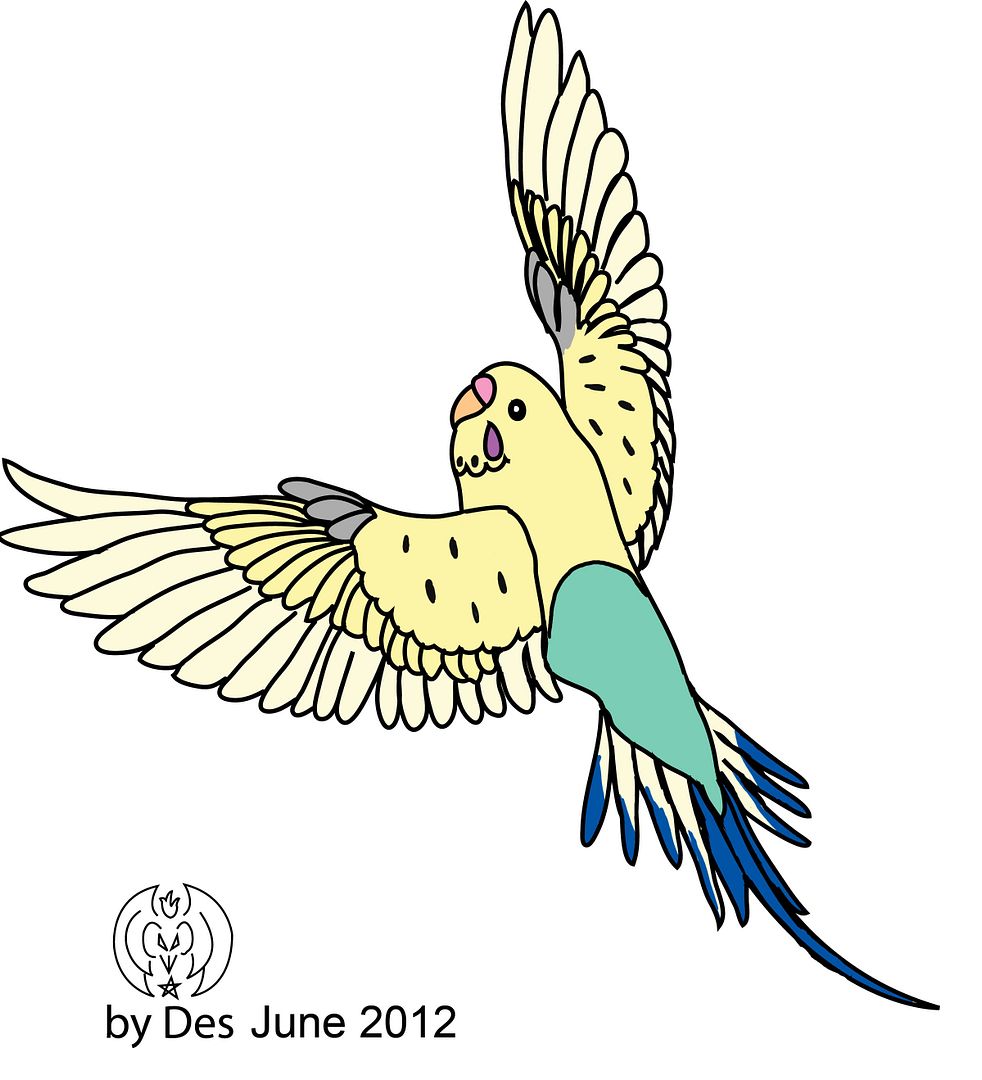 I didn't color the lines though I was very tempted because those will be the metal parts. I also didn't shade them though I was also tempted because the flat colors are the glass parts and I didn't want to add extra colors to make it confusing. The only place I got a little fancy was on the tail feathers that are half blue and half white. I don't know how that would work but I guess they can be either white or blue. The central feather is a dark blue and the wing tips are a lighter yellow than the body. I think he looks really pretty. It's a male because of the pink nose. A female would have had a brown nose. But in blue and green budgies males have blue noses.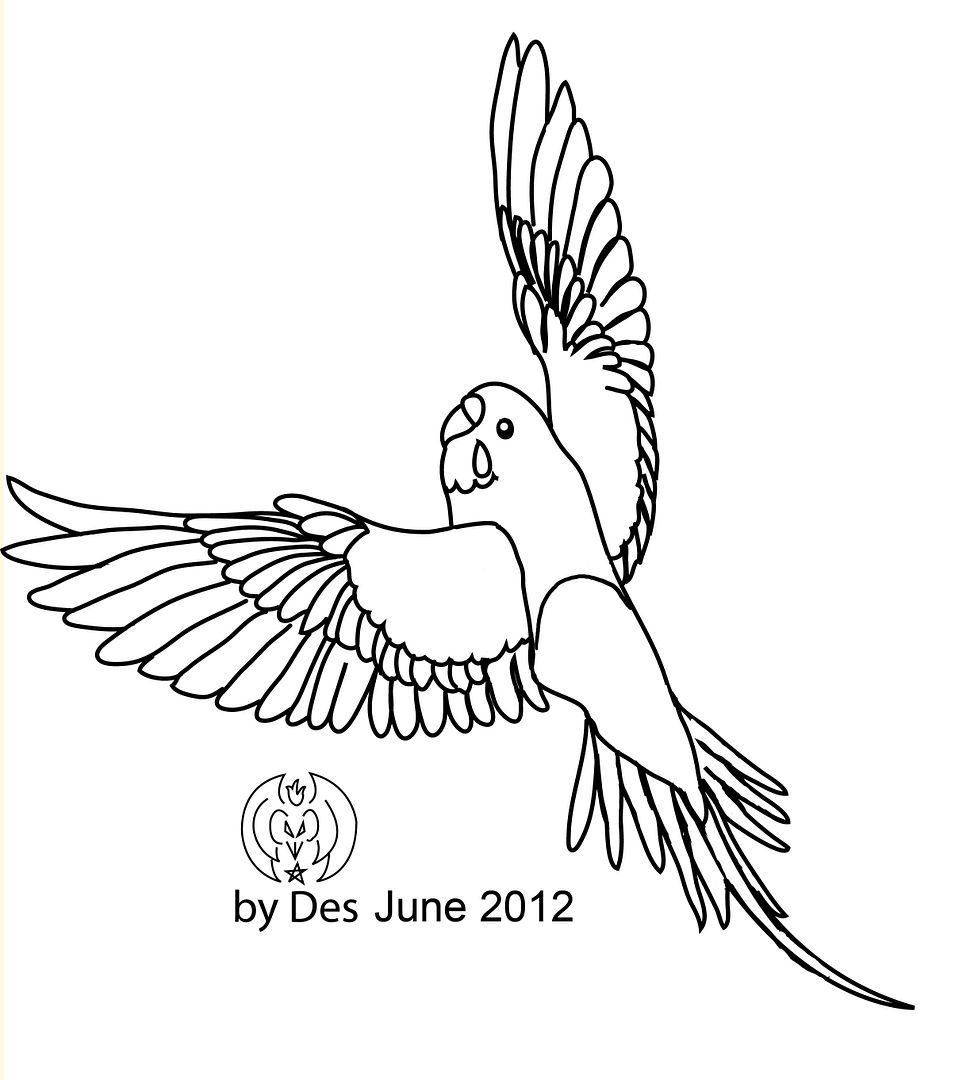 Here's the black and white so it can be made into any color you like. You can make a white budgie, an all yellow, a blue or green. I just simplified what normal budgies look like. These should print on a standard size paper and are high quality. I did make some mistakes in the lines and they got chewed up in some areas, but I think you can still easily make out what parts are what. Like I said this was something I did up rather quickly.
I'm very happy with how much stuff I've been cranking out. I've been thinking of making a Primal Rage fan site. I still have to make the Stunt Dawgs one too. But I'm really thinking about this because no one loves Rage the way I do.
Current Mood:

artistic
Current Music: All The Rage - Primal Dance