Today's been a very good day. The blue birds were busy making a nest. I got some more pics of them that are pretty nice.
This is a funny one of the female trying to get in the hole with nesting matterial that's too big. It was like a cartoon. She kept pushing but the hay was pushing her back and she couldn't get in the hole. Hehe.
This is my fave of the three. The male's watching being no help at all. You can see why she didn't fit in the hole. But I love that I captured her in a nice flying pose. I thank my video game reflexes.
With enough speed she finally did get inside.
The pitcher finally opened. It's been two days and I think this is as far as it will go. I think because of the merrilliana parantage (like the one in my icon) the lid doesn't open all the way on this hybrid. A bit disapointing since I like tall lids but I'm still loving this plant.
I hope it will still turn into a pink pitcher. If not it may need stronger lights.
Par o Bek comes through again. After searching and asking lots of vendors he had one in his nursery. He even sent me a pic of the one I'll be getting. Check out how awesome this is.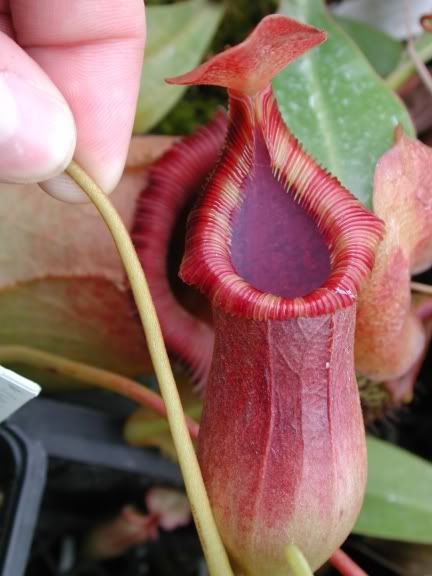 If you check the url on this you'll see he even named it as my pitcher. This is a N. (ventricosa x sibuyanensis) x x trusmadiensis. The color is gorgous. But most of all it has the wicked teeth of trusmadiensis. I have been so restless trying to track down this plant. I still have many more on my list I want but now I can rest and take it easy. I won't be able to get anymore for a while.
I started inking my drawing of the "Work fight". My hand is feeling better. Perhaps tomorrow I can finish the inking. We'll see but I'll do my best.
.
Current Mood:

thankful