I found another female pumpkin flower this morning and polinated it. This is so exciting. So far there are four pumpkins growing that have taken. I've been watering them more and I added fertilizer a few days ago.
I made very good progress on my drawing today. I got the background drawn. It was funny because I remembered that there's a great brush that I've only ever seen in photoshop 5. I dug through all the back up CD's looking for it. I hate doing that because it's always in the last place you look and I had to take everything out of the closet. But I couldn't put it on my computer because it's so old Windows 7 couldn't install it. So I installed it on Chris's computer. I hooked up my tablet to his but since there were no drivers there was no pressure sensitivity. Not that it would have any in Photoshop 5 anyway. That things is from 1998 and ancient. But that's what I started on and it was nice to see that familiar program again. I'd forgotten some of the stuff on it. Well I got the background drawn and it was pretty nice. It's so funny that this new awesome drawing I'm working on with CS4 that I'm going back to old programs like 7 and 5 to create certain effects. So I emailed the pic to myself and set it in as a layer. It looks good. I may mess with changing the hues on it or make it all one color. Don't know yet. One thing I found while work on this is that I need to have my room dark. This is a dark drawing and being in a bright room makes it very difficult to see.
Well I got more details done on Sorath. He's almost done. I've started to add the white highlights to Thagirion that makes him look like oil. Now he's starting to look frightning. I love it. But I had to get away after a few hours and was done with it. I think another day or two and I should be done with this. I can't wait.
So to break the monoteny I got on Initiation Station. I created Cope this time using the Spanish guy. I wasn't sure what to think at first but now I like him and think he's better than the black guy. This might be the Cope I use in the game. I'm still going to try and make him out of the Asian guy just in case. Then perhaps I'll do a comparison of all four for you guys to see. I also made Destina again using the Spanish girl. A HUGE improvement. In fact I love her. I'm not going to bother with the others. I think this is her look if I were to use her in this game. But I'm just glad I'll be able to play as Cope finally.
Since Friday is a holiday Chris gets paid tomorrow. This is great. We're looking forward to the midnight relase of Skyrim tomorrow. You can get your tickets to be called as early as 8pm so we'll do that too. Then Friday we have the day off because we're going to Alex's wedding. I can give him his gift and his late birthday gift too. I'm so bad.
I was going throug the archives because I knew I'd gotten my bass in November and wanted to know when he'd be a year old. Turns out it's today. Nov 9th. I couldn't believe it. I've been playing bass for a year now. Not every day and I took a few months off so I'm not as good as I could be, but then again I'm also made remarkable progress considering I've never played before and I'm self taught. But here's the amazing thing. We got a new guitar today and it didn't cost us a thing.
What happend was Chris's boss bought a storage cell. They have those places you can rent to store your stuff if you're moving or you don't have room. Well someone didn't pay their rent and lost all their stuff. Chris boss bought this one and got everything that was in it. One of the things in it was a guitar in a case. So he gave it to Chris. That's so cool. It's a black acoustic steel string. On the phone I told him that could be mine since he has two acoustics already. But when he took it out and showed it to me I'm not so sure. It's so fat it's too big for me I think. I've played his classical and like that better and it's not so huge as this thing is. Here's a pic.
I just can't believe we got another guitar on Bad Boy's birthday. So they sorta both have the same birthday. That's really cool and like it was meant to be. Don't now if we'll keep it or not. It's in decent shape. Needs new strings and to be cleaned. It does have damage. The top part is all scratched up and the back sort of is too. I'm thinking of replacing the tunning pegs with nicer ones. I already found some on Ebay that could work. Too bad it's too big for me. But that's ok. One day I'd like my own classical but it's not a priority. But we're running out of room. Too many guitar cases in the game room. ARG! And I still need to get a case for Event Horizon. Anyway more pics behind the cut.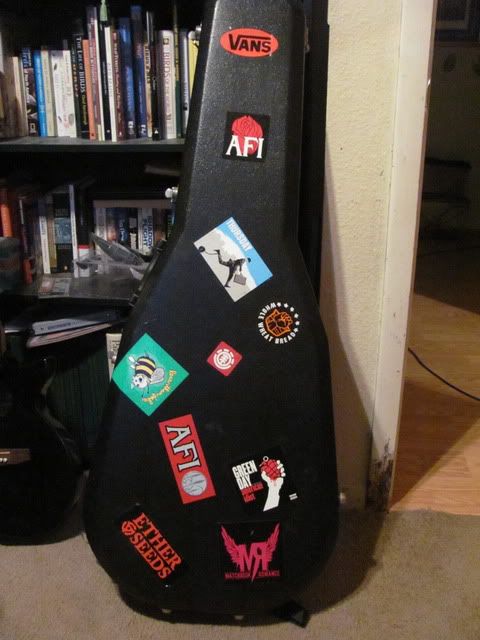 Here's the case it came in. Uuuu-gly. Those stickers have to go. That's going to be hard to peel those off and get the glue off.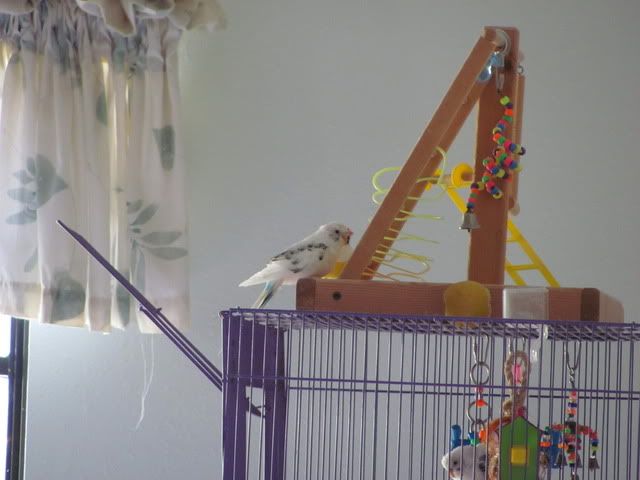 I had the budgies out today. Peep and Protist are molting and look terrible. I wanted to get a pic of Peep because his feathers look like Bart Simpson hair. Here he is on the play gym. You can see Protist still in the cage. She rarely comes out because she's old.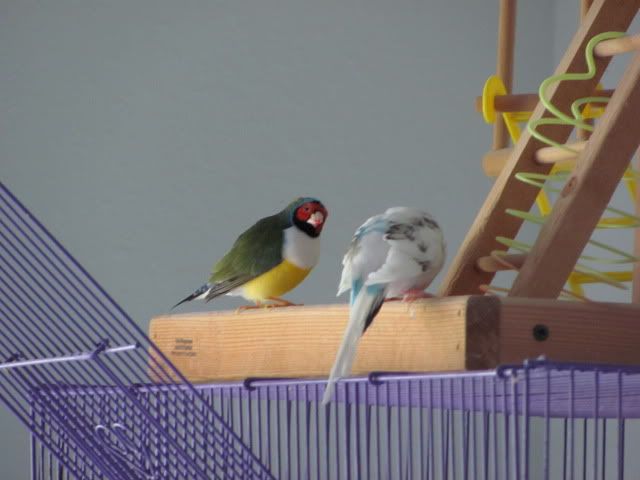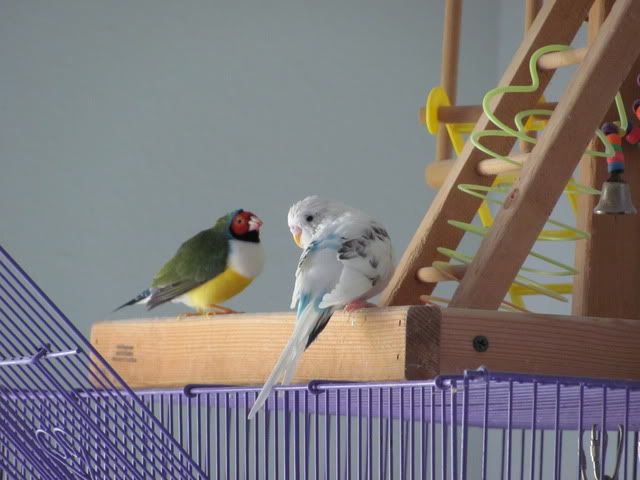 I like how he finally peeked to look.
Here he is with Seep Seep the Gouldian Finch. You can really see Peep's Bart "hair". That has to hurt.
Protist isn't much better. She's been ornery to everyone.
Isn't this a cute tiny Christmas tree? I bought it for our trip. Since we'll be in the Bahamas for Christmas I don't want to miss the special day. I want our own tree in our room even if it's a tiny 9 inch one. And we can open tiny presents too that will easily fit in our bags. It will be fun and different.
So that's about it. It's been a good day.
.
Current Mood:
cheerful