I've been working a lot on my creative stuff again. I've mostly been working on the drawing of Sorath and Thagirion. I'm on the shading part and it's giving me a hard time like usual. I've started shading Sorath's gold feathers on his neck. I want them to shine like metal but always have a hard time with that. I put a shadow away from the light. I also put a skiny light line slightly away from the outline. But it seems to still need something. Like streaks or a dot but when I add those they just look terrible. I got his skull done. I'd like to add textures to it and also to Thagirion's axe. I don't know how I'm going to do the background yet. I know I want smokey clouds in a vortex but I don't know how to go about that.
I made Cope again in Saints Row 3 Initiation Stiation. I started with the black guy this time and he turned out MUCH better. Check these out.
Much better. His face is longer. If you look at
my previous post the original
one looked terrible. The only thing I don't like about this guy is the lips. Still too puffy. So I'll be trying again with the Asian guy and the Spanish guy then I'll pick the best one. So far the black guy is the best starting point. Three more behind the cut.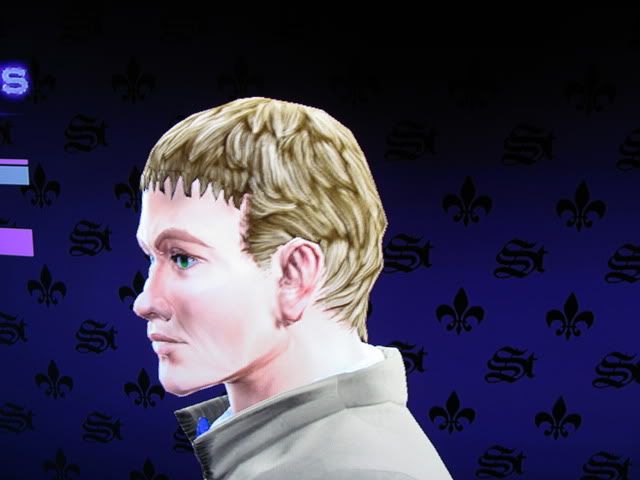 He's so cute in profile.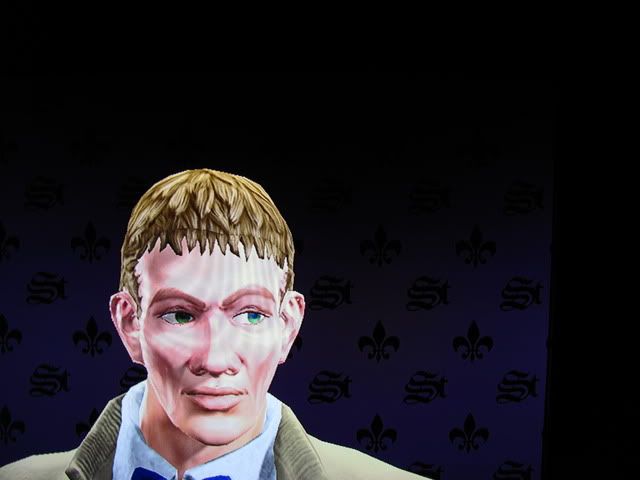 He has a cute expression here.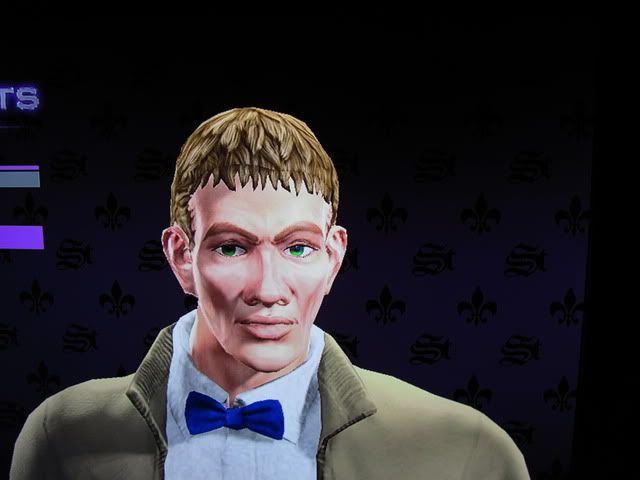 This one's ok but you get an idea of how he looks from the front.
I can't wait for this game to come out. It's still a ways off on the 15th. Chris has gotten me all excited about Skyrim. It comes out the 11th and we're both getting anxious for that to come out. It's pre-ordered and paid for. We're going on the 10th for the midnight release. I love these midnight releases because I get to watch all the nerds. All shapes and sizes hehe. This video shows what it's like for so many fans freaking out right now. They did a great job editing this. For me this movie works too but replace Skyrim for Saint's Row 3 and Mass Effect 3.
I went out in the garden and found three new female flowers in the pumpkin patch. Oh this is wonderful! I hope they become pumpkins too. I have a feeling this will the best Thanksgiving I've had in years. Too bad I missed Halloween by a few weeks.
Speaking of pumpkins my big beautiful pumpkin that as getting the soft spot finally rotted out from the bottom today. It fell of the stones I had it on and got smashed in the bottom. I had Chris move it to the side yard. Perhaps the chickens will eat it. We threw the seeds into the bed behind where the decorations were. Who knows, perhaps they'll turn into pumpkins next year. That would be cool. My other pumpkins are still doing good.
I managed to make more progress on The Sun and the Water too. I'd like to have some art done for that too before I post it. I didn't post the art for Owen's Lost Memory until long after you guys had read it. So it's not as impacting without the art between paragraphs. Here's hoping I can get some of that done for this.
I also played bass today with Chris. I had forgotten I was working on the Finntroll song. I had totally forgotten how it went but it suddenly came back to me and I was amazed how well I played. I was rockin'! I think that will be worthy of being recorded soon.
And here's something random for you guys to think about. This is something I've always noticed. Probably because I'm an artist. Pain and pleasure look exactly the same. I mean facial expression. Someone that's in great pleasure, their expression is the same as great pain. For someone like me that has a hard time reading emotions as it is this has led to some confusion. I often think Chris is hurt when he's actually happy. And it's funny too because I don't express pleasure much. I did so today and Chris thought I was hurting hehe. But yes, both expressions have smiles and bunched squinted eyes. I bet most people don't know that.
.
Current Mood:
Triumphant