Today's been good. I found another female flower on a different plant in the pumpkin patch. I pollinated it. Here's hoping it will take and also start to grow into a pumpkin. I'm the official bee of my patch.
Chris and I just got home and we just found out something very interesting about ourselves. We often fall into these little annoying discussions. They aren't arguments. We don't have arguments like most people think of. But we have had misunderstandings where we're approaching the same problem very differently but arriving at the same conclusion. I think it's because of these conclusions that it's easy for us to move on from them. But today one happened where we both realized it and decided to analyze it while it was still fresh. We were at Walgreens and Chris remembered we needed Shampoo. We went to the isle where it was and I mentioned about possibly trying a new scent. Chris said he didn't care what I picked since he has no sensing function. So I'm looking at the bottles and grabbed a blue one and we had this very short conversation over it.
Des: This is what we had before.
Chris: I think so.
Des: That's what I said *with slight annoyance in my voice*
I looked at him and realized we were falling into another redundant circular conversation and wondered if the problem was with me and the way I enunciate (or don't) things. "Did you think I was asking a question?" I said. "Because that was a statement. 'This is what we had before' was a statement not a question." Pause. "Or do my satements sound like questions? Am I too monotone?" He said they did . Oh dear. Now I got worried. That means I need to sound more forceful in my statements. As if a strong J needs to sound more forceful. So we went to the counter and I kept repeating it over and over. "This is what we had before. This is what we had BEFORE! THIS is what we had before. Perhaps the emphasis should be on the first word?" I was really worried that I wasn't expressing properly the meanings I wanted to get across but after him listening to me practice my lines Chris realized that No may-be it's not the way I say things, but that I percieve his statements as questions. So while it was still fresh I went over our three sentence conversation. I realized that was likely it, though I know that "I think so." is not a question. I took it as this:
If I had just said it was so why would he question it. Why would he say "I think so" to my statement of "This is what we had before." A Yes or even a No would not have put me on the defensive...or more accurately the retaliatory leading to, "That's what I said!" We were almost home when he goes, "This is a P and J problem!" "Really?" I said and thought "I think he's right. Let me think." By the time we pulled in the drive way just a few seconds later I was in agreement that this was a P vs J problem. As a P he always leaves himself an out so saying things like, "I think so." "May-be" "Perhaps" is better for him than saying yes or no and being wrong. As a J this lack of closure either annoys me or confuses me. Why would anyone question what I have said to be so even if I'm wrong I've made my choice. The foot has spoken hehe.
But this type of thing never turns into an argument like so many people have because if it had continued we would have ended anyway by saying something like Ok and Good and there's nowhere for the conversation to go after that. We both drop it, we're both usually right and that's the end of it. It was just nice to finally catch one of these weird moments and figure out why we get into these misunderstandings and discussions. Another thing I can't stand as a J is a response to a question like, "Yes. I think so." P's do this all the time and then I'll call them on it. You can't say those two things. Is it Yes? Or is it "I think so." If you're unsure or just don't know say so and be sure of that. Hehe, I know that sounds funny. But don't tack on a Yes or a No at the start of it. It's contradictory and confusing. It's ok to not know things. I say "I don't know" a lot. But when I do know something I make Yes and No statements. Analyzing this was the highlight of our day. We were both so happy to understand what was going wrong hehe.
So I've been drinking this yummy drink Chris found for me at the gas station. It's an aloe drink. You guys might remember I bought some form an Asian supermarket a while back and loved them. But the bad thing was they were so tiny. Well check this out. We hit the jack pot on this one.
That's 1.5 litters. Woo hoo! It's so sweet and refreshing and I love the crunchy slimey pulp. Yum. More pics of this, Halloween stuff and pumpkins behind the cut.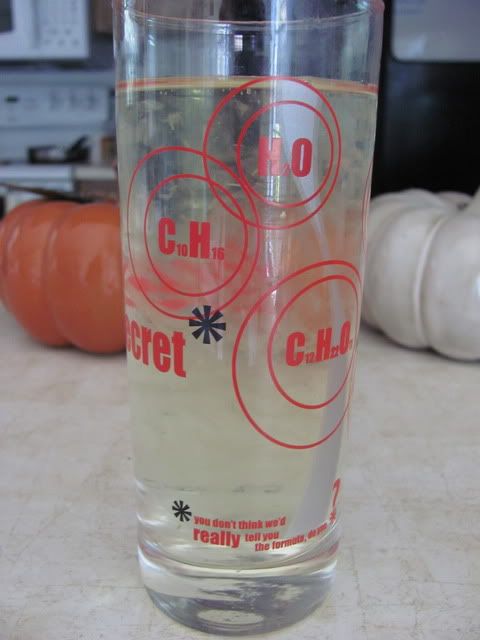 I don't usually like pulp, espically in orange juice. But this is different. They're like little slime balls that go down smoothly and don't stick to your esophagus all the way down. They're kind of like the 90's drink Orbitz for those of you that may know about those.
Here's the view from the top. Looks like balistics gel. Yes I've been watching a lot of Mythbusters.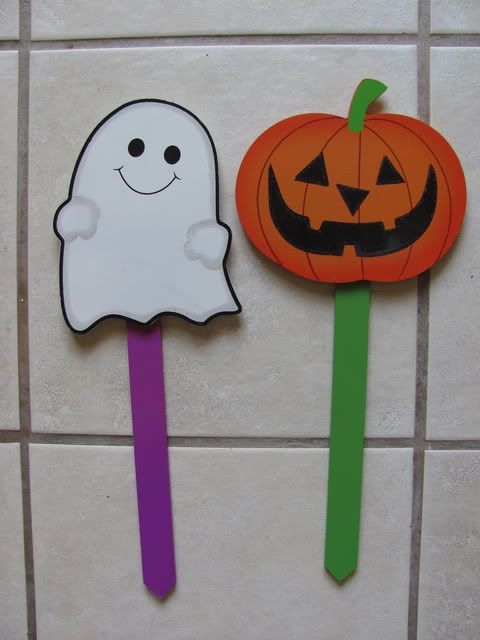 And these are the cute stakes I want to make that I bought. For once I like the ghost better than the pumpkin.
Well we went to the "pumpkin patch" by our house. The tent was set up and we could see pumpkins in it but it wasn't open. We wondered why not when they have been open every year by the 2nd. So we decided to just go on in and check it out. It was really stupid and annoying but we found a red paper on the "door" from the fire marshall saying there was no permit for the tent. So I guess they got in trouble. I find that odd because they've had this every year and it's never been an issue. Perhaps it's a new stupid law, but if the church is giving them permission to use the land why would they need a permit? I hate all these stupid crappy laws. Land owners should do what they want with thier land. This is American isn't it? Bah, don't get me started on a political rant on how the Libs are F'ckn' things up.
Anyway they had some pumpkins already shipped inside which really bugged me because if they can't open their tent what are they going to do with all that inventory? I just say put the pumpkins under the big oaks and screw the tent. Sell them in the open air and rig a little fence around them...hope you don't need a permit for a tiny temporary fence that would just be ludricus. If I owned the church I'd even let them put the pumpkins in the entrance. Anyway here are some pics.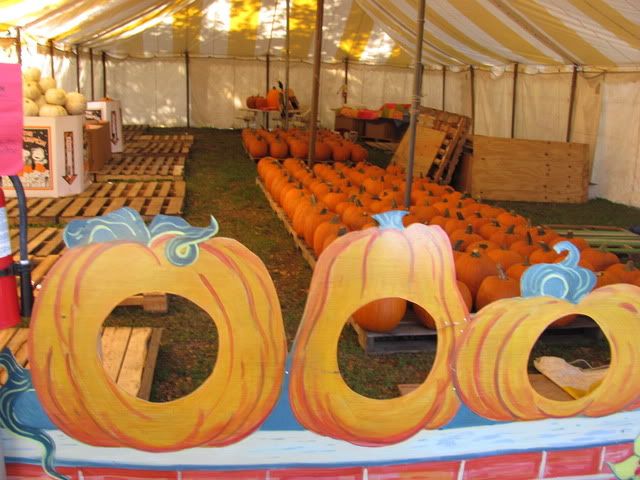 Such cute art. Nothings really set up yet. Lots of empty space still.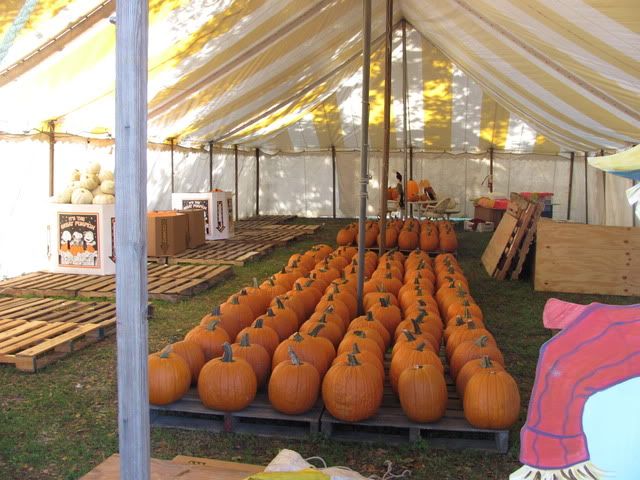 The few rows of pumpkins they had are pretty.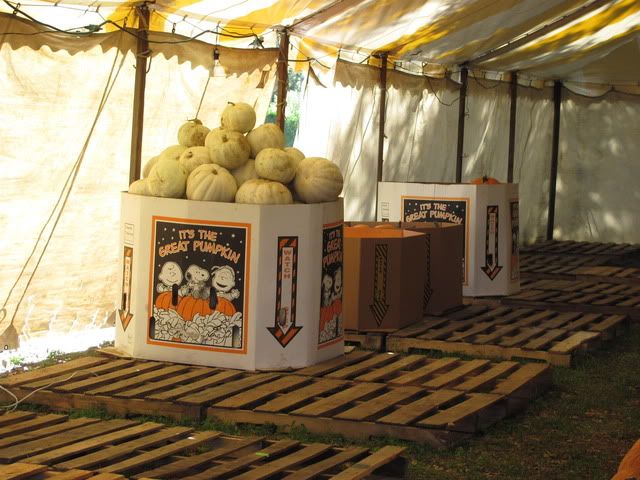 Awe, white ones.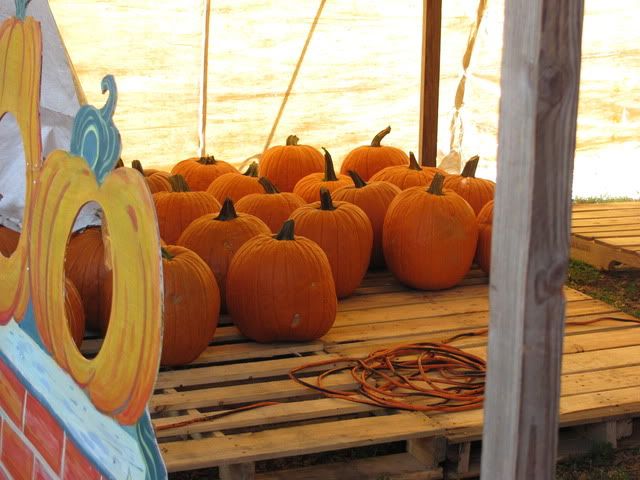 I just wonder how they're going to sell these now?
We went to Home Depot and a guy there talked to us and asked us if we were interested in new kitchen cabients. We said we were and he said they can come to our house and give a free estimate and show us samples. We can't aford it but I'd like to see ideas and samples so we said yes and set up for an appointment with them tomorrow afternoon. It should be interesting. Changing the cabients and counter tops is something I want to do one day but if I get the money for it I'll probably just do it myself. It's way cheaper to do things yourself.
.
Current Mood:
enthralled