I have a new icon. Don't know how often I'll get to use this but I've been wanting something with an INTJ Death Stare for a while. This is something that comes so naturally to us. It's not practiced but inate and so withering when directed at the person annoying us. Objects get this look, like computers that are misbehaving, though we haven't mastered intimidating inanimate objects yets. That's one we'll have to work on yet. Oh and for me it works great on dogs too. A bonus to my super power. Anyway, this is a scene from the awesome movie
Megamind
. Megamind is an INTJ all the way and I loved it when he gave this look to his henchmen Minion. This was after he'd taken over the city and he asked Minion if he thought they'd ever succeed. Minion responded with something like, "No sir. Never. Not in a..." Then he realized he was getting the stare. "...uh, yes. Yes I did." It was awesome. Minion's adorable. After watching it and the bonus cartoon I've realized he's actually an ISFJ. Because of this Minion has awesome expressions and body language. So here's the full sized one so you can see where I got the image from.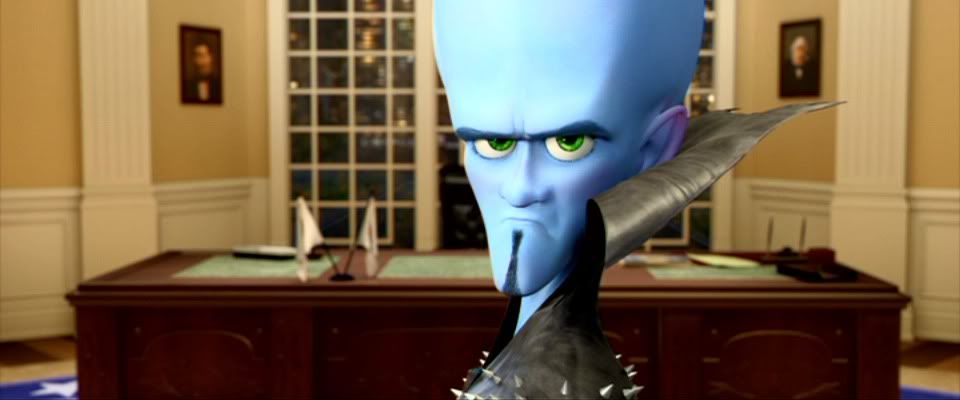 Click for full size.
There's one other scene that I made a screen cap of that I just love and fits very well for when I've gotten into flamewars.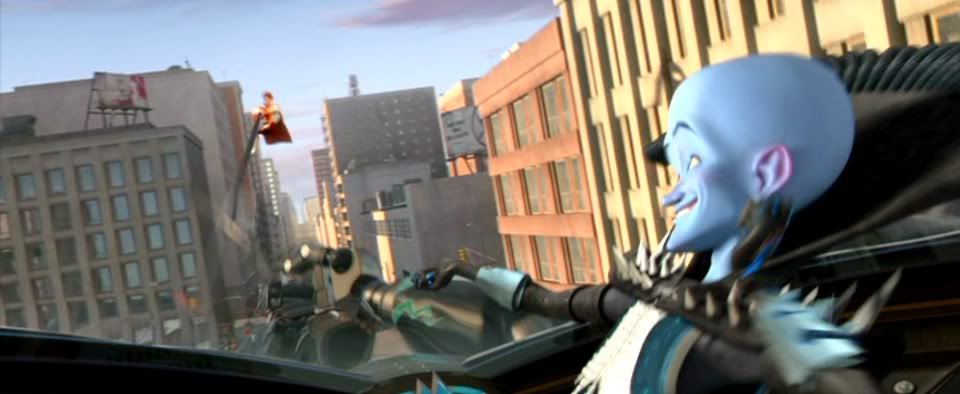 He's inside a mecha and he's fencing using street lights with the villain Titan. The mecha does whatever motions Megamind does, which is just super awesome. Megamind's not afraid and all and enjoying it to the point he asked him for some witty verbal sparring like he used to have with Metroman. But Titan was just anger and all he could do was roar madly. "I'm not sure where to go with that." Megamind responds. I just love this particular frame because even though you can't see the street light well it's Megamind's expression that I love Titan's so pissed and hurt and using all his energy while it's all a game for Megamind. This is how it's been for most of the idiots I've defeated so I can relate to this pic. Chris and I love this movie. We quote it quite often.
Chris and I hooked up the spider lights today. They're not centered but we got them up at least and now the entrance looks more Halloweeny. I'll have to take pics of it. I went out with him today on some jobs and had a good time. I finished drawing Cope and the budgies. So that should be added to my To Be Inked stack. I let another butterfly go today. Only one Crysalis left to go.
Oh we had a bit of a disapointing electronics day yesterday. We had planned to transfer my 9-11 tape and our wedding tape to DVD and my video 8mm tape of my graduation and my original macaws to DVD. Well the vcr broke. And then we couldn't get the video 8 player to work. So we weren't able to transfer anything to DVD. We were so looking forward to watching that old footage. We're going to have to go to pawn shops to look for another VCR and a video camera that's 8mm just so we can play those tapes. How annoying. Though there's one idea I still need to try that could work.
I think that's it for now but I feel like I'm forgetting something. Hum...
.
Current Mood:
geeky