My bass does look so nice with the colored knobs now. Here's a pic I took today.
I like the blue one better. I think I want to get three purples though for my other bass Event Horizon. I wish they made these in red since then it would match but purple's the closest thing.
Here's what it looked like before with the normal knobs
.
Today's been good. We were supposed to go visit Alex and his family at his new house, but we called and he never called us back if it was a go. We don't like to go out anywhere without knowing if it's for sure so we don't drive somehwere far for no reason. If I talk to someone about meeting next week I don't just go when it arrives I call to make sure nothing's changed. If I hear nothing I stay put.
We went out to eat at Ruby Tuesday's and asked what kind of bar-b-que sauce they use on their burgers. It's so good. I had a feeling it was their own brand but I've never seen it in stores. The manager told me it is their own brand but it's for the restrant and they aren't sold in bottles in stores. But what she said next was awesome. They do sometimes sell to customers. They come in these big 5lb bags that look like pillows for $5. Usually when a place says it's just for the restrant it's not for sale to customers. I'm so glad they did that. Also nearly all the staff knows us because we go so much. We're kind of like VIP's. So we bought a bag. I'm putting the rest of the pics behind the cut. We also found some neat stuff at the dollar store.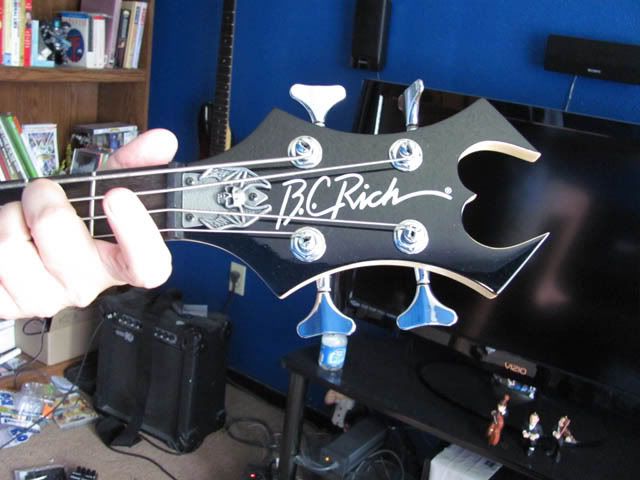 Hehe oops, gratuitous shot of the head stock and custom rob plate.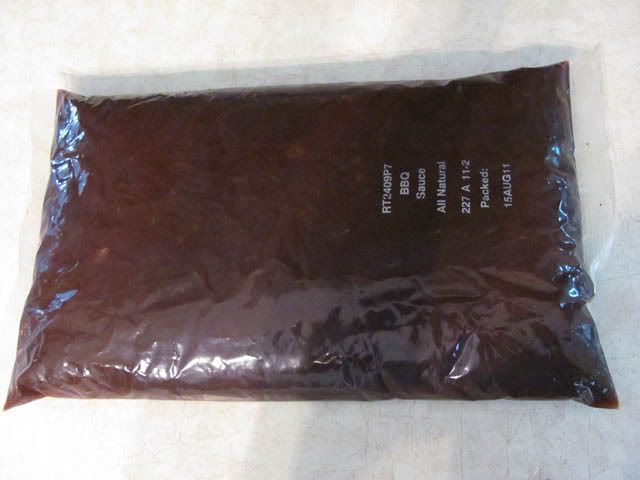 Here's the bag. This was so funny and cool.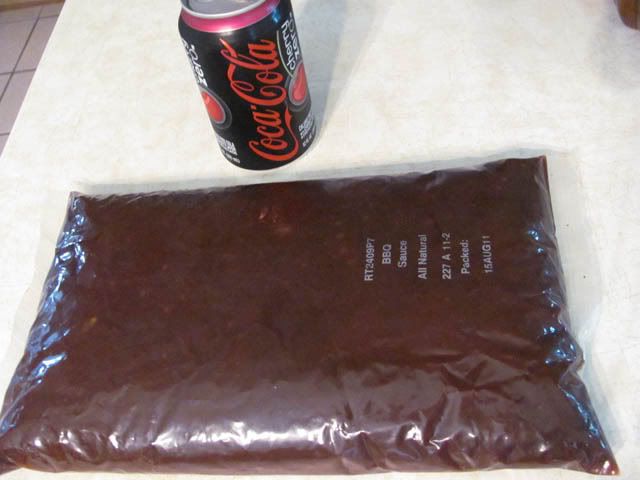 Here it is with a soda for comparison. It looks like a pillow.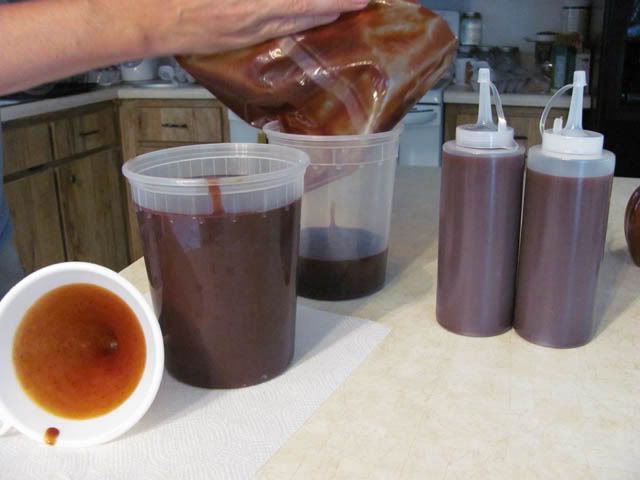 We bought the two clear squirt bottles just for this sauce but there was so much we had to put them in these tuperwares we get soup from the Chinese restrant. Something told me to save some of those with the lids. Good 'ol intuition. You can see the bag's all deflated there.
We had gone to the dollar store to get the clear bottles. They had Fall and Halloween stuff out and I was in love when I saw a display with a bunch of small ceramic pumpkins. I think there were like ten different types. Chris bought me seven of them. I picked out my faves. Look how pretty these are!
The flat redish orange is my fave. It looks like a Fairytale pumpkin which is a real variety. I need to find places to display these. I started to decorate today. So far I've done up the bathrooms. I'll post pics of that next time.
So I'm very happy with all this new stuff Chris bought me today. Also he really helped me out around the house. He knew that I've been unhappy with the way things looked so bad and with him home helping today the house looks much better. We fixed up the living room and it's better. Not there but better. But we did a great job on the bedroom which really needed it. I can see the carpet! We have a floor! Now if we bad NT's can just keep it that way.
Ok, I'm going to do something a little different. I've seen a few people post their own "personal soundtracks". That is songs that make them think of themselves or that they totally relate to. I always thought that was a silly thing but perhaps that was because I only had like two songs that I thought of as me and weren't really my favorite songs anyway. Both are Billy Joel songs. I think you don't have to love them as long as they are accurate. But lately two songs have popped up out of nowhere that have really spoken to me and I just see myself in them so much. Both are true metal songs. Just like with my story soundtrack with is about three hours total. I think these songs find you, you don't go out looking for them. So here's mine so far.
Revolution Renaissance - I Did It My Way
Stratovarious - Darkest Hours
Billy Joel - She's Always A Woman To Me
Billy Joel - Stiletto
I'm very proud that the songs that represent me carry such a powerful positive message. Well the last two are more predatory than positive but yeah still all good for me hehe. Strato's Darkest Hours might give the wrong impression but it's about overcoming hardships and coming out on top. I've faced everything life's thrown at me and always come out on top and I'm confident I always will. And I did it my way. Just like in my dreams the struggle and hardship makes me stronger. I love the message in the chorus of Darkest Hours.
When all my hope is gone,
I'm waiting for the dawn
I raise my head and find my own way out of the dark
I've left my past behind
I'm reaching for the light
I'm not afraid to live my life - I'll take what is mine.
I've really been feeling the first two lately.
So this raises an interesting question I'd love to hear feed back from all of you. What songs if any remind you of me? I probably won't know them so post a link to them on youtube in your response.
.
Current Mood:

Empowered