silvolf
Made this cute drawing for me of Cope. I got this big one.
And my new icon for LJ. I love the colors and the 80's look to it. It's techie and 80's all at the same time.
Today's been a very good day. Chris got a chance to do a much needed garbage run. Then he went to Tire Kingdom and had a sensor light in his car fixed up. We at breakfast at Flaco's and since we didn't get any calls it was technically a day off. I got some stuff done around the house and more tilling in the garden. Lots of pumpkins have come up. I need to buy bug spray and spray them. I need to do everything I can to help them survive and make fruits. I also need to buy fungecide.
I got two cool things in the mail today. I finally got my second order of Chicken leg bands. They take forever to ship but they are very nice. I'll put the pics behind the cut.
So I got in the leg bands for Zucca and Raptor.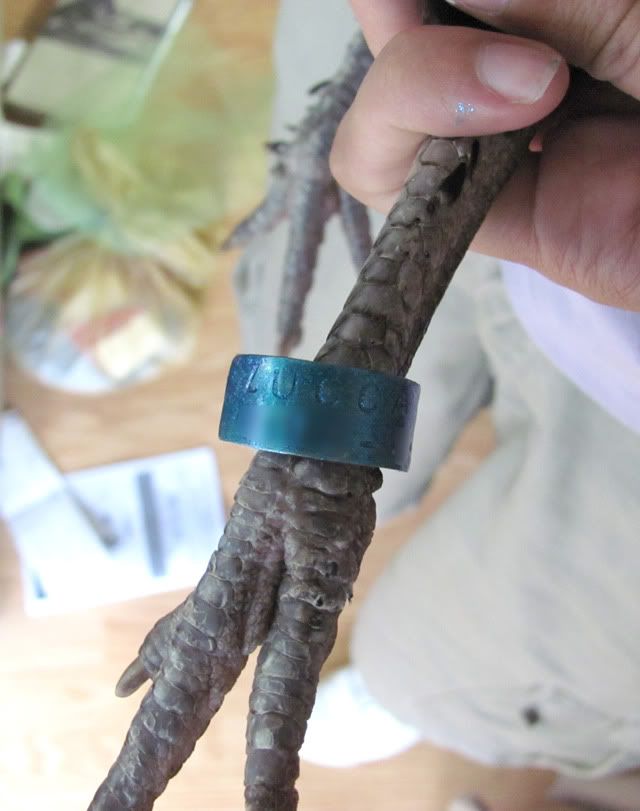 Here's a close up of Zucca's leg. These are aluminum and silver. But I painted them with nail polish because this will help Chris ID the birds from a distance. They are going to be color coded. You can see her name there. They also have the phone number in case they get lose and someone finds them they can be returned. I don't see that happening unless the fence fell over. Only Henrietta is a problem when it comes to that and she was the first to get a leg band.
Here is Zucca all stylish in the latest in Hen jewelry. Hehe. Actually she hated it and kept pecking it at first. But she'll get used to it.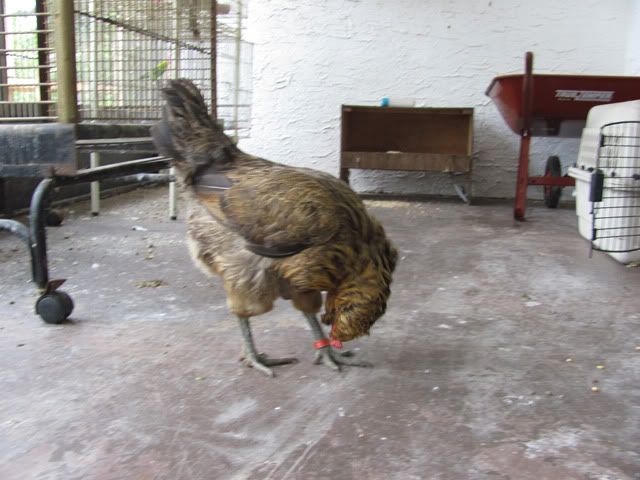 Here is Raptor checking out her new bracellet. Nice. She got used to it fast unlike Zucca.
There's something on my leg...Mmmm food. Chomp chomp.
Hers is orange.
And I haven't bought myself a comic book in a long time but when I saw this was up on Ebay I had to have it.
A Stunt Dawg comic book. I haven't read it yet but I looked at all the art. It's on that old newspaper style paper which sucks. The art is ok, but I didn't get it for the art or the writing. I'm probably the biggest Stunt Dawg fan out there and anything to do with them is extremely rare. I think I own everything that was officially released including the British VHS of two eps. I really should draw more art from the show since I can draw the characters well and no one knows about this show as it's so rare. When I did an image serch they are all crappy screen caps from one ep that's been circulating around and is incomplete. I've been trying to track down this comic for a long time. I need to scan some of the drawings and may-be redo them in Illustrator because Airball looks so ugly he's hilarious in this.
I'm also going to make a video for youtube very soon. I tested my camera case for under water and it works great. I filmed with my regular camera and the camera that was in the case at the same time. So I want to do a picutre in picture (PIP) or split screen to show both videos at the same time. I've never done that effect and am looking forward to doing it and having something interesting to look at. It will be fun to learn a new technique with Sony.
Speaking of Sony, I still really want the new Sony pack bundle that comes with the new Sony Vegas Movie Studio Platinum Pro 10. It also comes with DVD Architect and Acid Music Stuido and a few other program. I mostly want Movie Story and the music software. So Chris took me to Office Depot today to see if they still had it. They do. Gosh I really want it and I have enough to buy it, but I should keep saving for that camera. Temptations. While we were there he bought me these cool colored ball point pens. I love colored pens that aren't the typical black or blue. I hate that ugly blue color. Given a choice I'll pick the black. But these had red, green, pink, orange, turquise and purple. The green was a bit dark and kind of ugly though. I like neon green not forest green.
Oh I also learned a little bit of the X-men Evolution song. Got frustrated because I can't hear the bass but figured out the beginning of the original X-men theme. So progress on my bass makes me happy.
And though I'm not supposed to Chris bought me a Starbucks. There's one by the Office Depot and I couldn't resist that temptation. It's not a drinking month but I had some anyway. Yum.
So yes it's been a very good and exciting day.
.
Current Mood:

INTJ + Caffeine = ENTP