I'm so tired. I've had way too much excitment the last few days. Hummingbirds have been coming to my house every evening. They haven't touched the feeders yet, but they love that cactus, my honeysuckle (that's why I got it) and now the new plants I put up. I saw a cute male drinking from the Pentas and Cleome. Must get more Pentas! I've read about them drinking from them but had never seen it. Had gotten mostly as a butterfly/moth plant. I'm glad the hummers can use it too. So that's made me so giddy.
I got my plant today, but before that I hate our mailman. He's the same jerk we've had since we moved in and he still folds up our magazines. I have called to complain several times but he doesn't get fired and no one seems to care about the magazines. I was watching the window the whole time waiting for this plant. He just shoved the box into the mailbox and didn't even ring the door for delivery confirmation. He also didn't put the flag down which means if I hadn't been home the plant could have cooked in a hot black mailbox because it looked like no mail had come. Granted it was only marked as fragile and not perishable.
So other than that I was very happy because not only did I get that but I got all my orders at once I got my seeds in from Indonesia and Europe. Both sellers were great and gave me bonus seeds of other species as well. What a nice surprise.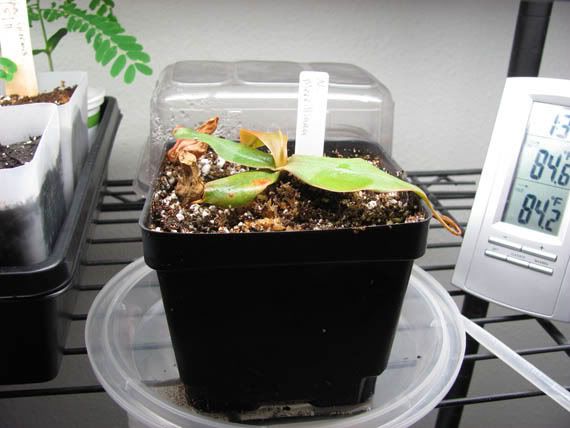 Here's my plant. It's in bad shape actually.
Those red spots aren't good. But this poor thing has been about 3/4 of the way around the world. It's from a nursery in Australia, then was shipped to California then all the way across the U.S. to Florida. Yeah, no wonder the poor thing is so messed up. It came bare root so I quickly potted it, watered it and put it under the grow lamp. Now it just needs light, the right temps, water and to be left alone for a while. I think I can help it recover. But I'm very happy with this company. I had great conversations with them and will definitely do business with them again. They said they'd try to find me an N. northiana. Here's hopeing they do.
I need to catch up on some of your comments. I've read them but I've just been so busy. I'm also back on caffeine this month and it's really been messing me up. I get so tired so quickly. And we've been burning stuff a little every evening. That's when I see the hummingbirds is when I'm out burning stuff. It's so nice. Ok, that's it for now.
.
Current Mood:
tired