For the third time this year I have a casabanana coming up. Let's hope nothing happens to this one. The first one was chopped by a squirrel, the secon one was cut in half by hail. This one better make it to have lots of huge fruits and hang all over my arbor.
I'm in a bit of a bad mood because there was a nepenthes on Ebay I really wanted but it was an auction. I tried to win it and put in my bid with one minute to spare. But that was too much time and I lost. I didn't have time to type in another bid. I hate auctions. I'd rather just buy but it was the only one. Well at least I drove the price up alot so the winner must also be pissed. It's ok. It's just as well as tomorrow is the Spring Plant Festival at the botanical gardens and I may just find something there I really want. Mostly I'm on the look out for hummingbird plants. I doubt they'll have anything like nepenthes though. So right now I'm definitely on the hunt for N. merrilliana still and N. northiana.
I was so mad that I decided to play my bass and be rough with it. I haven't played in over a week but I've been listening to Amon Amarth and really feeling like I could play. Well I did. I played very well. I love Event Horizon because he's built to take a beating. Playing while angry sure helped. But I've lost my thumb pick. It's around somewhere in this mess. I played with my thumb normally so I hope I don't get a blister on it.
Then Chris and I went out to Walmart and bought a very cool fire pit. I wanted that because it's way better than the huge can we have. It holds less but we can use it anytime. I don't mind putting in smaller amounts of wood. It's better that way because the fire doesn't make as much smoke and I can manage it better than in a can. Also it looks nicer. We were joking around with the cashier because it looks just like a UFO.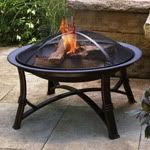 Chris put it together and we started burning stuff right away. He went to the front to mow the side yard while I stayed to keep an eye on the fire. I got buzzed by two hummingbirds and then had a great time as three of them came into the yard and were feeding from the cactus flowers. It's a shame we'll be cutting down the cactus because it's destorying the fence. But hopfully tomorrow I can get some plants for the hummers that are permanent. I'll also put out a feeder for them. But that's the most hummingbirds I've ever seen in my yard. I was thrilled!
The new Nepenthes is doing well and I repotted the other one because the pot it was in was WAY too big, you couldn't see it and was hard to move around. I've got it in a little pond pot and made a make shift hanging basket for it. It looks much better now and since they grow kind of slow it can stay in there for a year. It's got along way to go before it catches up to my new one though. I'm tired from everything. Too many emotions. I dont' handle any kind of strong emotion well. I always get physically worn out after having them. I'm looking forward to the show tomorrow.
.
Current Mood:
moody