First off here are the new peeps I got yesterday. Aren't they pretty and cute?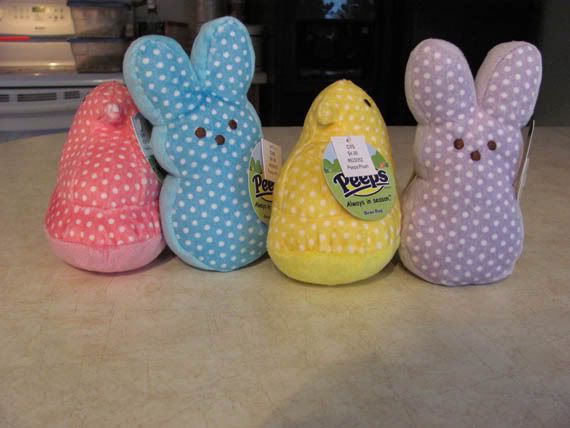 I'm so glad they've re-released these. They are small and I don't remember if they made bigger ones. I should take pics of my whole Peeps collection or make a youtube video about them. Anyway, more Easter stuff and goldfish behind the cut.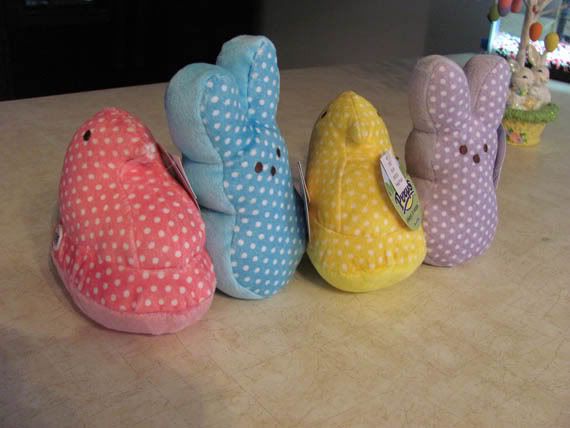 Here's another view of them. I was playing with them at CVS and Chris bought them all for me.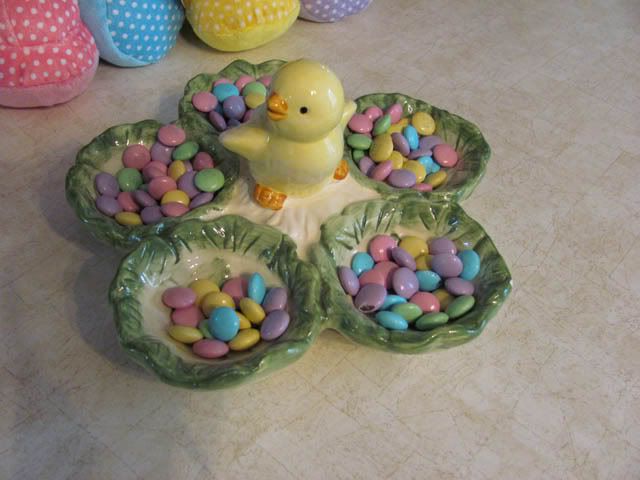 This is the candy tray I put out every year now. It's got a cute chick in the center and is full of pastel dark chocolate M&M's.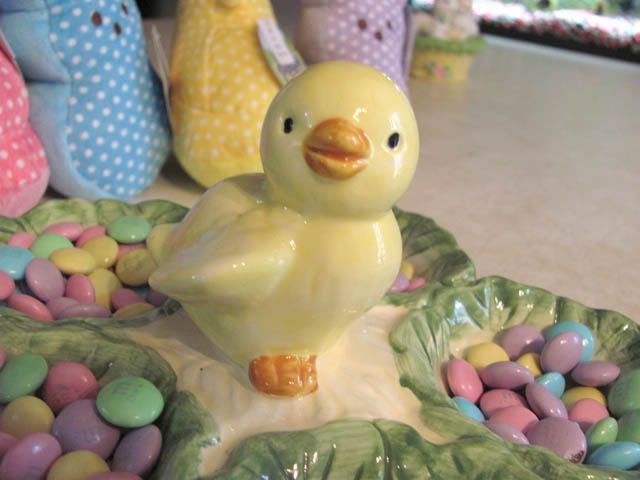 Here is a close up of the chick.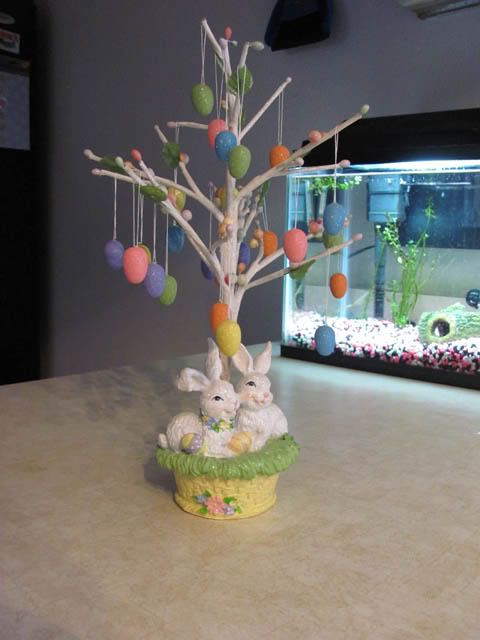 My Easter tree. I didn't find the glass eggs this time so I just went with the simple glitter eggs that were easier to find.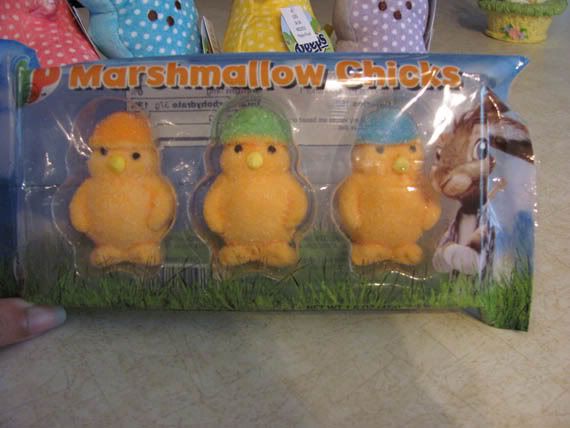 Found these at Wal-mart. What a blatant Peep's rip off. It's from something called Hop. I guess it's an Easter movie that's out. I don't watch TV at all anymore so shows how in touch I am with the outside world. If so it would be good because Easter has the fewest movies of any holiday. I can only think of two and I have both. It's too bad the chicks are dressed like thugs. I wonder if they're the bad guys. As far as taste I have yet to open them and try them.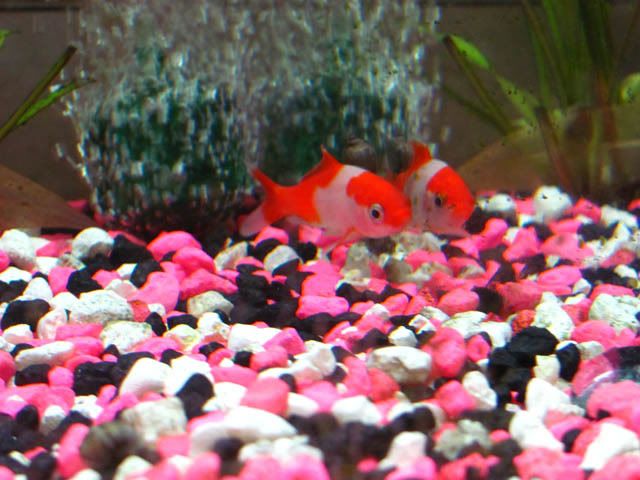 Meet the new goldfish. This one will be the indoor pet that I keep. The other three are gone. They're in the outside pond. So this is the one I'll try to tame and play with. I like his colors and he's very different from all the other red and white fish I've had. Gosh I still miss Moby. Losing him still hurts. I hope this one will be as good. I chose this one because his colors make him look like a koi and he has blue eyes. All my others had the pretty yellow with a red ring.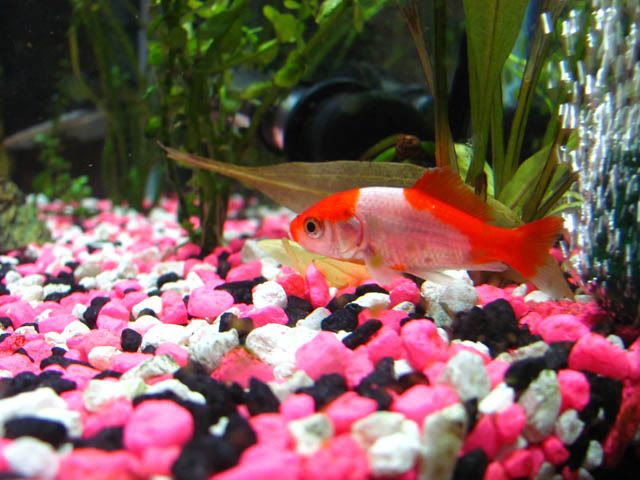 Actually I hope it's a female since females are fatter and I guess less nervous. At least from what I've seen.
The weather's really sucked. It started raining last night and it has not let up. What a bad time for me to have put out the frame for the chicken coop. We put it out yesterday evening. No walls and no roof and it's raining. Not only that but it's supposed to be raining all week. I am not happy. I'm worried that I may have to put off my long trip to visit my friend and I've been planing this for a long time. Come on, March is not supposed to be a rain month. Hurrican season isn't until June. No rain! I'm truely solar powered and the lack of light has had me a bit moody today.
But it has been a good day. I got my first over seas Nepenthes seeds in the mail for a red bicalcarata. I've already planted them. I hope they'll do well. I hope I'll get several to come out and that I can get males and females. I got a bunch of popsicle sticks and have been using them as plant lables. I know Nepenthes are slow sprouters and growers but I can't wait for them to sprout. I wish it would happen right now. It can take a month. Gosh I hope not. Now that I have the grow light set up I put my little Nepenthes plant under it too. No more moving it in and out of the sun. I can just leave it under that lamp. Heh, not that I could put it in the sun with this crappy weak we'll have weather wise.
.
Current Mood:

melancholy