I got my coffine case today! One of them at least. I've been wanting one for Bad Boy and finally got a hold of Dean and he had one. Turns out B.C. Rich won't be making these anymore which is why they are hard to find. So instead of thinking about next getting a Schecter case I need to get one last coffin case for String Theory. Here's the box it came in.
This thing was huge. I couldn't get it in the back seat of my car so I had to lay it down on the passenger seat. Hehe, why not it's a coffin. Take a nap while I drive. So more behind the cut and stuff about gardening.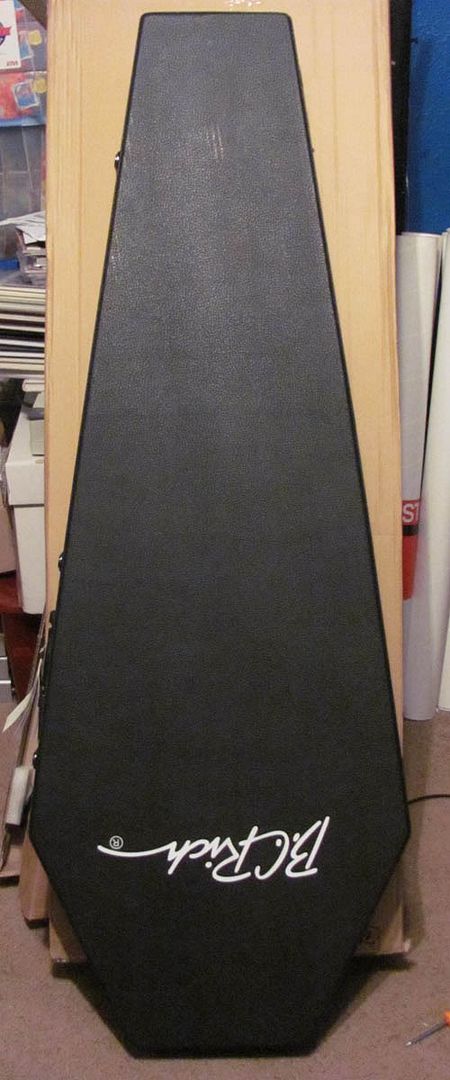 Here it is. Yes it's upside down but that's because Bad Boy's already in it and that's the way it goes. It's heavy with the guitar so I got to get used to carrying the weight around. It took me forever to get it out of the box too as it wouldn't slide out easily.
Dracula in his coffin hehe. Is this awesome or what? Awesome stuff for an awesome girl. I love the red and black contrast and the logo printed all over. This is why I didn't want a generic coffin case that I can get at any store. I want specifically from B.C. Rich. The generic ones are solid red inside and not much else.
Here's the compartment. I'll put my cable, tunner and cleaning cloth in there. Don't need anything else really. I'm so glad I got this as my guitar is now travel worthy. I'm going to be visiting a friend and now I can bright this. Perhaps out of the box it will now fit in the back seat. I don't know. I'll have to try that out and see.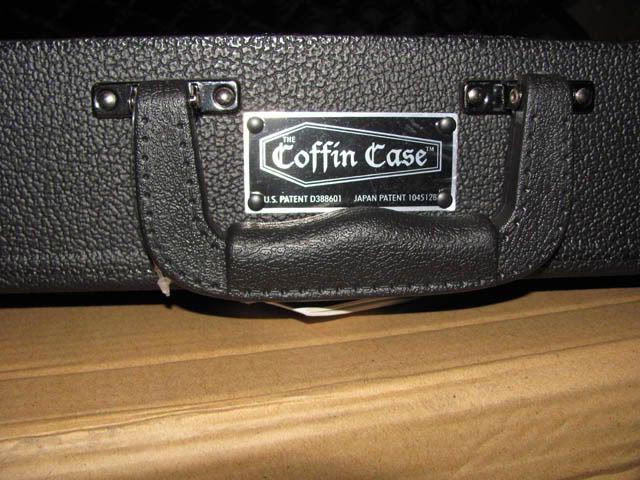 And the logo under the handle. Very cool. Coffin case is a brand but for a while I guess they teamed up with B.C. Rich. I don't think they've done this with any other guitar companies. It's cool cause it came with a little booklet that showed how to position the little pillows it came with for the type of guitar you had. This is actually the medium coffin. I didn't know there WAS anything bigger than a Warlock, but apparently there was a Beast bass and a few other guitars that were bigger. I want a Beast guitar, but a Beast Bass? I can't imagine how huge that would be.
I wanted to go to Lowe's today to look at the soil for my raised beds. My gosh I couldn't believe what a mad house it was. WTF? People everywhere and huge lines. I didn't want to wait around so I told Chris we could try again later like after 5. He was on call and got a few jobs. But before we left I went to go check on the water plant kits and to see if the Cobra Lily was still there. It was and it was dead and dried out. NO! But then I thought that they might give it to me since it was dead. It had only been five days since last I saw it and perhaps I could revive it. Someone took the top off and didn't put it back on. I found the top on the ground under the shelf. That's why it dried out. So I took it in and asked an employee what they would do. They took it to customer service and they gave it to me for $1!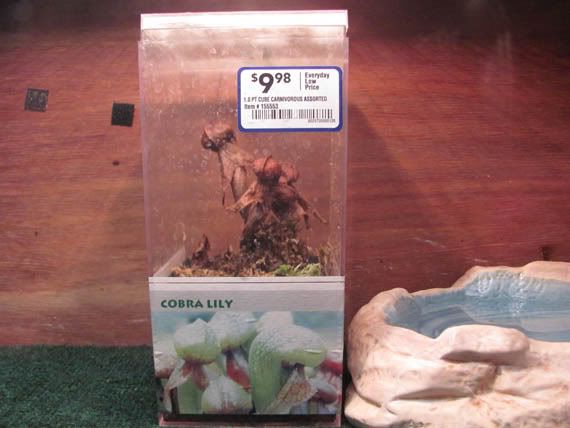 Here it is. So sad. BUT if I CAN revive it then that will be one dollar well spent as they're so expensive for $10. Because it's only been five days I'm hoping the roots are still alive. It was cool and cloudy today so I decided to just dump a lot of purified water on it. Appropriately I put it in the snake tank with Chopin my python. The plan was to get the humidity up again, give it a full spectrum light and keep it warm under the heat blub too. I left the lid slightly cracked and will cover it over night to hold the humidity and temp. It will be cracked open during the day. Oh gosh I hope I can bring it back to life.
My pitcher plant is doing well actually. I watered it today and saw that it WAS attracting little gnats. Hurray it's eating! I hope it will get HUGE!
So after 5 we went back to Lowe's and it was still pretty nuts. The soil I wanted had been taken from the bottom shelf. It was full when I left. They had to get a loader and get it down. WTF? I asked if there was some kind of sale going on. The lady said no, it's just Spring. WTF? I've never seen a Spring rush like this. I've also learned something else. I need to buy my soil for raised beds during the winter. With only buying four bags a week and needing 16 bags per bed and three beds it will be three months before all of them are filled. Well, unless I get my tax return soon. I can put some of it towards my garden projects for this year. I can't wait.
.
Current Mood:
drained