Our day off yesterday was good though we didn't get to do everything we wanted to. We went off and got an early breakfast at McDonalds. It was rather busy so we went to one outside of town. We went to the Guitar Center and looked at the amps. I was Chris's roadie and help carry his pedal and chord around while he tried different ones. He finally found one he liked, a Fender Frontman 65r, but it was the only one in the store and they wouldn't sell the display model. So after looking for this one on Ebay and Musician's Friend I found out it's discontinued and going to be very hard to find. Well that just sucks. I sent Al an email so we'll see if something can't be worked out. Seems to be hard to find a good one in our price range. Amps are expensive.
Oh before that. The citruses are in bloom all over the state. Oh it's awesome. I LOVE That strong white flower smell. Our grapefruit tree is the only one that came out of the winter ok. Figures as it's the one we don't like. But I LOVE the flowers it makes. So I've been clipping flowers every few days and bringing them in just to freshen up the house. Oh so good. I recently finished two little hot sauce bottles and the yare perfect for this.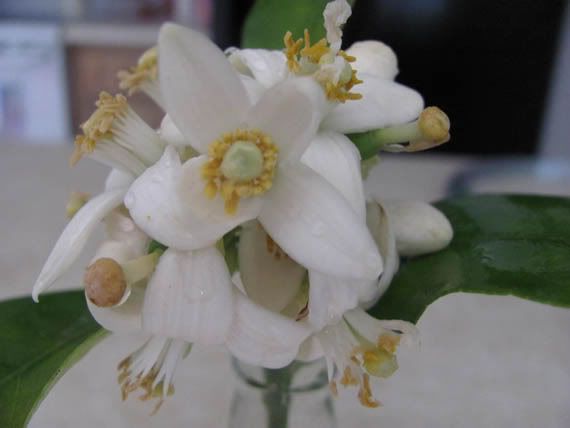 Here are the flowers all close up.
So then we went to Lowe's because I had seen a very cute pitcher plant in a box that I wanted to get. I don't know what kind just that it's a
Nepenthes spp.
So Chris got me the plant, sphagnum and perlite. I've never owned one and I hope I don't kill it. I read up on them and they need low fertility soil which is what I got. I may get some of the hairs they use for orchids as a mulch cover. They need indirect light or partial sun. Basically shade with light. And they like high humidity. I'm covered on the humidity. So I can keep this plant outdoors on the patio for most of the year. If it drops below 55 then it needs to come inside.
Here it is in the box. YEah it was expensive, more than everything else we got for it. I love that box though and am keeping it. It's similar to the boxes I used for butterflies only bigger.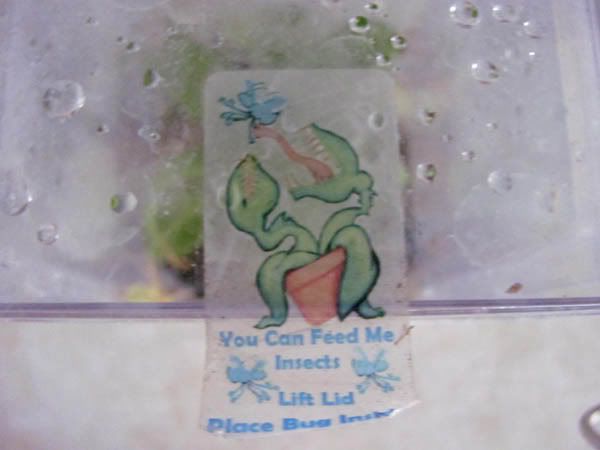 I liked this sticker on it. The picthers are so tiny it could only catch gnats.
A view inside the box.
All potted up. I'll have to take a pic of it hanging.
So I'm happy about the new Nepenthes. I've had Venus Flytraps before and they all died. I think these might be easier to take care of. They had a box left of Cobra Lylies, and I'd LOVE to have some but I think they'd be harder to take care of as they need bog conditions in direct sunlight. I don't know how I'd provide that without it drying out and constant watering.
I'm so excited about the gardening season. Tomorrow is March and Spring is officially here! I need to start my pots for my big gourds I want to grow on the arbor. I also want to build the primary arbor in the side yard. That's been in the works for a long time now.
And I wish that guy would quit emailing me about the domain. I don't want to do it through him. I already have someone on that.
.
Current Mood:

bouncy