Had a bit of a scare today on Flickr. The More than half the pics weren't showing up of mine and of other members on Cucurbitaceae. I sent Flickr a help request because when I would click on "View my own" they were there and another member's too. But someone else joined and it seemed to have fixed it now. Let's hope that won't happen again. Since I like it so much there I got a paid account. I can't believe I finally found a site worth paying money for other than LiveJournal. It's only $25 for the year so it's even cheaper than LJ. So now I don't have a limit on how much I can upload. Free accounts are limited to 300MB a month. I've always been good about shrinking my images and not losing quality. I still shrink them even though it's unlimited now just because I think over 3,000 pixles wide is still way too huge to view. My screen is set to 1024x720 so I hate huge pics anyway. I don't need to see the atoms. I also hate scrolling left and right. And no ads, that's always a good thing. Oh the other thing I didn't like about free accounts was that if you upload more than 200 images the older ones aren't visible though they are still there if you saved the URL. That just sucks. Even photobucket lets you see stuff. But I don't have to worry about that anymore. I think a way of getting around the over 200 is putting stuff into sets because the sets get listed.
I'm very happy that I came up with a daily schedule for myself that will help me economize my time. I have a few hours set apart for drawing, music and writing. Well it's not easy getting into a reutine so I did only about 70% of what was on the list today. But what I'm happy about is that I inked a little bit of the Solan Driving pic. Hurray! Something is better than nothing. My schedule is flexible though and it can all go out the window if I decide to go out or something.
Well no plans for tomorrow which is our anniversary, but I did get myself something really awesome. Check this out.
My first electric guitar. It's a B.C. Rich Draco V. Chris helped me with the last payment as I had this on layaway for a few months. I still had three months left but I had the money and was getting so impatient. So I'm almost broke and need to rebuild my savings. At least I get paid tomorrow. Yeay! More pics behind the cut. This one's name is String Theory.
I love the angle I took this in.
Wicked.
It's too bad the lighting sucks in the house.
Love B.C. Rich's head stocks.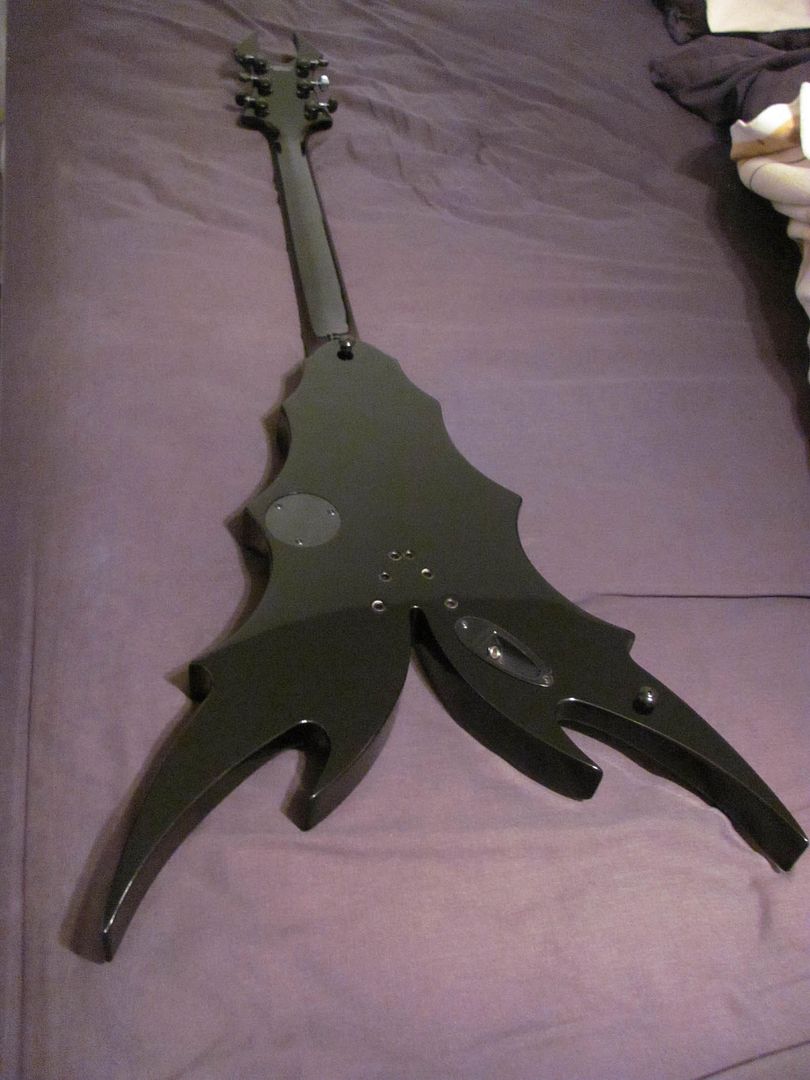 I like that it's all black on the back too. Smooth and glossy. I wish Bad Boy were black on the back.
So yeah it will be a long time before I put any videos up with String Theory. Chris can teach me at least. He knows this better than the bass guitar.
.
Current Mood:
excited