It's been cold. The last two nights and mornings we've gotten frost. I got another birdbath donut this year, but I'd rather not have them. Our fountain froze and I felt bad for these cardinals that were standing on it and couldn't get a drink.
Here's the birdbath before the ice melted enough to pull it out.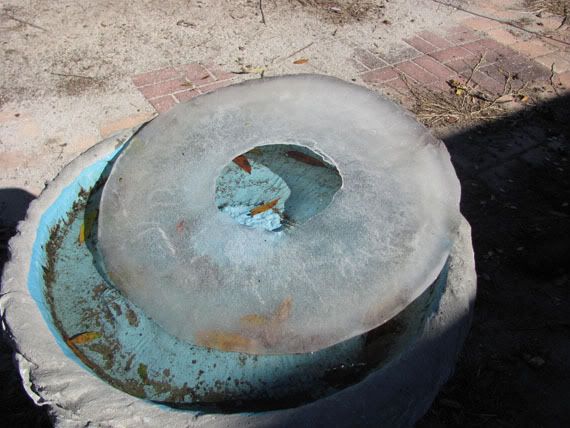 The "donut" pulled out.
The "donut" against the pigeon loft. It hurt to carry it over there.
I also made a video of this. Chris filmed the first part which was both of our cars frosted over.
One of the things I got for Christmas this year was a $100 American express gift card. Now that sounds cool but for me I wasn't too thrilled. What I really wanted were Ebay cards or cash. I'd really rather save the money, but being given a gift card that can be spent at many locations makes me feel that I HAVE to spend the money when I don't want to. There's not much that I want right now that would total one hundred dollars even on Ebay. But they have to be used. So I just bough two $50 Ebay cards. I hope these cards will work as I'm having the same problem with them that I did last time. They won't take the codes. Eventually they did and I used them to get those Steiff budgies. I also hate that you can't just enter the codes you have to buy something. So I bought a cheap DVD in case the cards don't work I can still aford to pay for them. Chris said that it may take time after they're bought from the store to activate. I'm thinking he's right because that's what happened last year. I bought them and came straight home and tried to pay for stuff and wasn't able to. I finally was allowed may-be an hour or so later. I've done the same thing again. I want to pay RIGHT NOW. It is stupid and really should be instant. I'd like to get both these cards as credit on my account so when I do buy stuff I'll have it ready to go.
EDIT:
Ah, they just worked. Wish I could see my balance. So the system isn't the greatest. I'll need to keep track of the spending.
And I still haven't gotten my tabs CD's. I'm getting so impatient. I thought for sure I'd have them today. I can't wait to get them. Since they're coming from England who knows when they'll get here. But if these work and are as good as I think I'll definitely have something to spend my cards on.
Oh and in the post before last I updated the grammar icons. They look much better now as I found a nicer looking professor. If you use these please let me know.
.
Current Mood:
cold