I watched some reviews on the Intuos 4 tablet on youtube and am now giving serious thought to buying the medium one that's in the store. A friend of mine told me to buy the biggest one I can aford which is the large. BUT, the video made me realize something I hadn't thought of. The large one is too huge to travel with. I do intend to take this thing with me once I get my laptop and it would be funny and akward to have the tablet be larger than the computer. Also with the medium it's easier on my wallet and I won't have to wait as long to get it. Plus buying from a store means I can return it if I don't want. Buying it through their website means no returns only store credit or exchange. There's nothing else I want of that value so I don't want "store credit" to sit there instead of my bank account. So everything seem to be pushing towards getting the medium one and I'm pretty sure that's what I'll do then.
Chris has been wonderful. He's been playing Red Dead with my character all day on and off. We went from level 26 to I think 42. We're both really sick of it and I doubt we could have made it to 50. I wish they'd extend double experience but we're really bored with it and suddenly having that cool bull isn't so exciting anymore. But I did make a bunch of screen caps of Fallout New Vegas like I promised. So here's Cope and all his cool guns and friends.
Here's my boy. Not bad. The hair's pretty decent. My only complaint is that I couldn't form his mouth right so it always looks sad like that. And that's the closest suit I could find. You can't customize outfits in this. You have to use what's there. This suit is a pain to maintain. You can only get it on The Strip, and there's no killing allowed there. The security robots will kill you if they catch you. I have my apartment there so I need to stay on good terms so I can store my stuff. Well there's this bouncer that sometimes wears this outfit. To make it spawn I have to go in and out of a door. That's annoying but once he appears with it you stay in the area. Then you have to tell your followers to wait far away so they don't start trouble. Then you have to find a hiding spot which is very difficult with all the security and padestrians around. I actually found one. Then you have to have a silenced gun with armor piercing ammo preferably for a one hit kill. You snipe the guy then lie low until the robots top searching for you. Then you can go over and loot he body. I need more than one because this is not armor. It offers no protection so after getting shot a bunch of times I need to repair my suit. If a suit completely breaks you can't wear it which can leave you stuck. So you always need another suit of the same type to repair what you're using. And that's how I got Cope's suit. Annoying but worth it to make him look right.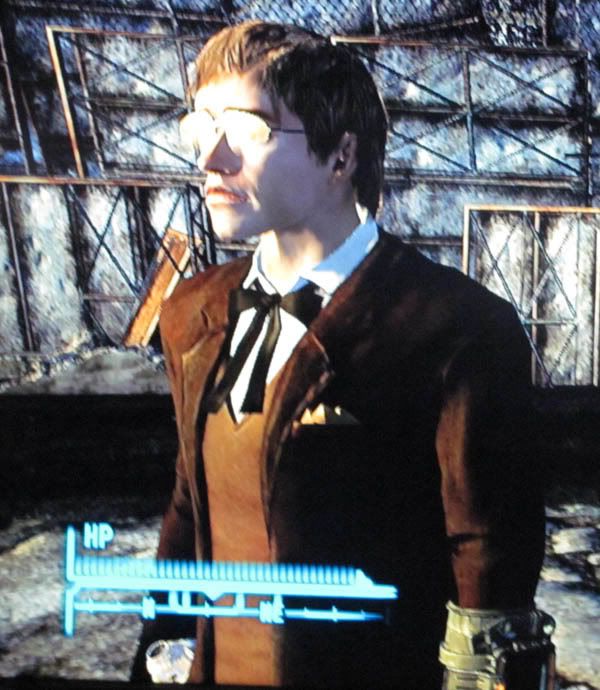 Here he is from the side. He's so cute. Not bad since Fallout just isn't a good game for designing characters. The rest are going behind the cut.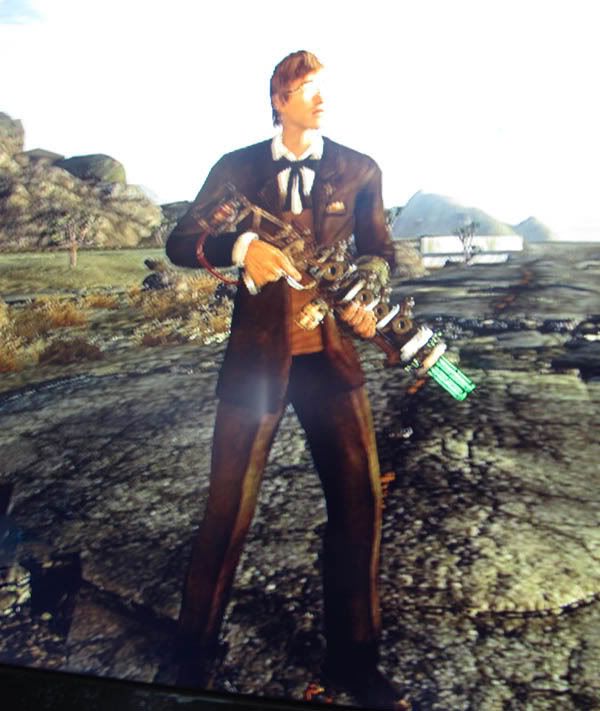 Here's a full shot of what Cope looks like. He's holding what I think is the multiplas rifle. That's one of my favorite weapons to use because it's very powerful. I love these energy weapons because it really looks like stuff he's invented. I don't care much for the laser guns and rifles looks wise as they are square and look like regular guns.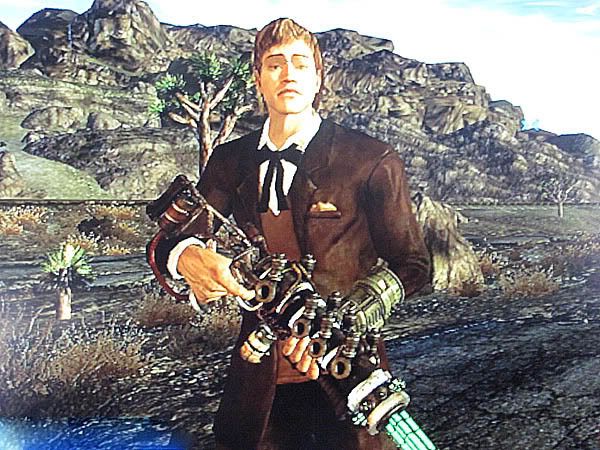 Yeah he looks pretty good. I'm very proud of how I made him.
This is the plasma pistol. I LOVE the green triangle of energy at the tip.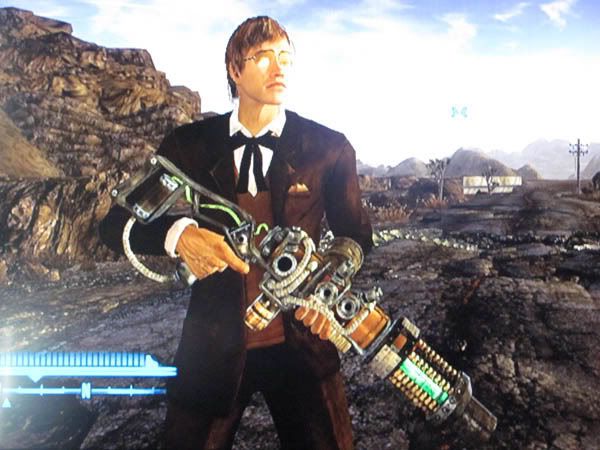 The plasma rifle. I modified the tip to make it more powerful and faster. Little red lights go down each tube and it looks really cool.
This is the pulse gun and one of my faves in the looks department. It's weak against humans but does great damage against robots and power armor.
Here's Cope at his apartment in the Lucky 38 casino. He's holding the Recharging laser rifle. You can see ED-E floating in the backgroud.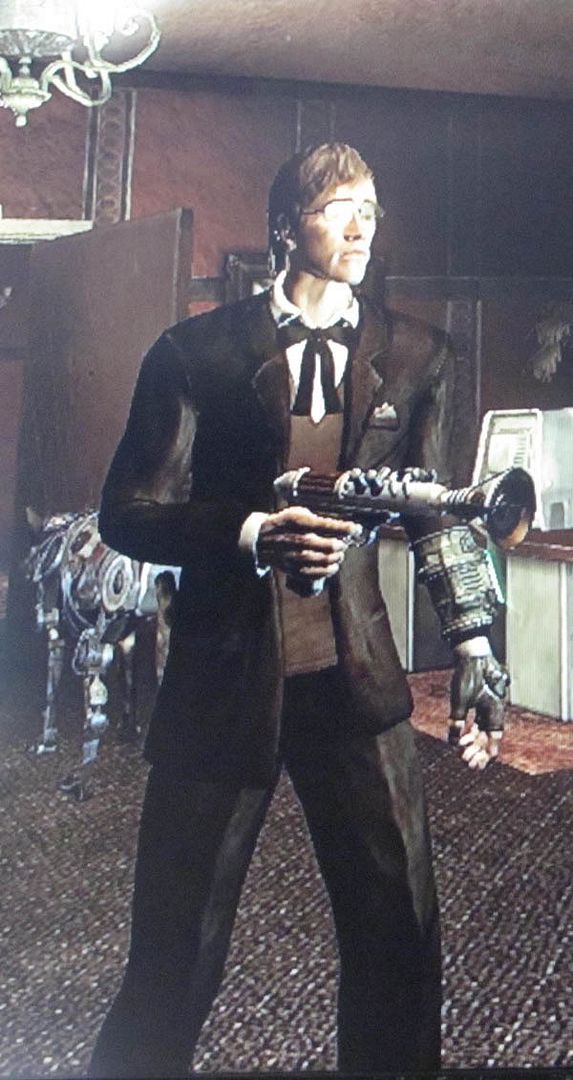 Pulse gun again. You can see Rex the cyber dog in the background.
Cope firing his pulse gun. I
LOVE
that beam! I now realize I need to draw Cope firing his death ray as I've never done that. Cope likes his guns to have disks on them so this one would be great for him. Also I love this because all of Cope's inventions that glow or have beams do so in blue like this since they are based off Tesla's works.
Cope, Ed-E and Gannon together on The Strip. Gannon is one of the followers you can have and I like pairing these two because it's just darn scary how much he looks like Owen. Though his personality is very different. Gannon's an introvert, modest and idealistic. Nothing at all like Owen. But the look and the outfit and the fact that he's taller than Cope are just too amazing for anything.
An amazing close up of Ed-E. Chris took all these pics and did a very good job.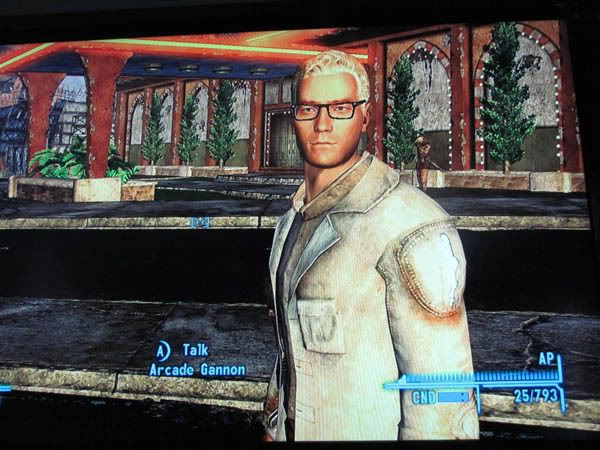 My gosh, Gannon looks so much like Owen. When I'm traveling with him I just want to knock him up side the head and start beating on him...I have actually. And I enjoyed it too much.
These last few are better close up of Cope's guns. Multiplas rifle.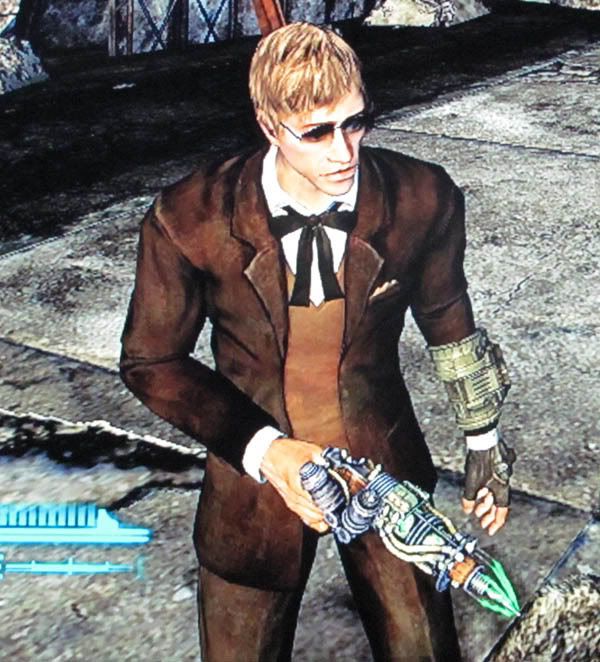 Plasma pistol.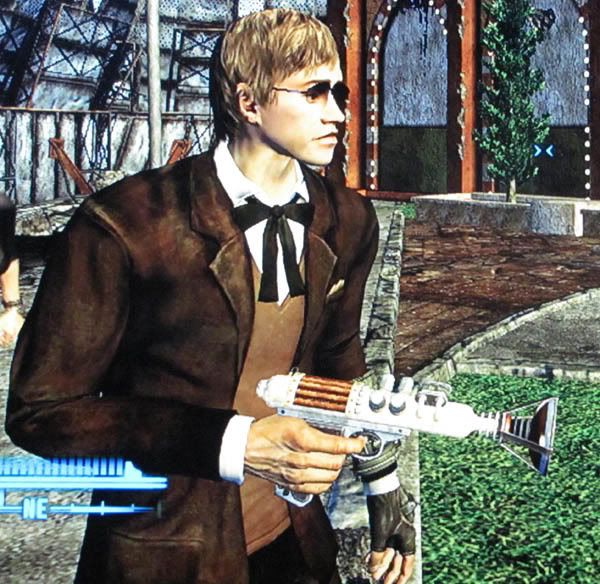 Pulse gun.
Recharging Laser Pistol
Recharging laser rifle.
The recharging lasers are my favorites look wise for him. Unfortunately they are very weak so I don't use them. I mostly use the plasma pistol, plasma rifle, multiplas rifle and laser rifle. Cope actually likes one handed pistols best so it is a bit odd seeing him using two handed rifles. But he manages.
.
Current Mood:

quixotic