I've mostly been gaming. I beat Fallout New Vegas as Owen and was thrilled. I liked the ending I got. Most of it turned out well. You can interact with many different people and depending on your choices the ending for all those individuals is different. I've started over and am playing as Jonathan Cope this time. It's much easier being a good guy since the game pushes you in that direction and you really can't keep bad karma for long. If you kill fiends and ghouls you get good karma. But they always attack you first and I always kill anyone that attacks me regardless if I'm good or bad so you see playing that way the game pushes you towards good karma. So Owen was a melee fighter. He used swords and blunt objects and was very effective with them. Cope is an energy weapons specialist. Lots of cute death rays to chose from in this game. The bad thing is I suck at manual aiming so once I'm out of Vats points (cinematic fighting which is one of the thinks I love about this game) I have to fire manually which sucks. Lots of wasted shots. I go by Teddy Roosevelt's philosophy when asked if he shot well.
I don't shoot well, but I shoot often
That's me too. BUT because of this ammo has been hard come come by. When I played as Owen I had tons of ammo because I rarely used guns or energy weapons. I put barely any skill points into those attributes. I think I finished the game with a melee of 95 and 100 is the most. So I had lots of ammo and running out wasn't a concern. I could even give my followers ammo for almost any type of gun because I always pick up all ammo I find no matter what it is. But with Cope I use it as soon as I find it and I can't just buy a bunch because merchants sell limited ammounts, they can run out and not everyone sells Energy Cells and Microfusion Cells. So yeah it's harder fighting with energy weapons. But other than that I made a pretty cool Cope. I'll have to make screen caps soon. I'll probably post them tonight and I also want to make a post comparing Fallout 3 and Fallout New Vegas.
Right now I'm getting ready for Thanksgiving. I'm not going to the family dinner though because there's going to be too many people there. Chris will go. I had the big Thanksgiving last year when I was feeling unusually extroverted. This year I want to have a quiet one at home. BUT, I'm still going to help out for that party. I'm going to make two pumpkin pies today and some Cinnamon Pecans for Chris to take so everyone can share them.
Yesterday I made a batch of Cinnamon Peacans using
earthmother45
's recipe. Thank you SOOOO much for that. They turned out wonderful. Here are two pictures.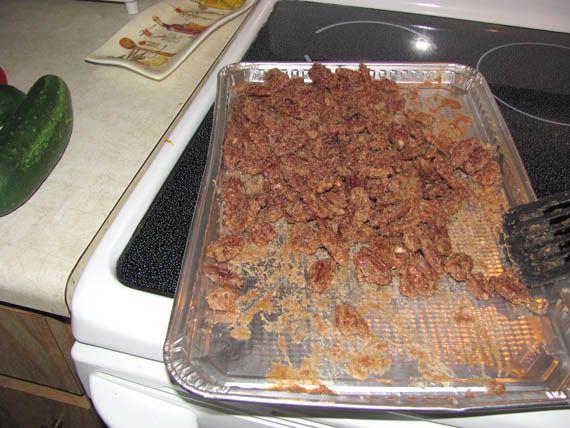 Fresh out of the oven. Notice the two cucumbers on the counter. I picked those from my little bucket garden.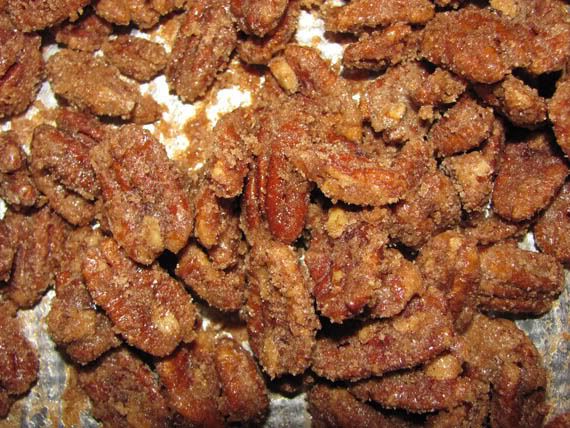 And here's a funny close up. I don't know why anything in mass quantities like this just makes me laugh.
So I'm making one pound of peacans right now as I type. Chris really liked them so I hope everyone else will too. I already know my pumpkin pie is a big hit. Yes November is the eating month. I think more so than Christmas. Chris, Alex and I were joking around saying that if that Atkins fellow shows up on Thanksgiving we'll kick his butt hehe.
Oh, but what's sad is that in two days I have to take down the Fall decorations. But the good thing is I get to put up the Christmas decorations. YEay! I'll have to get the Christmas tree out of the garage.
.
Current Mood:
cheerful