Didn't play bass today. My back has been acting up since this morning. It didn't help that I went in the garage and bent over a box for a while while I emptied it. But I wrote to the guy that had the video up of
The Final Countdown
and asked him if he had the tabs. He sent me seven pages of sheet music. I'm thrilled! I'm so glad it's sheet music because I don't know how to read tabs and don't see how they could be as good anyway. But Chris is still going to teach me. But now I don't have to figure out those really hard parts, though I'm proud I figured out most of it on my own. Oh and that's when we realized, "Where is the music stand?" I had a very nice solid black one I used to use for my violin and would rest my bow on it. I wonder if that's still at the old house. So I couldn't have played anyway since I don't have anywhere to put my music or my new study book.
So I played Fallout for a little bit. I think I'm starting to wind down on that game. I've been talking about starting a new game as Cope, but I'm having a hard time finishing up as Owen. Even though there are some things that are way better in this game, like your followers, than in the first one, I like the first one better. I just think it was more fun and I liked that there were more Deathclaws in it. I loved at the higher levels running into a bunch of creatures that were fighting each other before they even took an interest in you. I haven't really seen much of that here. And the Deathclaws that are in the game seem confined to a few key locations. Eh.
I mentioned I'd post our meal we had yesterday. Here's my little seafood thing I got.
It had octopus, squid, fish, muscles, shrimp and potatoes in a spicey sauce. I love squid and octopus. We both had Inca Cola. It's made by the Coca-Cola company. I had actually tried it at the Coke Museum in Atlanta and didn't like it then. But this time I did like it. It's the first golden cola I've ever seen. The taste is similar to ginger ale.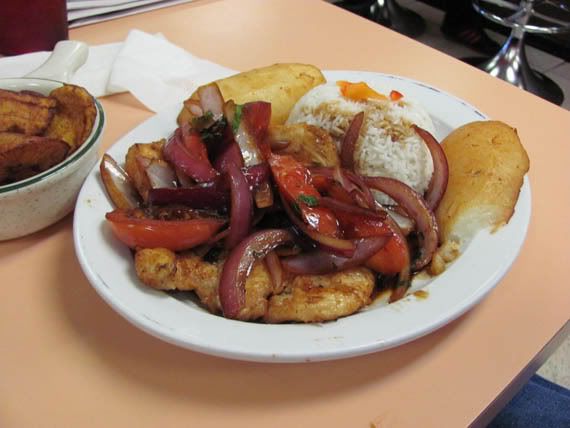 And CHris had chicken. It was great. I really don't like American poultry as it's so dry. I've never been impressed with that Thanksgiving meal when normal daily chicken meals prepared Spanish style are so much juicier and tastier. Even the breast meat.
Oh back to talking about music. I've been listening to a lot of metal and it bothers me that I can't hear the bass lines in most songs. Chris says you don't hear them but you feel them. I don't know why that's always been hard for me. I only hear the guitar and the drums. Unless the bass line is very prominent I just don't hear it like it is in Sonata Arctica. Sonata has some awesome bass lines that I want to learn. But my favorite band Kalmah I can't hear at all. How can I learn to play something I can't hear? And since metal is so obscure no I doubt I could get the notes from anyone. They don't make music books for these bands, and the ones that have been tabbed are mostly for guitar. Good luck finding the bass line for the songs. And the people that cover them on youtube most likely don't know how to write them out. I'm going to have to learn to hear it.
I back tagged Oct 2005 today. Wow so that's when I saw Neil Diamond in concert. What an awesome experience that was! But my gosh, it's been that long? Doesn't seem like it. My memories are so clear.
.
Current Mood:

Achey