Well, that guy responded to me on youtube. Here's the response.
So you have to put the ring upside down,why?
Freaking moron! I told him it's NOT upside down. I'm not approving his comment. I'm not responding to it. If he can't understand a simple well explained video he shouldn't be messing with pigeons in the first place.
I got two boxes emptyed in the garage. I started on a different wall so it doesn't look like anything's changed but it is a difference if you go around to the side. So that's less stuff in there. Oh gosh, I'll be so glad when I'm finally done with it. I should have taken a pic when I started.
We went to Wal-mart today to buy food for the birds and I couldn't believe what they had. They had a box full of rare pumpkins and winter squash. Seems that variety is what's IN this year. I'm so glad because even though I love regular jack-o-lantern pumpkins I just prefer the rare colored ones. They had almost everything I saw at the pumpkin patch but in a smaller selection in one box. But what was different was they had the big blue Hubbard Squash! I've never seen those at a local pumpkin patch. And when I do see them they are the small ones from the supermarket no bigger than 3 lbs. There was one that was the biggest in the whole box and I guessed it was 20lbs. I had to have it. When they weighed it I was right. It WAS 20lbs! But they grow even bigger than that. I know they can get to 50 lbs. But I'm so happy I got this thing. So here's my collection of pumpkins, squash and gourds for this year so far.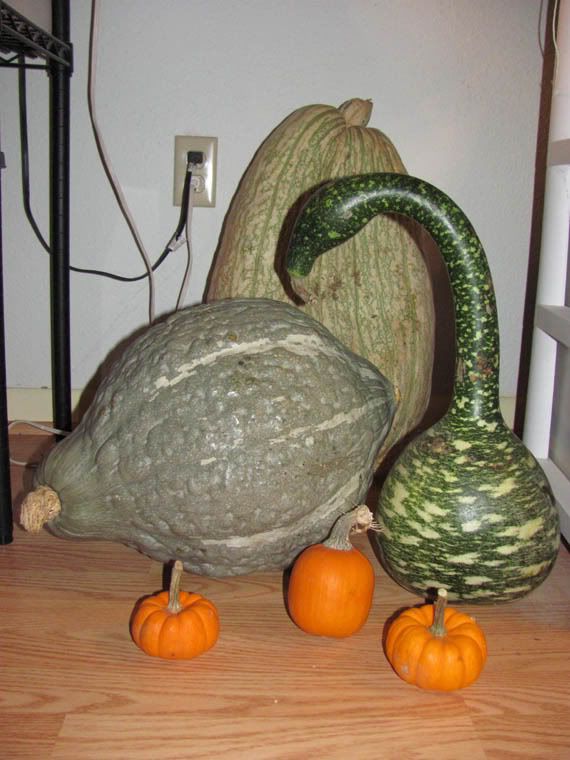 Chris was sweet and bought it for me. I still want to go back to the pumpkin patch with my own money and go on a spending spree. Some will be for decorating, some for carving and some for eating. Anyway, that's the awesome goose necked gourd I saw from the road and the reason I wanted to go to the pumpkin patch in the first place. Hum, should I redo that pic with a soda can for scale?
.
Current Mood:

giddy
Current Music: Powerwolf - Catholic in the Morning, Satanist at Night