Yesterday I was very happy to see that the seedling for my Royal Poinciana tree has sprouted! I'm very surprised because it said it would take months to sprout. But I guess that hot bath I gave it and letting it soak over night softened the shell enough for it to sproud in about three days. I'm thrilled. This is a HUGE seedling. The seed itself was big. Here it is coming out.
I couldn't believe it.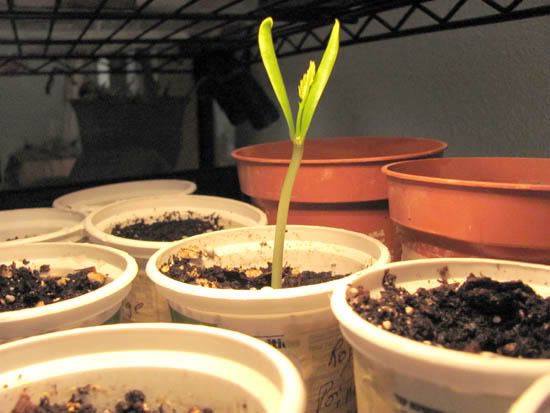 I put it outside to get some sunlight now that it's all tall. I'm still amazed what a huge baby it is. I brought it back in this evening though. The nights are getting cold and that's not good for a baby tropical. It and the others might be indoor trees for their first year or two. I'm very worried about my Tabebuia and Jacarandas and will do my best to cover them up come the colder days. I don't want them to start over for a third time from the ground. These are trees not perenials. So we'll see. I think if I had moved them to bigger pots and waited one more year they would have done better because these trees do grow in this area. It's just getting them to have a thick bark that's the hard part.
Still playing Red Dead Redemption and helping Chris level his character. I'm at level 34 now and got the next horse at 33. I'm so glad because I was getting sick of the old horse. I can tell this one is much faster. I can't wait to reach 50 and get the bull. Every time you reach 50 you get cooler mounts like bulls, and buffalos. I'm getting a lot better at shooting and am having lots of fun in this game.
Sigh, I must find time to work on some art. I've started a new drawing and have been thinking about Owen again. I'd like to do something with him, perhaps using his fire.
It's Oct 1st. It's officially Halloween. Hurray!
.
Current Mood:
happy